We've examined prospects like Nik Stauskas, Doug McDermott and others the Sixers could potentially be picking. Now let's try another guard. Gary Harris is a tough-nosed, scrappy defender that can heat up from the outside.
Gary Harris, SG, Michigan State, sophomore, 6-foot-4, 205 lbs
Best Case Scenario: O.J. Mayo
Worst-Case Scenario: Tony Allen with a jump-shot
Strengths:
· Extremely well-rounded combo guard who will likely be playing the off-guard position in the NBA. Very polished game.
· Great shooter and tremendous perimeter defender with the ability to become a decent slasher at the NBA level.
· Very willing passer (3.3 assists per 40 minutes). Produces well offensively while still finding a way to get teammates involved. Pplays a very-team oriented game.
· Has NBA range in his jumper, can hit shots off the dribble using the pick-and-roll and also does well with his feet set from deep. Does well coming off screens to the right or left, quick release, very good in catch-and-shoot situations.
· What separates him from other guards in the class is how well he does in transition on the perimeter. During his freshman season, 25 percent of his offense came from transition threes. He will also run defenders all around the court and off screens.
· Possesses a nice midrange game, floaters and jump shots.
· Has a nice crossover with a little shake to it, and creates a good amount of space with it. Attacks closeouts well with ball and pump fakes which open up space for him to attack the basket, allowing him to show his potential as a slasher.
· Very coachable and intelligent guard. Also takes contact well. A very physical defender who plays the passing lanes well - he racked up 2.2 steals per 40 minutes in his senior season.
· Capable player in isolation, though he didn't really get used there much during his time with Michigan State.
· Great on-ball defender, defends the P&R well and gets over screens well. Has great lateral quickness and does a great job containing penetration from the perimeter. Quick hands and good recovery if he ever gets beat off the dribble. Works hard to contest shots, switches well and rotates on defense.
· High IQ guard, was an all-state football player. Plays well through injury, including a shoulder injury his entire freshman season.
Weaknesses:
· Though he's a very smart player, he has a habit of taking some poor shots when isolated. Strong side isolations are a specific problem. Like most gifted jump-shooters - Jabari Parker included - he settles for a lot of tough jumpers.
· A bit small for the prototypical NBA guard. Doesn't have great length or a wingspan to help his size.
· Though he has potential as a slasher, it's hard to see him consistently finishing over taller defenders and elite rim protectors.
· Not very creative with his dribble-move package. Crossovers are simple. He needs to expand his ball skills at the next level.
· Not a great athlete, but not below-average.
· Won't have much experience as a true combo guard because he wasn't really used at the point at Michigan State. That make it harder for him if he ends up being a role player for a franchise.
· Needs to improve his efficiency as a shooter inside and outside of the perimeter, and make smarter decisions from 17 feet and out.
Let's examine one game where Harris showed us his skillset. He scored 20 points against Kentucky, demonstrating his midrange game and perimeter game.
Midrange
In this clip, Harris is being guarded closely by his defender and is looking to break away from him.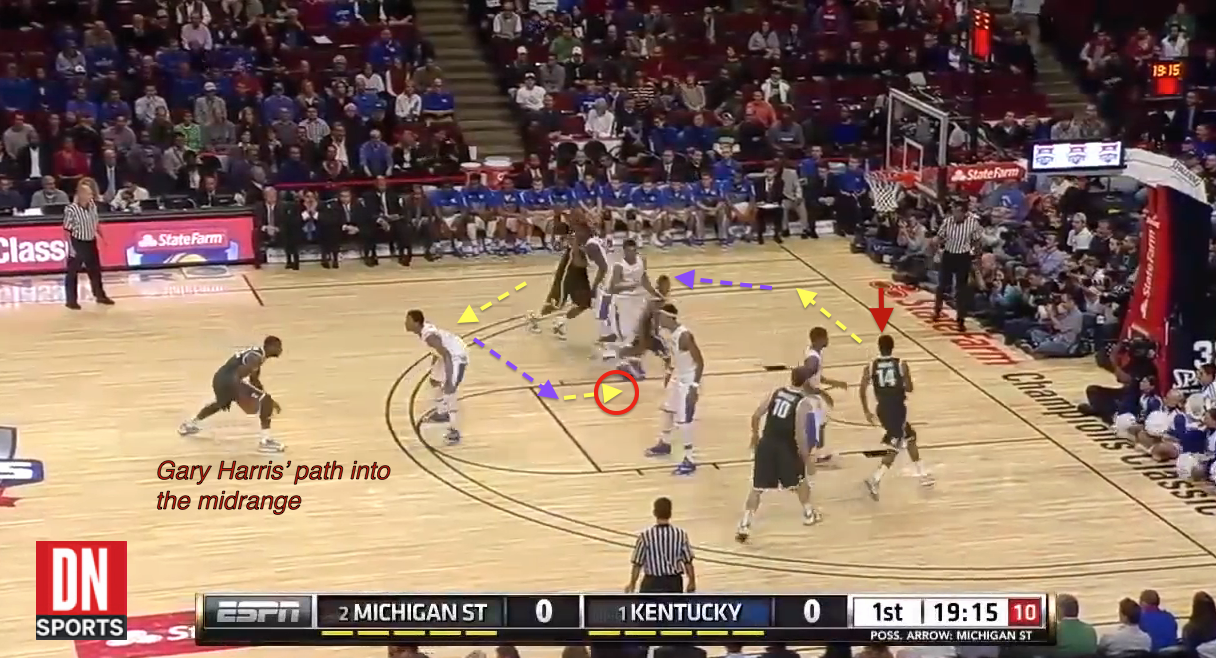 He gets a screen from Payne and works his way into the high post without much difficulty.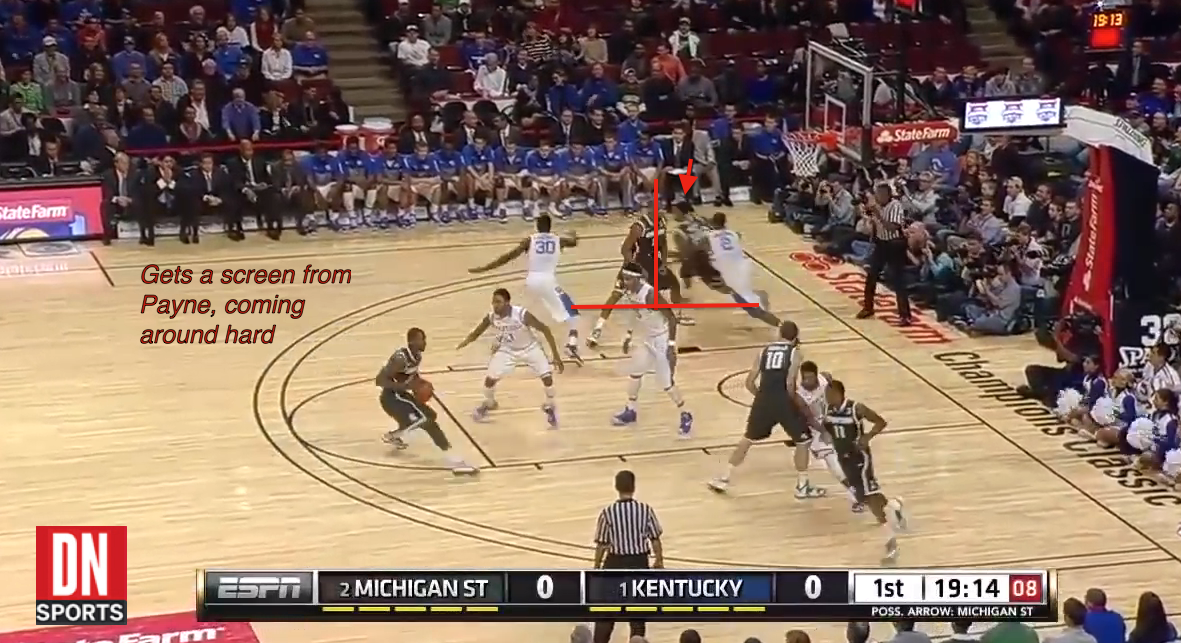 Harris then gets into the high-post and has four defenders watching him and one trailing him. He needs to make a decision on what to do with the ball.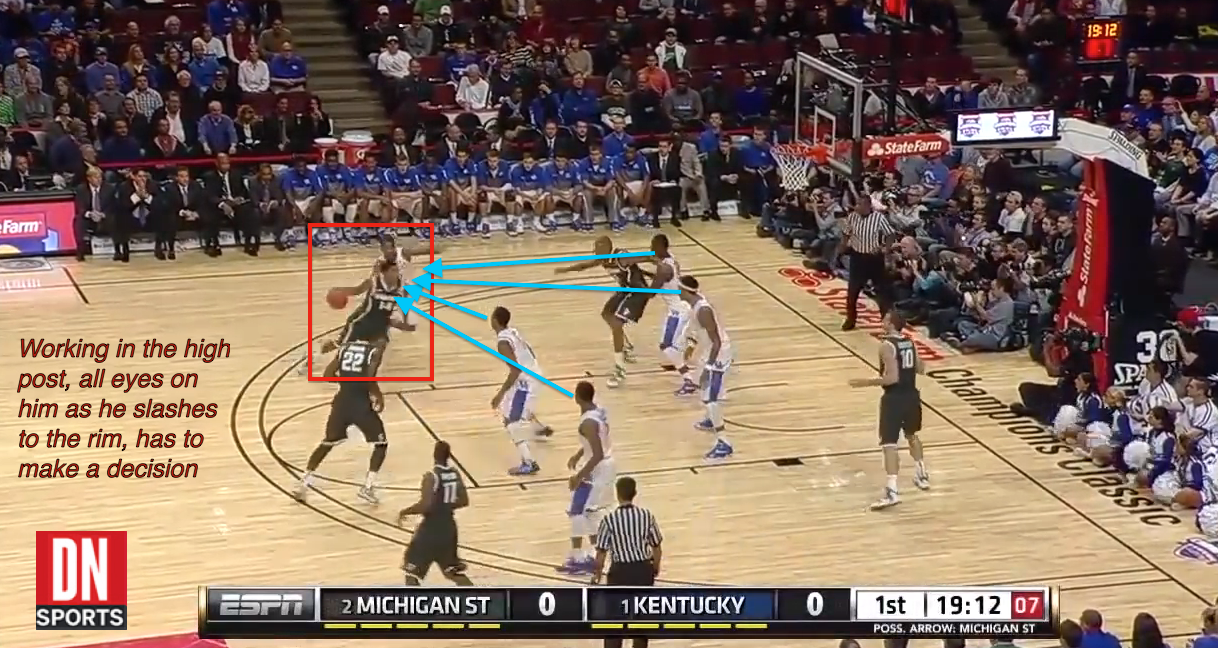 He takes the high-IQ shot - a floater in this situation - over the massive wingspan of seven-footer Willie Cauley-Stein, and makes the bucket. It's a smart midrange move for Harris that didn't hurt his team.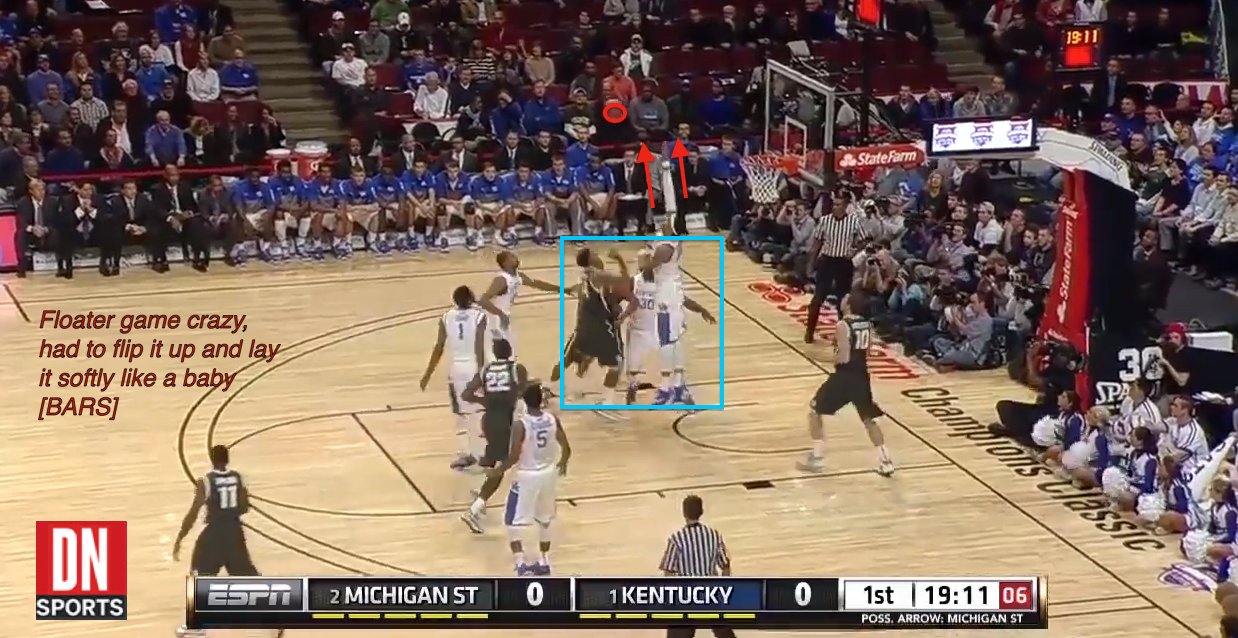 Perimeter
Harris can, of course, hit it from the perimeter, so leaving him unmarked is just foolish on a defense's part. He needs to be accounted for at all times.
Here, Harris uses a screen from a MSU teammate to set up his shot.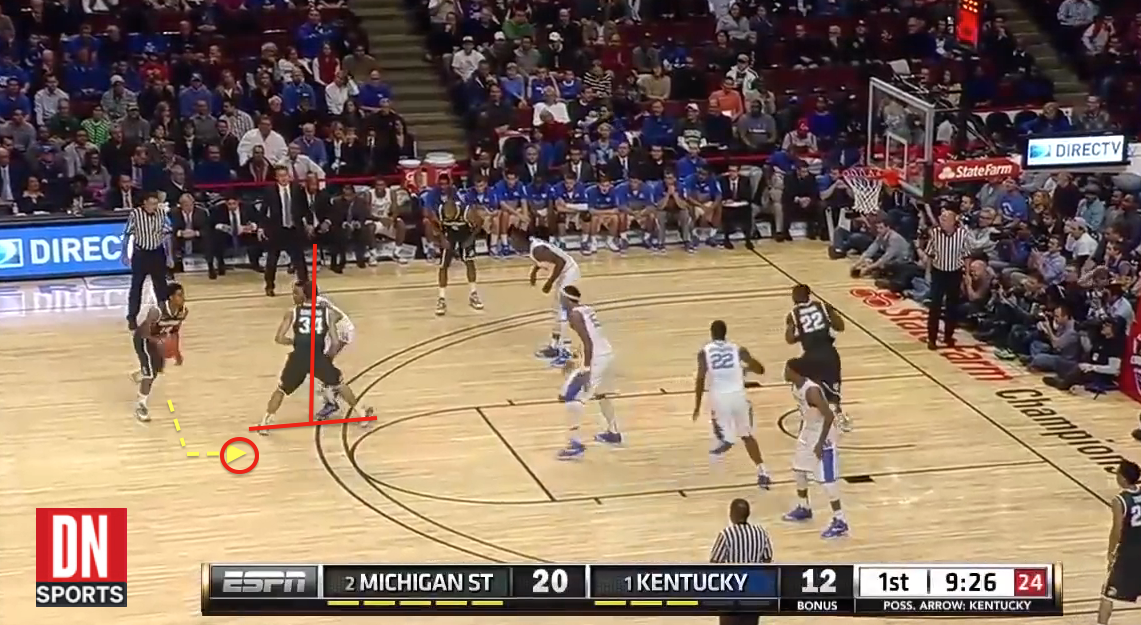 Without hesitation, he uses the screen and lines up a shot from 25 feet, even with Cauley-Stein closing out on him.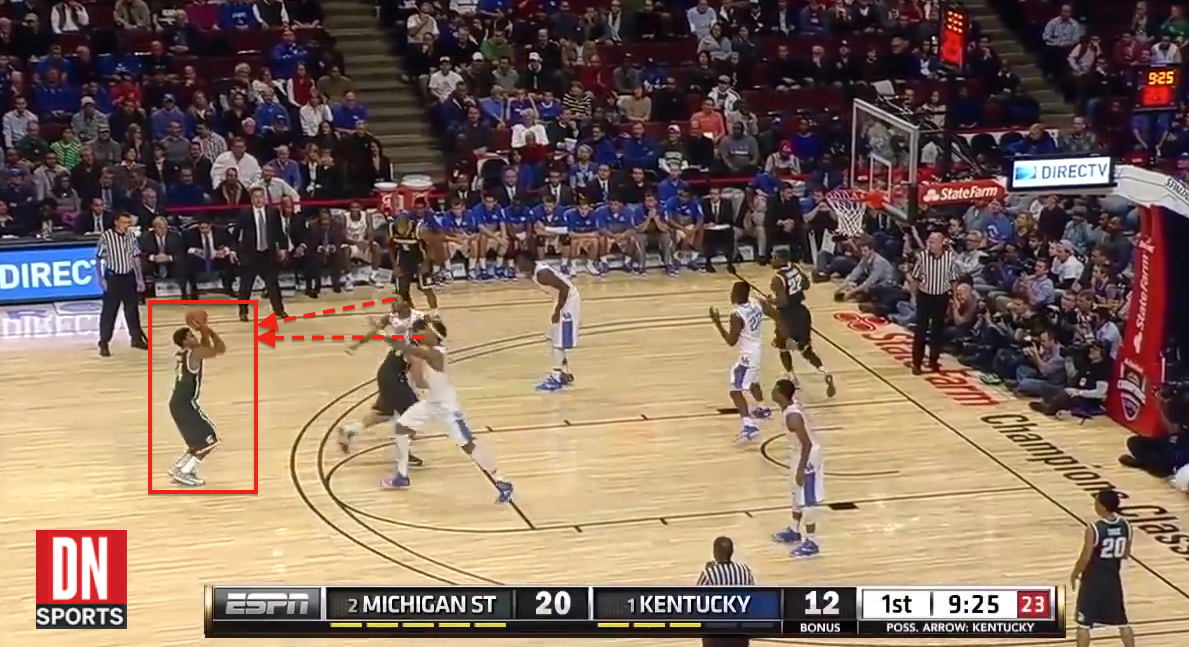 Harris makes the shot. He has no problem shooting over the much taller Cauley-Stein.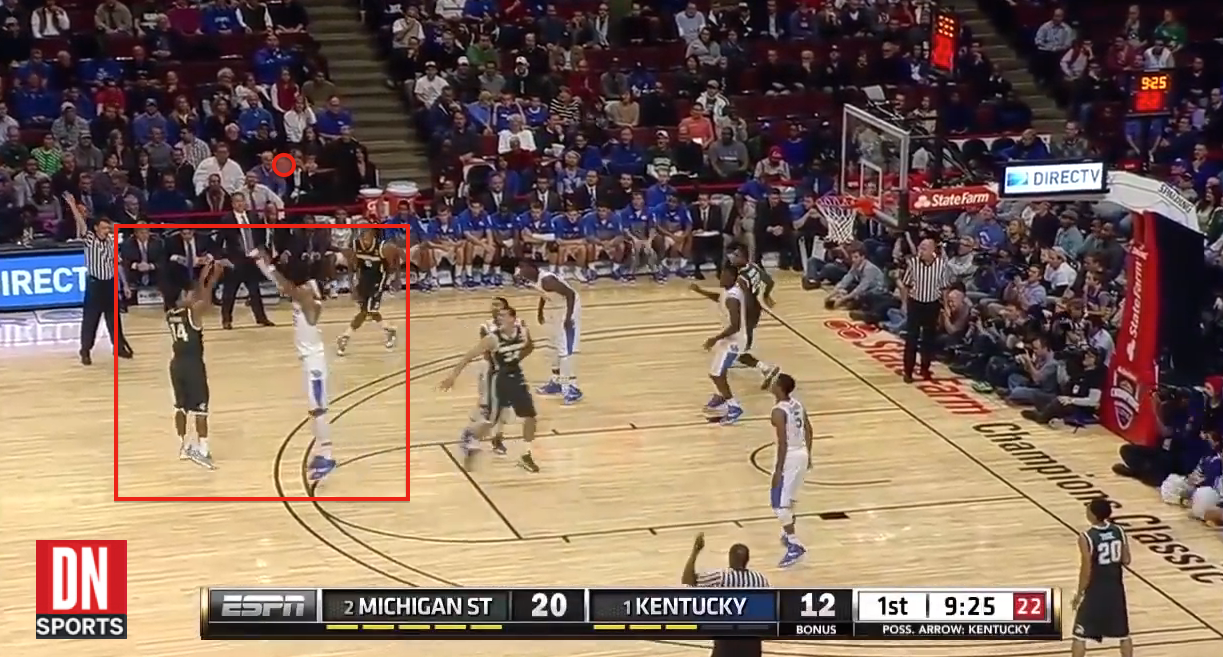 Rebounding/Transition/Defense
Lastly, Harris can play well in transition. Here he contests James Young's wide open shot, which leads to a Harris rebound, and he takes off into the open court.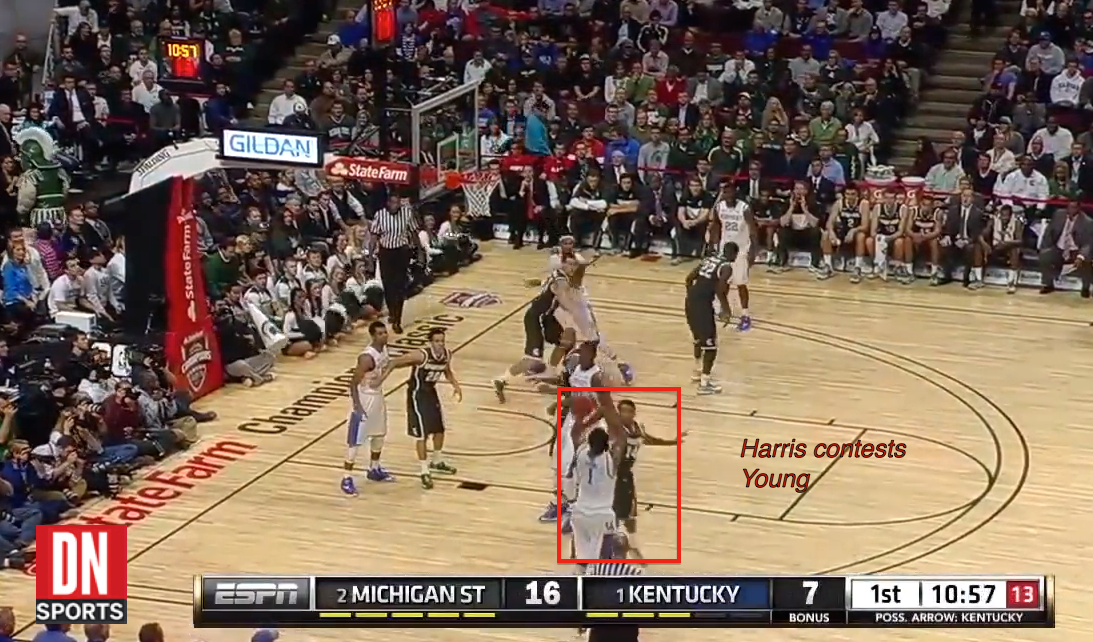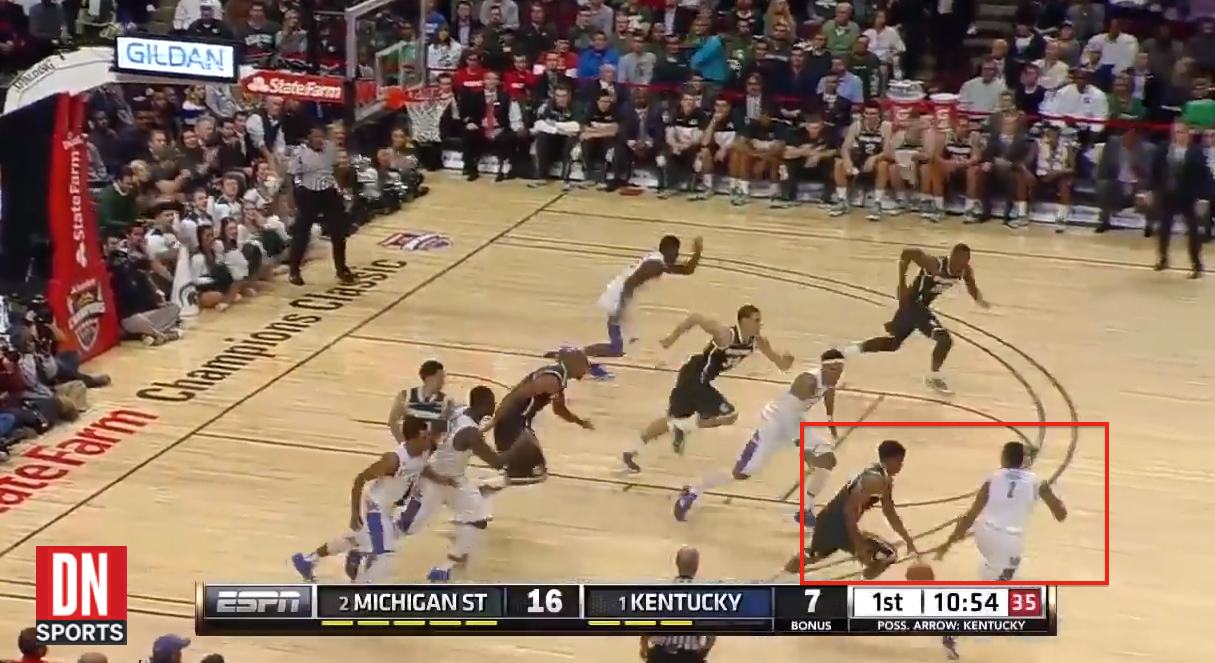 This one is pretty simple because Harris just outruns the entire Kentucky defense to the rim. The ending is pretty "yup."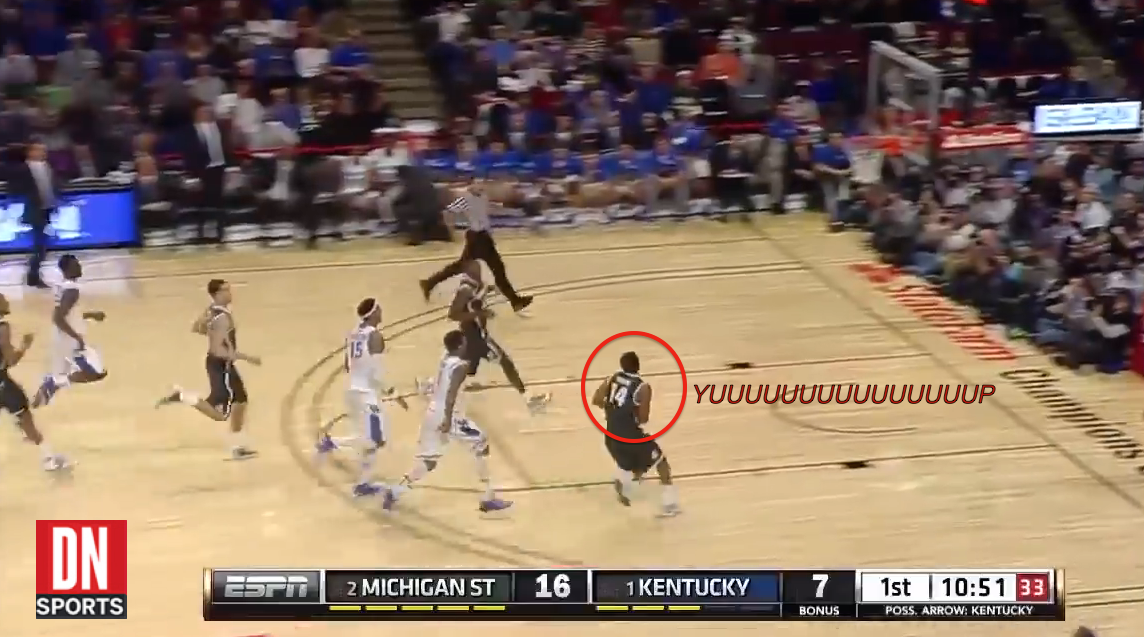 Final Analysis: Harris is a fantastic defender and an above average shooter from the perimeter. He's a well-rounded, intelligent player who can do numerous things to help a team win - either as a starting two-guard or a sixth man. Though he's a smaller player and takes some unwise shots, he's still a young player. He has the ability to grow into a dependable guard with slashing ability and an improved dribble that creates space for better shots.
How he fits with the Sixers: Harris is a great shooter, something the Sixers desperately need. They were abysmal from the perimeter in 2013-14 and struggled at times to produce any offense. Brett Brown's team ranked 19th in points per game and 30th in overall offensive rating. Since Harris also produces very well in transition, he could be an important bench piece, or a better piece to use as a starting guard next to Michael Carter-Williams.