An update, since so many people have complained to me: Yes, this post is a bit of good humor, but you actually can make the trade happen in the Trade Machine. Try it for yourself.
Yes, you read that headline right. The 76ers could, if they really wanted to, trade for LeBron James and Kevin Durant.
At least, that's what ESPN's Trade Machine told friend of the site Zoo With Roy.
BOOM #nba #sixers pic.twitter.com/k55R0FL8io

— Zoo With Roy (@zoowithroy) February 18, 2014
That image is not a Photoshop creation. It's real. Here's the proof.
You might think this set of deals is crazy. Even those of you who might stage a protest through the streets of Center City if the 76ers don't get rid of Evan Turner and Spencer Hawes by the trade deadline might find the scenario a bit over-the-top.
(Just saying, but we here at Pattison Ave. also consider CBSPhilly's Spike Eskin to be a friend of the site, and we don't want to see him do what he's threatening to do if Turner and Hawes aren't sent packing.)
And it's not like the 76ers wouln't have any players left on their roster if this trade was to happen. Michael Carter-Williams, Nerlens Noel, Brandon Davies and Hollis Thompson would still be here, and they could bring Lorenzo Brown and Elliott Williams back from the Delaware 87ers.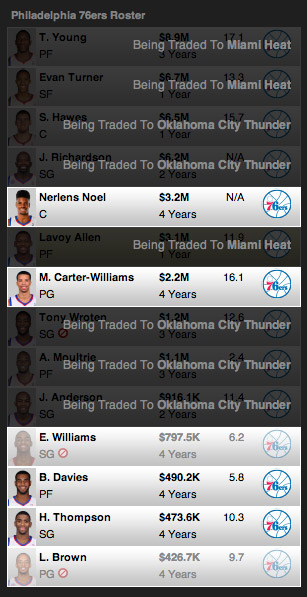 So I see no reason why Sam Hinkie shouldn't put this package of deals together.
What do you think?