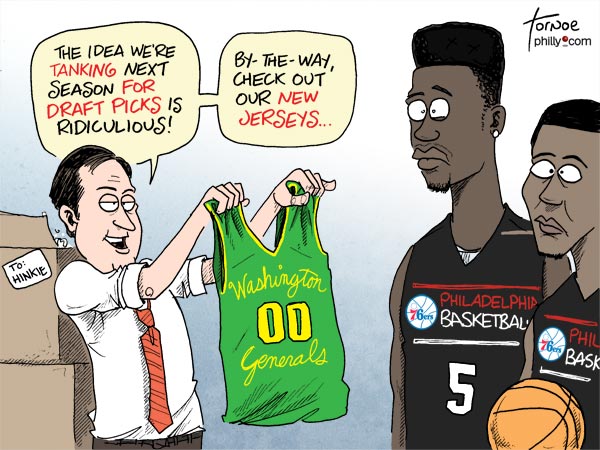 There's been a conspiracy theory circulating around Philadelphia sports circles over the past couple of months (but mainly relegated to talk radio) suggesting the Sixers are planning to tank next season in order to secure a high pick in 2014's stacked draft, and a chance to nab the ultimate prize - Kansas forward Andrew Wiggins (who just became the first Canadian to win the Gatorade Athlete of the Year).
Conspiracy theorists say that by trading away point guard Jrue Holiday, new Sixers GM Sam Hinkie has put forward a brilliant plan to lose as many as 70 games with a roster full of young, inexperienced players. Items like the lack of a head coach and acquiring a player whose anxiety disorder kept him off the court all last year push the "tank" theory even farther.
One NBA GM thinks the "tank" idea will blow up in Hinkie's face: "The Sixers are trying to prove that they are smarter than everyone by tricking people into believing trading a 22-year-old All-Star point guard for an injured, undersized five with an attitude problem and a protected pick that is out of Wiggins' range is a good idea."
The thing that makes this all dubious to me is the lottery itself. If you go 1-15 in the NFL, you're going to secure the #1 pick in the draft, provided another team doesn't go 0-16. In the NBA, going 9-73 only gives you a shot at the #1 pick.
I guess it all depends on your view of "tanking." While I don't think Hinkie is putting together a team of players hell bent on losing ever game, filling a roster with inexperienced young players with an upside does mean dealing with growing pains and a learning curve. This means short-term pain for long-term success, with potential picks like Wiggins, Jabari Parker and Julius Randle offering a light at the end of a dark tunnel of patchwork roster moves that have plagued the team for years.
Even acquiring Royce White is a low-risk move that offers a great upside. If he's able to get the travel accommodations that have been talked about by the Sixers, White could play in as many as 50-60 games. Considering he's a mid-first-round pick in only his second season, and the Sixers gave up next to nothing for him (and also got the rights to 6'10" Turkish power forward Furkan Aldemir in the deal) next season's futility could pave the way to an exciting 2014 season.
As Hinkie told Bob Ford at the Inquier, "It's not Dr. Doom to say [competing for a title] won't come overnight. The best way to guarantee ourselves a chance to be in the mix long-term is to focus on it with a little longer lens than others might."
So while next year might be brutal, at least there seems like a plan is in place, which to me downplays the idea of "tanking." I went for the Washington Generals reference in my cartoon, but let's hope next year, as bad as it might be, doesn't look like this:
As an aside, I'm ecstatic about the Sixers drafting Nerlens Noel. Not only would he have been the #1 pick were it not for an ACL injury, he has a hairstyle that might actually be a cartoonable as Bynum's. Let's just hope he sticks to basketball and bypasses the flamenco dancing.