Say Anything: The weirdest, wildest and most outrageous quotes in Philly sports history
While the trophy case around here isn't nearly as full as anyone would like, Philadelphia certainly has never lacked for characters or personalities. To celebrate the greatest Philly sports quotes, we jumped into the archives and solicited folks from around town to think of their favorites. What follows is the fruits of our labor, a compendium of the pithy, provocative and just sometimes bizarre stuff that's said in service of describing this city's intense passion for sports -and the teams that play them. This project remains an open-ended endeavor, so if you've got a favorite that didn't make the cut - or one we just plain forgot about - please post it on the Daily News' Facebook page.
"I remember when I heard the (final) bell. I looked at Ali and said, "Yeah, I kicked your ass," the late Joe Frazier after his upset of Muhammad Ali in 1971 at Madison Square Garden.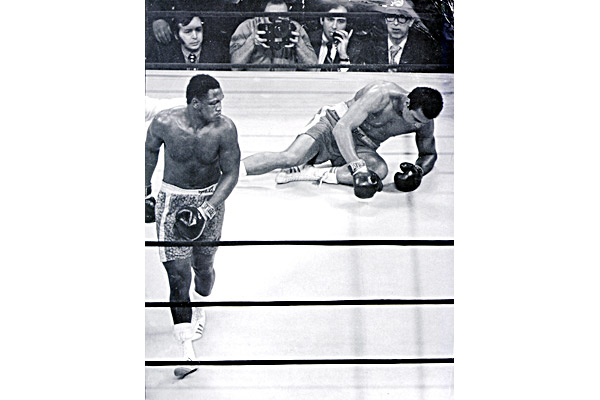 Photo: Joe Frazier heads for a neutral corner as a dazed Muhammed Ali struggles to stand during their March 8, 1971 bout in New York City. (Elwood P. Smith / Philadelphia Daily News)
"The homer Richie hit off me in Connie Mack Stadium hit near the top of the flagpole. I'm glad the flagpole was there. I'm also glad they tore down the stadium. That way, I can claim it never happened," former pitcher Nelson Briles describing a bomb he once gave up to Richie Allen.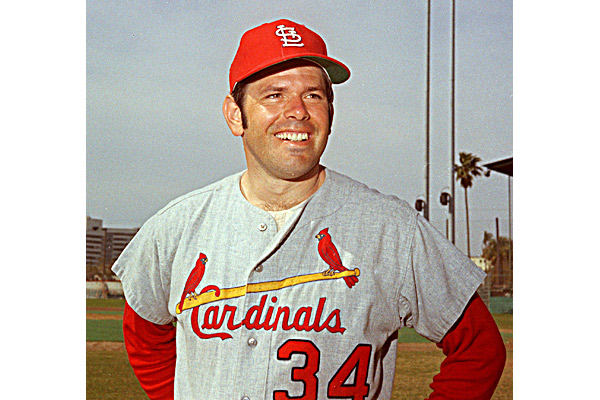 Photo: St. Louis Cardinals pitcher Nelson Briles is shown in 1970 (AP Photo/File.)
"Get out of my office, you big baby," Flyers GM Bobby Clarke to Eric Lindros at the height of their ugly separation in 2000.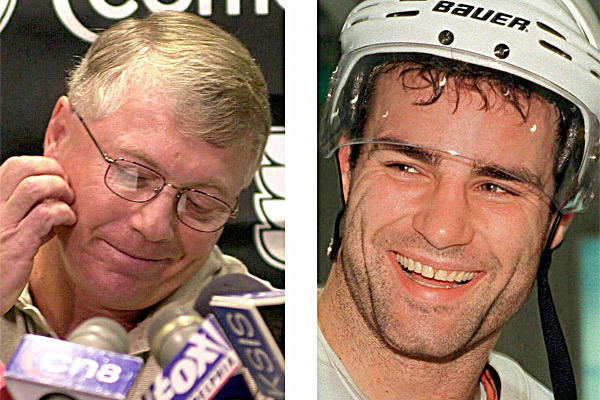 Photo: Philadelphia Flyers' Bobby Clarke and Eric Lindros in 2000 (AP Photo/File.)
"Eric was an MVP in the NHL for the Philadelphia Flyers and is a big part of the Flyers, and I'll always campaign for him to be in the Hall of Fame," Clarke prior to the 2012 Winter Classic alumni game.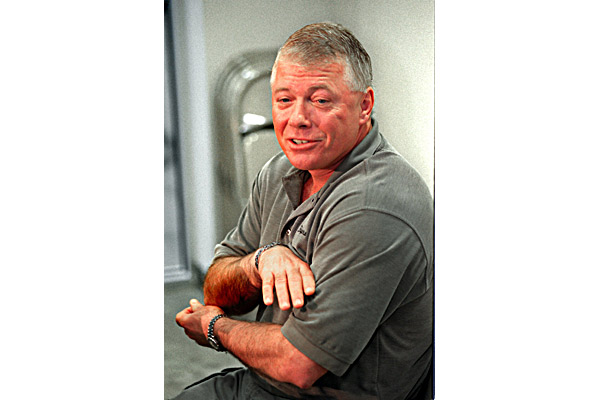 Photo: Flyers GM Bobby Clark
"I'm supposed to be the franchise player and we in here talking about practice. I mean, listen, we talking about practice! Not a game, not a game, not a game. We talking about practice," Allen Iverson, 2002.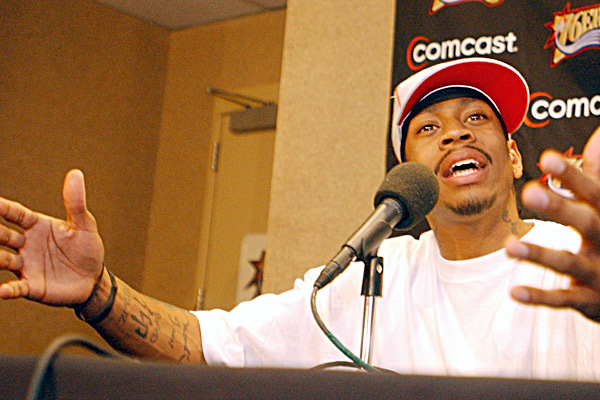 Photo: 2002 Allen Iverson press conference (Ron Cortes / Staff photographer)
"Three playoff games, offense couldn't piss a drop," said Buddy Ryan, summing up his five seasons as Eagles coach.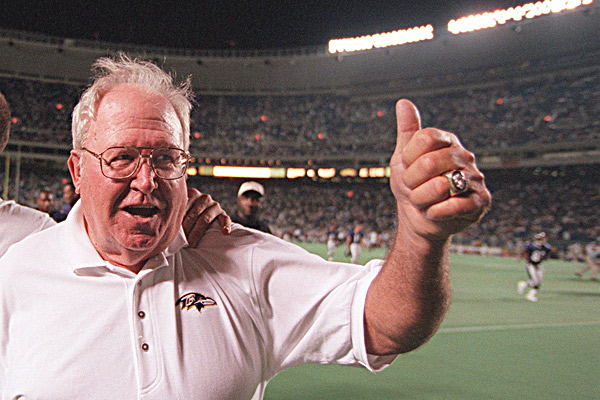 Photo: Former Eagles coach Buddy Ryan, who was on the Ravens sideline, gives a thumbs-ups to the crowd during the preseason game at the Vet on Thursday, August 12, 1999. (David Maialetti / Staff photographer)
"I told Tug, 'Look, when you get the last out tonight, wait for me. I want to jump on top of you and get in the picture,'" Mike Schmidt talking about the iconic photo following the last out of the 1980 World Series.
Photo: Mike Schmidt and other exultant members of the Philadelphia Phillies celebrate their 1980 World Series triumph. ( Chuck Isaacs / Inquirer Archives)
"This is a tragedy. It is one of the great sorrows of my life. With the benefit of hindsight, I wish I had done more," Joe Paterno, Nov. 9, 2011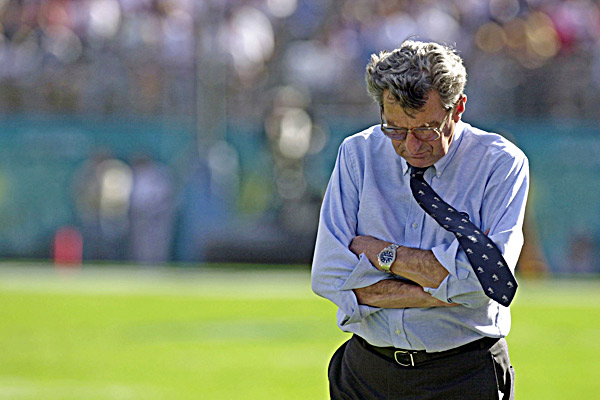 Photo: In this Jan. 1, 2003 file photo, Joe Paterno walks along the sideline during the Capital One Bowl against Auburn, in Orlando. (AP Photo/Phelan Ebenhack, File)
"I think it even makes it more worthwhile that we had to do it four times to get over the hump," Andy Reid after finally winning the NFC Title after three consecutive unsuccessful tries.
Photo: Eagles head coach Andy Reid yells out to the official in the second half of the Eagles vs Arizona Cardinals at University of Phoenix Stadium on Sunday January 18, 2009 for NFC Championship game . (Ron Cortes / Staff Photographer )
"Hey, I'm not going to trip up there and get knocked out. For who? For what?," Ricky Watters ran for nearly 4,000 yards as an Eagle, but his legacy is this quote following his 1995 debut.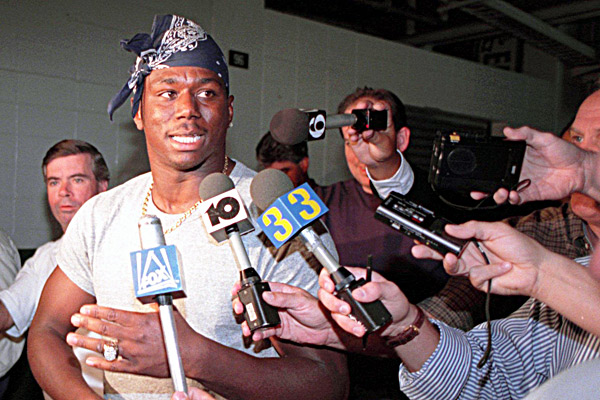 Photo: Ricky Watters answers tries to avoid reporter's questions. (Ron Tarver / Staff photographer)
"I'll kill you ... I'm gonna kick your ass."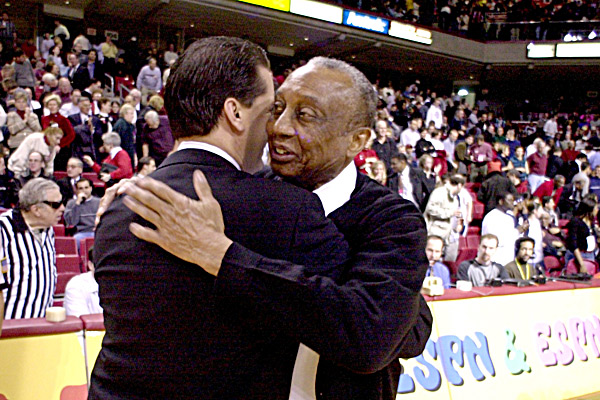 Photo: Temple Coach John Chaney hugs Memphis Coach John Calipari before a 2001 game. (Chip Fox / Staff photographer)
"I regret the context in which people chose to take it. It's like saying you saw 'Casablanca' a thousand times. You mean you saw it a lot. I used 20,000 as a figure of speech. If I had been bragging, I'd have mentioned some names," Wilt Chamberlain explaining the number of women he said he slept with should not be taken literally.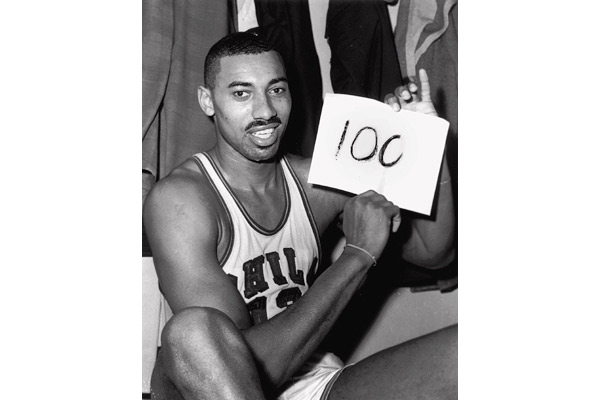 Photo: Wilt Chamberlain of the Philadelphia Warriors holds a sign reading "100" after he scored 100 points as the Warriors defeated the New York Knickerbockers 169-147, March 2, 1962. (AP Photo/Paul Vathis)
"I've never been a part of a tie. I never even knew that was in the rule book ... I hate to see what happens in the Super Bowl or I hate to see what happens in the playoffs (if) you have to settle with a tie, Donovan McNabb, 2008.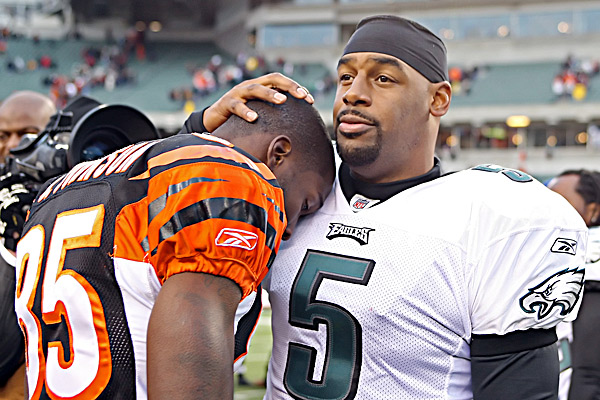 Photo: Cincinnati Bengals' Chad Johnson shares a moment with Philadelphia Eagles Quarterback Donovan McNabb after the 13-13 tie game at Paul Brown Stadium in Cincinnati, Sunday, November 16, 2008. ( Steven M. Falk / Staff Photographer )
"There are times in life when you look at this and realize it's just a game. Baseball is so insignificant when you look at the big picture. You take a loss hard. But imagine what it would be like if your family was in New York. It would be straight panic mode," Phillies pitcher Randy Wolf, Sept. 11, 2001.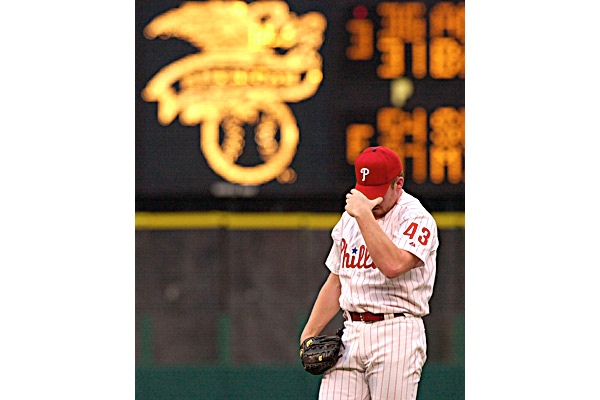 Photo: JULY 21, 2001 -- Phillies starting pitcher Randy Wolf stands with his head bowed for several moments after giving up a solo home run to Rey Ordonez of the Mets. (JERRY LODRIGUSS)
"If Mike (Schmidt) played in that park, he'd have 600 home runs. Easy," Larry Bowa on the differences between Veterans Stadium and Citizens Bank Park.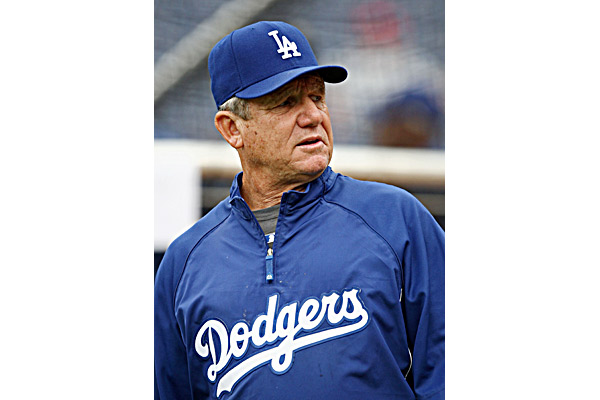 Photo: Larry Bowa (Mike Zarrilli/Getty Images)
"Fo, fo, fo," Moses Malone's precious prediction for how many games it would take the 1983 Sixers to win their playoff series.
"Putsy Caballero always claimed he made more money (from teammates) playing cards than he did playing baseball. That makes sense because he was a lot better gambler than he was a ballplayer," said Richie Ashburn.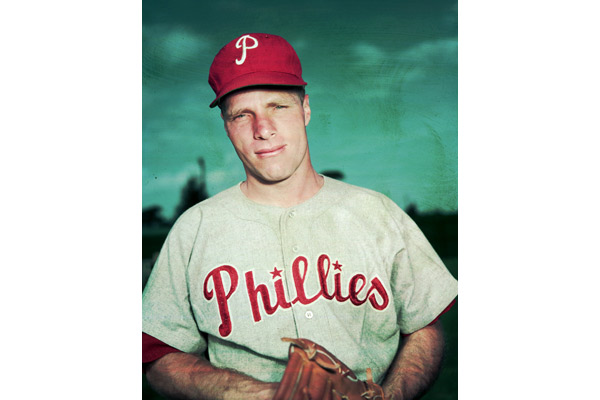 Photo: 1951 photo showing Philadelphia Phillies' Richie Ashburn. (AP)
Charlie Manuel pinch-ran once for Hall of Famer Harmon Killebrew in 1969. Billy Martin, a man remembered as much for his volatile temper as his baseball acumen, was the manager. Sure enough, Manuel got picked off. "When I got [back to the dugout], he was standing there screaming, but there was nothing coming out of his voice, but you see the veins," Manuel said. "Nothing was coming out. I went over and sat down. He came over - and I never will forget this - and he looked at me and said, 'Don't worry about it. It's my fault for putting you in the game.'"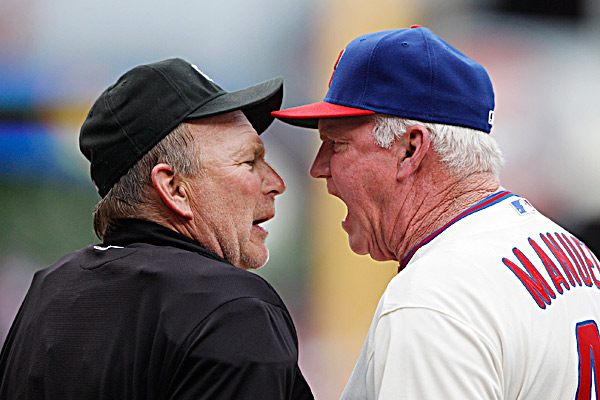 Photo: Phillies manager Charlie Manuel, right, and home plate umpire Bob Davidson, left, argue after he tossed Manuel out of the game on May 15, 2012. ( David Maialetti / Staff Photographer )
"For the first time since I've been here, I think we are the team to beat in the National League East," said Jimmy Rollins in January, 2007. The Phils went out and won their first of five consecutive division titles.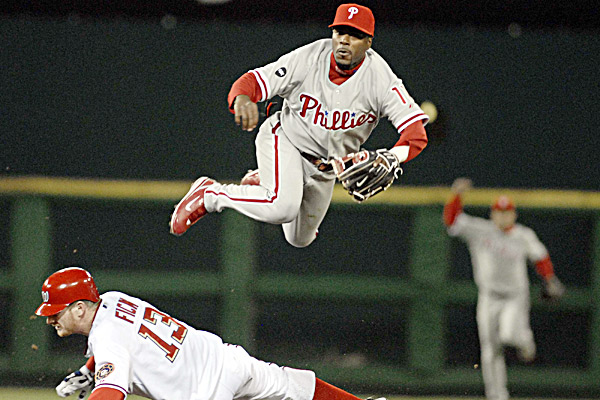 Photo: Jimmy Rollins leaps over Washington Nationals' Robert Fick after throwing to first to complete a double play, ending the seventh inning of a baseball game Wednesday, April 18, 2007, in Washington. Ronnie Belliard was out at first. (AP Photo/Kevin Wolf)
"I'll dang sure tell you this: If Villanova is Cinderella, then Cinderella wears boots," Memphis State coach Dana Kirk, after losing to the Wildcats in the 1985 Final Four.
Photo: In this March 1985 photo, Memphis State basketball coach Dana Kirk is greeted by a welcoming committee as he arrives with his team at Bluegrass Airport in Lexington, Ky., before the NCAA men's college basketball tournament Final Four tournament. (AP Photo/Al Behrman, File)
"I don't create controversies. They're there long before I open my mouth. I just bring them to your attention," Charles Barkley.
Photo: Chritian Walker photographs Charles Barkley as he signs copies of his book "Who's Afraid of a Large Black Man?" at the Rittenhouse Barnes and Noble bookstore. (Jennifer Midberry / Daily News)
"When the clock reached zero I said, 'you can get up now, you blanket-blank. This game is over,'" Bednarik directly to Taylor.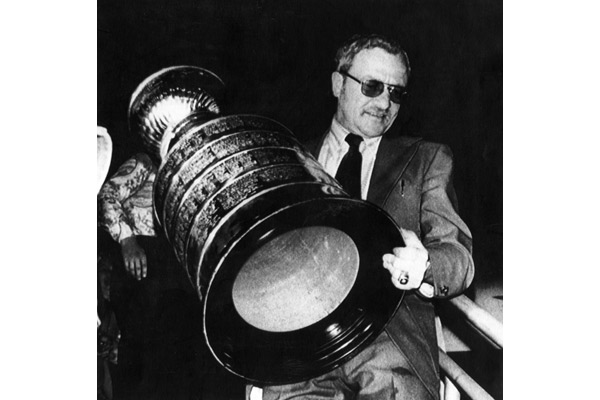 Photo: Shero with the cup
"I realized the snake was getting stepped on." -- Julius Erving on his thoughts during the final seconds of the Sixers 1983 championship win over the Lakers.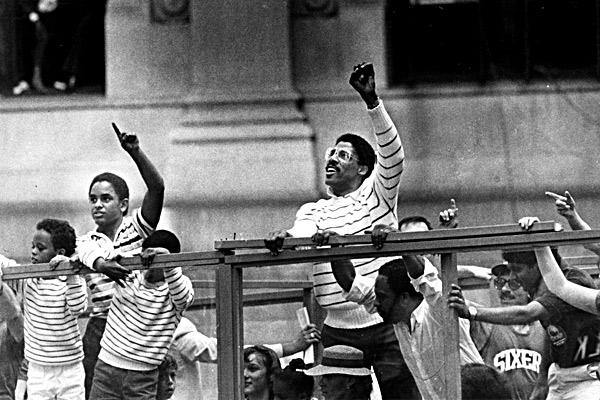 Photo: Julius Erving raises his fist to the crowd as he passes City Hall in the Parade. Child to left in striped sweater looking down over rail is Julius Erving Jr. Child with one finger raised in triumph is Sixers ball boy Milton Street Jr. (April Saul / Inquirer) 6/2/83
"I looked at Julius and I thought of Ernie Banks, and what it would have been like for him to hit the home run that won the World Series for the Chicago Cubs." -- general manager Pat Williams describing the scene in the Sixers locker room following the championship.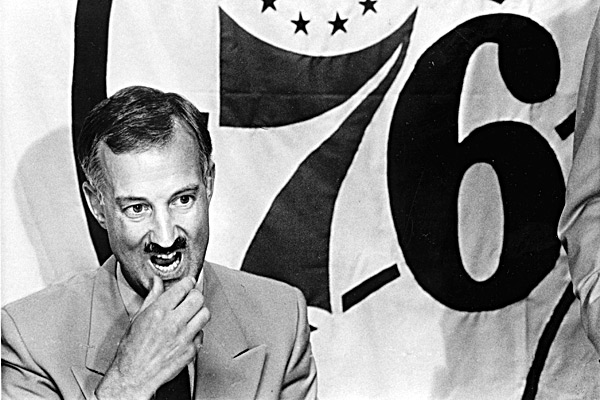 Photo: 6/19/86 SIXERS GENERAL MANGER PAT WILLIAMS RESIGNS (Lorie Grossman/Daily News)
"My best friend, Jerome Brown, died tonight," said Reggie White speaking at a Billy Graham crusade at Veterans Stadium on June 25, 1992.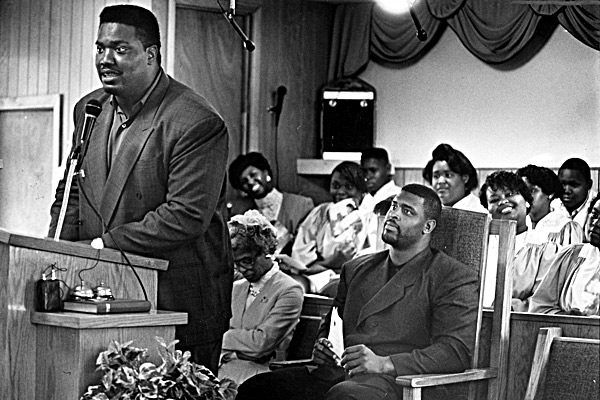 Photo: Jerome Brown at pulpit while Reggie White wait to deliver a sermon in the Josephine Street Church of the Living God. Inquirer file photo
"Gentlemen," said Phillies manager Eddie Sawyer announcing his abrupt resignation after the first game in 1960. "I'm 49 years old and I want to live to be 50."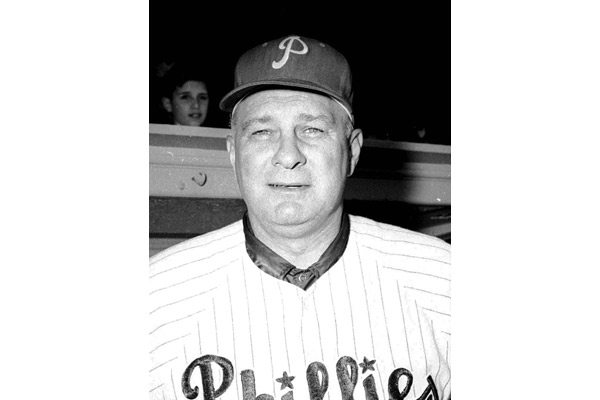 Photo: Eddie Sawyer, manager of the Philadelphia Phillies, poses April 4, 1959. Sawyer, who led the "Whiz Kids" team that won the National League pennant in 1950, died Sept. 22, 1997. He was 87. (AP Photo)
"I never thought I'd get to be 60. In truth, bigger people don't live as long, and I thought I used up most of my life in my early living. I never anticipated living a great length of time. To me, anything long meant past 40 or 50," Wilt Chamberlain said in 1996. He died three years later.
Photo: Wilt Chamberlain and children. from the Temple University Library Archives. Photographer: Philadelphia Bulliten, Date: 8/11/1960
Buddy Ryan on running back Earnest Jackson: "I'd trade him for a sixpack. It doesn't have to be cold."
Photo: Buddy Ryan is carried off the field by Todd Bell (not shown), Chris Carter (left) and Mike Pitts (right) after pulling off a dramatic last minute win against the Redskins in Washington on August 17, 1989. (Michael Mercanti / Daily News)
Ryan, to reporters: "If I win, you can't hurt me. If I lose, you can't help me."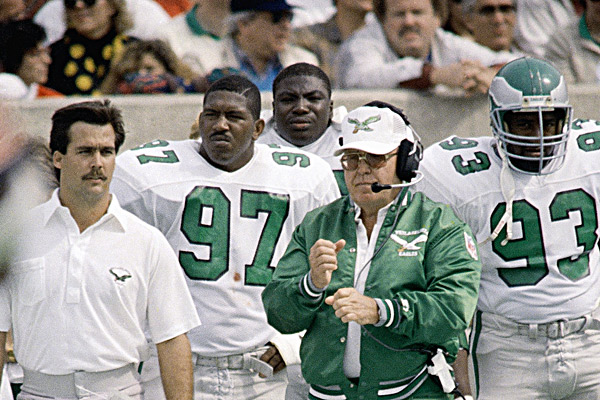 Photo: Chicago Bears coach, Mike Ditka, and Philadelphia Eagles coach Buddy Ryan, right, work the sidelines during game in Chicago, on Sunday, Sept. 14, 1986. (AP Photo/Mark Elias)
"I don't know. I never smoked Astroturf," said Tug McGraw when asked his preference of Natural grass or Astroturf.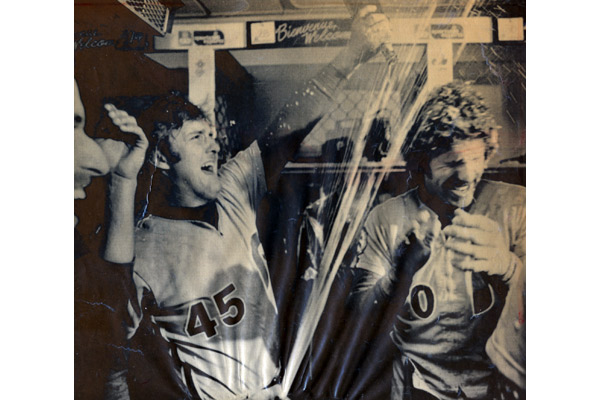 Photo: Sept. 26, 1976. The Phillies Tug McGraw pours champagne over Mike Schmidt after clinching their division. (Chuck Isaacs / Inquirer)
"I have no trouble with the twelve inches between my elbow and my palm. It's the seven inches between my ears that's bent," said McGraw, the philosopher.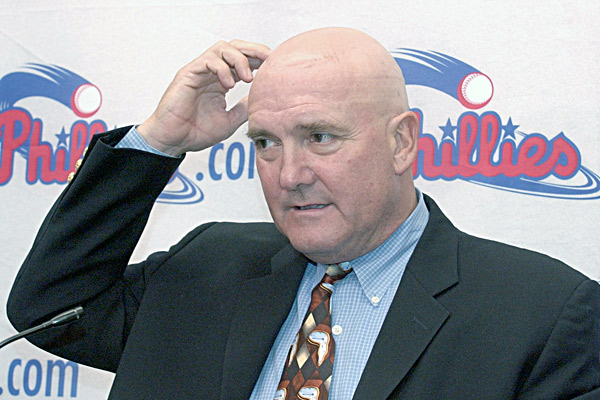 Photo: 5/29/03 Former Phillie and Met Tug McGraw talks about how he is doing since having a brain tumor removed. (Charles Fox / Staff photographer)
"I'm not the manager because I'm always right, but I'm always right because I'm the manager." -- Gene Mauch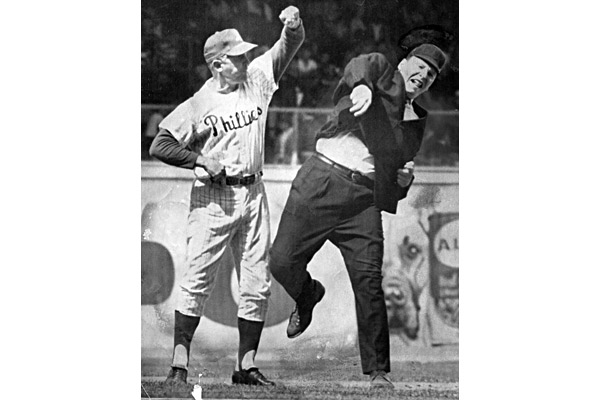 Photo: Umpire Harry Wendelstedt almost literally throws Gene Mauch out of game. circa. 1967
"I wish I'd known early what I had to learn late." -- Richie Ashburn
Photo: Philadelphia Phillies outfield l. to r.: Del Ennis, Richie Ashburn and Dick Sisler on Sept. 23, 1950. (AP Photo)
"Philadelphia is the only city, where you can experience the thrill of victory and the agony of reading about it the next day." -- Mike Schmidt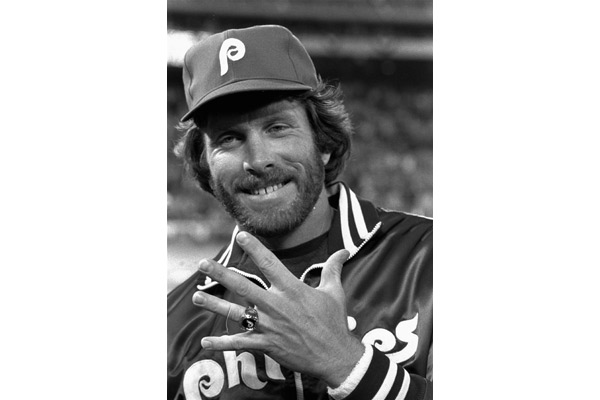 Photo: Philadelphia Phillies Mike Schmidt displays his World Series ring , April 13, 1981. (AP Photo/ Murray)
"If you listen to the fans, you'll end up sitting with them," said Eagles coach Joe Kuharich (1964-68)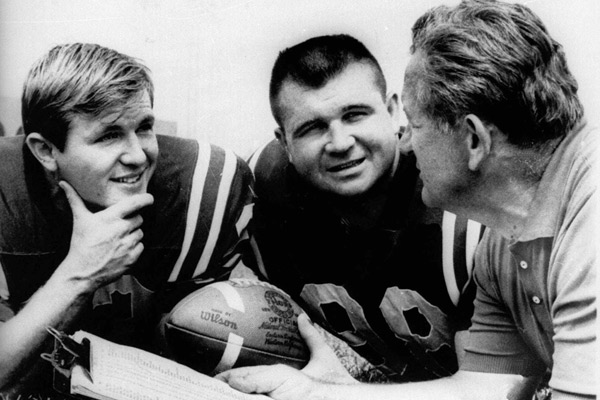 Photo: This is an undated photo of Mike Ditka, center, flanked by Philadelphia Eagles head coach Joe Kuharich, right and Harry Jones. (AP Photo)
"When I'm talking to other owners or other GMs in the league, we're kind of the gold standard. The goal is to win championships and do it with class," Jeffrey Lurie, 2003.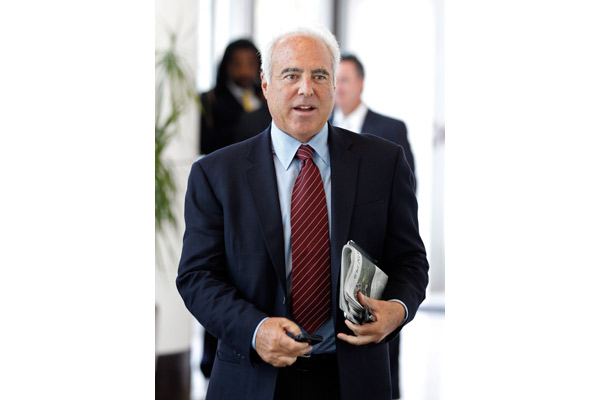 Photo: Philadelphia Eagles owner Jeffrey Lurie arrives for an NFL owners labor committee meeting in College Park, Ga., on Thursday, July 21, 2011. (AP Photo/John Bazemore)
Coach Billy Cunningham seemed to have a regular routine at practice once rookie Charles Barkley joined the Sixers in 1984. "I didn't have time to yell at anybody but Charles,"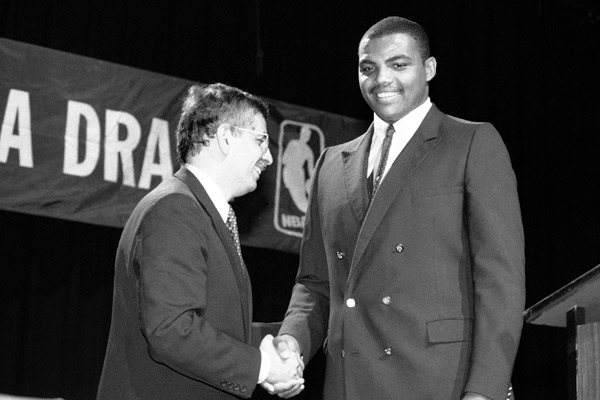 Photo: NBA Commissioner David Stern, left, shakes Charles Barkley's hand, June 19, 1984 in New York City after the former Auburn University forward was drafted by the Philadelphia 76ers. Barkley was picked fifth in the NBA draft. (AP Photo/Marty Lederhandler)
"This is a game that, if you lose, you go home and beat your wife. Did you see my wife jumping up and down at the end of the game? That's because she knew I wasn't going to beat her." Not Charles' best moment, after a 1990 win.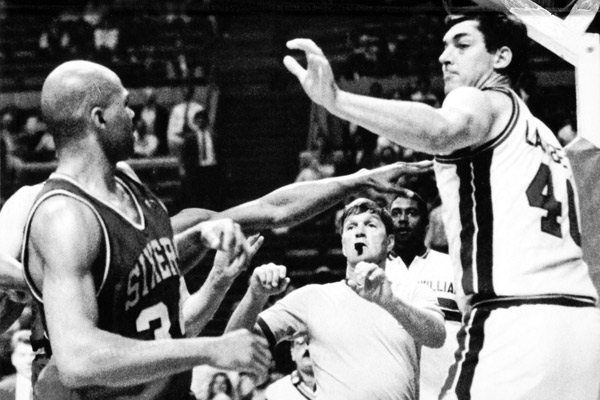 Photo: April 1990 fight between Charles Barkley and Bill Laimbeer
Here is a glimpse at how desperate Bill Giles and Ruly Carpenter were to sign free agent Pete Rose in the winter of 1978: "If he stays in the National League he has a chance to be on top in many of those (hitting) categories. His grandkids and the whole world will always be able to look in there at the National League records and see Pete Rose's name at the top of the list. I told Ruly that has to mean something to somebody like Pete. I don't know how much it influenced him, but that's what we presented to him."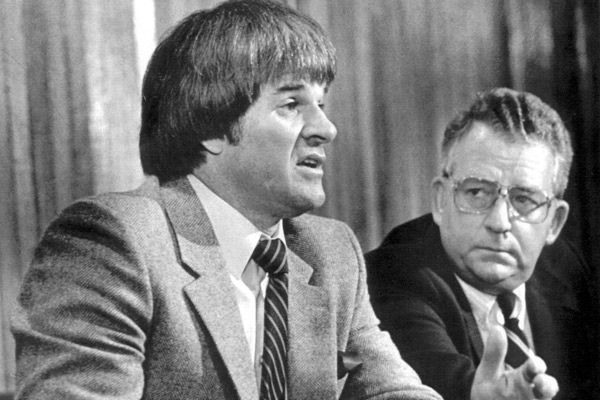 Photo: Pete Rose (left) and Bill Giles
"Today, I guess you could say I'm a horsebleep philosopher, or whatever. I better go home and work on my crystal ball." While he may have struggled distinguishing between philosophers and prognosticators, Phillies manager Danny Ozark owned up to a failed prediction that the Phillies would sweep the Dodgers in 1978. In fact, they lost in four.
Photo: Danny Ozark / 1977 Daily News File Photo
"They took my picture when I was sitting down," Manute Bol, explaining why his passport read listed him as being 5-7.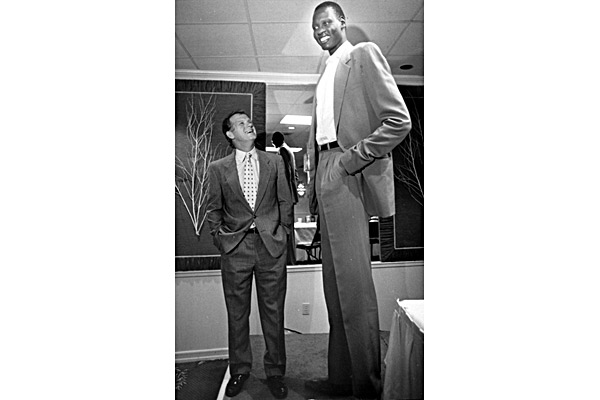 Photo: 1990 MANUTE BOL (RIGHT) WITH SIXER HEAD COACH JIMMY LYNAM (MICHAEL MERCANTI-DAILY NEWS)
"You'll have to excuse me, but I've got to go back to the locker room and throw some cold water on my face." -- Duke coach Mike Krzyzewski was still in disbelief an hour after Christian Laettner's miracle shot to win the 1992 East Region at the Spectrum.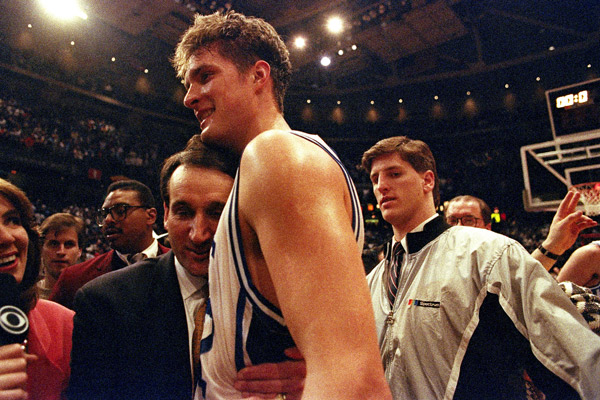 Photo: Duke University basketball head coach Mike Krzyzewski hugs his star center Christian Laettner after Duke defeated Kentucky in overtime 104-103 to win NCAA East Regional Final in Philadelphia Saturday, March 30, 1992. (AP Photo/Amy Sancetta)
Chase Utley at the 2008 World Series celebration: "World f-----ing champions!"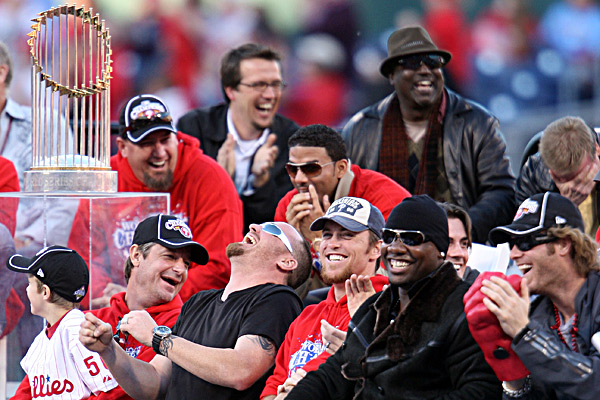 Photo: The Phillies players react to Chase Utley's "World F-----ing Champions!" on the podium. Jamie Moyer, Brett Meyers, Brad Lidge, Ryan Howard and Jason Werth. (Michael Bryant/Staff Photographer )
"We were happy that the president wasn't dead," said guard Isiah Thomas, who led Indiana to the 1981 national title just hours after Ronald Reagan was wounded during an assassination attempt.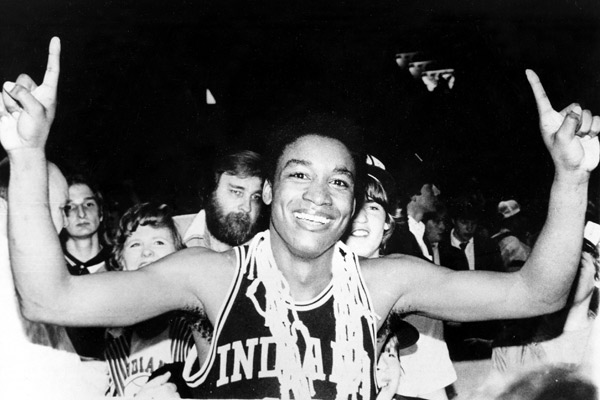 Photo: Indiana's Isiah Thomas, of Westchester, Ill., signals number one as he wears the basketball net around his neck after his team won over North Carolina, March 31, 1981. (AP Photo/Ingraham)
"ABC and CBS are on the air, and we're playing bleeping games," said NBC broadcaster Bryant Gumbel. "It doesn't look good for us. It makes us look like callous boobs. "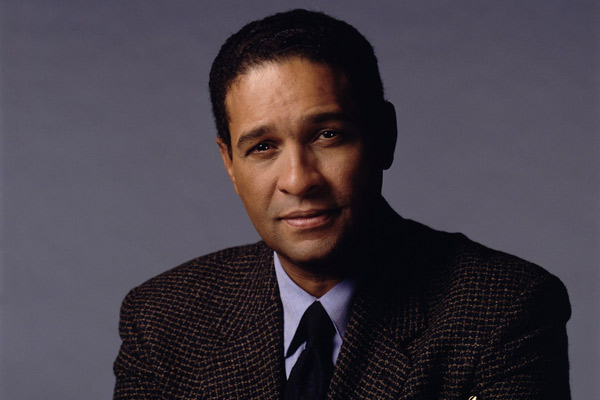 Photo: Bryant Gumbel (Richard Corman)
Father Judge coach John "Whitey" Sullivan after his team was beaten by Cardinal Dougherty and massive quarterback Andy Baratta in 1978: "'That game was won 18 years ago in a bedroom in Olney."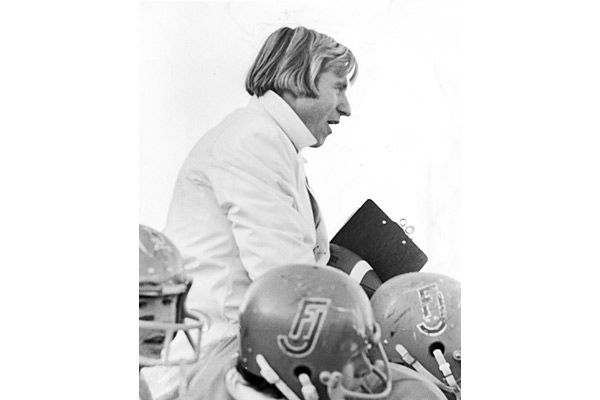 Photo: John "Whitey" Sullivan