Baseball, at last, has arrived. Let's take a look around the nation at the full slate of Opening Day action.
Cubs @ Pirates, 1:05 pm
Cubs: Starting a season because the schedule says they have to; would have probably preferred to just keep slowly rebuilding.
Pirates: Looking to keep beeing a playoff team in 2014, with a locked-up reigning MVP, Andrew "The Dread Pirate" McCutchen, and a hungry fanbase that probably wasn't too demoralized by losing an on deck series to the Phillies.
Royals @ Tigers, 1:08 pm
Royals: Signing Jason Vargas and being the inspiration for a Grammy-winning singer aren't exactly the things contenders are made of, but the wide belief is that this crew of young hitters and hurlers is finally developed enough to make a playoff push.
Tigers: The Tigers have the best pitcher and hitter in the AL, and could afford to make utter clowns out of themselves in the Doug Fister trade and still remain the favorite to win the division; which they should do, seeing as another star pitcher is probably on his way out in Max Scherzer.
Nationals @ Mets, 1:08 pm
Nationals: Once again picked to win the paltry NL East, the Nats - winners of the aforementioned Fister debacle - are young, skilled, and except for Fister, healthy. Barring things going terribly wrong, they should dispatch of the Braves and run away with this thing.
Mets:
Murph's wife is in labor, Chris Young has a quad strain and some players are dealing with the flu. This is SO #Mets. http://t.co/TpFSuIQJjV

— WFAN Sports Radio (@WFAN660) March 31, 2014
Players to watch: With Matt Harvey invisible for a year, Dillon Gee takes the mound, presuming he has not been stricken by a witch's curse. On the other side, focus on just about anybody in the Nats' lineup - Harper, LaRoche, Werth, Span... chances are it will be someone good at baseball.
Braves @ Brewers, 2:10 pm
Braves: Defending NL East champs who locked up tyheir future this winter, but did little else other than lose their long time catcher, offensive weapon, and sourpuss Brian McCann, as well and stable veteran hurler Tim Hudson. An epidemic of Tommy John surgeries swept through their locker room, leaving them borderline defenseless in the rotation.
Brewers: Ryan Braun is back, and the home fans seem to have forgiven him. Spitfire shortstop Jean Segura may or may not be healthy enough to play with his sore shoulder, which could effect Milwaukee's chances for a critical bit of gutless deception late in the game. Julio Teheranstarts for the Barves, one of the younglings the team signed up long term. His blood will be pumping today.
Then again, there's a pretty good chance the main narrative of this game will be on a particular Brewer who wasn't around last year.
Actually I was talking about Braun but look at that puppy oh he's such a good little man yes he is.
Damn you, Brewers PR team. I completely forgot PEDs even exist.
Red Sox @ Orioles, 3:05 pm
Red Sox: Shane Victorino tweaked his right hamstring, leading to the promotion of Jackie Bradley, Jr., but the Red Sox look like they're for the most part going to remain that scrappy, gritty, underdog bunch that makes you want to punch yourself in the eye. The champs lost Jacoby Ellsbury to the Yankees, Stephen Drew to no one yet, and Ryan Dempster took a year off to presumably stalk Alex Rodriguez. These dents are why the Rays could wind up giving the beards a close shave.
Orioles: The O's are still a potent offensive threat, but their low seeding is generated by a shaky pitching staff and the fact that they play in a rejuvenated AL East. late offseason moves got them Ubaldo Jimenez and added Nelson Cruz to a lineup that already featured Chris Davis, J.J. Hardy, Adam Jones, and Matt Wieters. Manny Machado isn't repaired enough to make it out, but it won't be long until he's being Brooks Robinson again.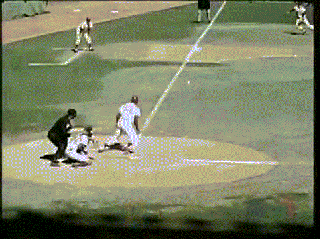 Twins @ White Sox, 4:10 pm
Twins: Last year at this time, Vance Worley was starting for Minnesota. This year, Ricky Nolasco has that honor, with hopefully a better fate awaiting him. Also new for the Twins in '14 is that Joe Mauer is a first baseman now, with Justin Morneau in Colorado. Noted 20-home run hitter Jason Kubel has returned, and the team acquired Phil Hughes from the Yankees, who were done with him.
White Sox: Chris Sale is starting for the ChiSox today, and Paul Konerko begins a farewell tour that will be so overshadowed by Derek Jeter's the poor guy is basically retiring in secret. "Ready to surprise" MLB.com says of both these teams, which is another way of saying they are both beginning fairly inconsequential, probably forgettable seasons.
Cardinals @ Reds, 4:10 pm
Cardinals: Five months removed from the Cardinals and I'm still sick of them. Yadier Molina, Adam Wainwright, Allen Craig, blah blah blah, they'll probably win the pennant again. Moving on.
Reds: MLB is forcing the Reds to start the year with their NL Central inferiority complex. Part of the attack will be Billy Hamilton, the young dust cloud whose speed is spoken of mainly in folk songs around camp fires. Johnny Cueto appears healthy and gets the start topday - always good news - but Cincinnati will be plowing through some misfortune, after starter Mat Latos suffered a cartilage tear and Aroldis Chapman took a line drive off the head. They also lost Shin Soo-Choo to the far less scary notion of free agency.
Blue Jays @ Rays, 4:10 pm
Blue Jays: The Jays were supposed to rise in 2013, and they didn't do that, so now they've got to try it again, as the widely-considered weakest team in a strong division. R.A. Dickey is... a knuckleballer, so he could win a Cy Young as easily as he could be tossing beer league change-ups in there. Jose Reyes is getting older always an injury risk, Jose Bautista can't shoulder the offense himself, and that pitching staff... guh.
Rays: After all that talk, David Price is still the Opening Day starter for the Rays. Tampa has once again pieced together a team of odd pieces, some of them you root for, some of them you never wanted to see on a baseball field again. Probably, Joe Maddon and his clubhouse smelling of fresh bread will win their division, with led by Evan Longoria and defending AL Rookie of the Year Wil Myers.
.@wilmyers' hair is still fantastic, via @IAmMapes. pic.twitter.com/Pc0TF4ZsVB

— MLB Fan Cave (@MLBFanCave) November 11, 2013
Rockies @ Marlins, 7:05 pm
Rockies: The Rockies have the unfortunate affliction of two elite stars in Troy Tulowitzki and Carlos Gonzalez who happen to made of glass. If they're healthy, yeah, the team could mix it up with the NL Westerners, but you can't beat these Dodgers while walking a tight rope.
Marlins: Hey, the Marlins get a few lucky bounces and the Phillies get a few bad ones and you never know who will finish out of last place. The Fish brought in Jarrod Saltalamacchia, which was nice, but the real guy to watch continues to be young Jose Fernandez, a devastating starter and NL Cy Young contender who knows a thing or two about getting under another team's skin.
And, you know, there's problems like this one:
"Yet, for each team, there are questions. How is Miami going to score runs?"
Sort of important. I've heard.
Giants @ Diamondbacks, 9:40 pm
Giants: If the pattern sustains, the Giants are set to win the World Series in 2014, having done so in 2010 and 2012. Tim Lincecum is a shadow of his former self, giving Madison Bumgartner the start on Opening Day. Their offense remains unremarkable, but the general attitude seems to be that they've been awful before and still won, so, yeah. Keep doing that.
Diamondbacks: The Dbacks have the unfavorable position of entering the season having already lost twice. The prickly bunch of snakes touts Paul Goldschmidt, a 2013 breakout star, and Patrick Corbin, who will... not play, due to Tommy John surgery. Chances are this team doesn't run the show out west.
Indians @ Athletics, 10:05 pm
Indians: The Indians shuffled their bullpen around in the offseason, bringing in John Axford to replace Chris Perez and losing Joe Smith and Matt Albers. They boast three switch hitters in their lineup and, like the A's, get depth from a swath of unlikely names. Even 43-year-old Jason Giambi is one the Indians.
Still there is also ace Justin Masterson, whose confuddling contract situation will be avoided by the front office until the offseason.
Athletics: The A's are just good. Good pitchers, good hitters. The manager's pretty good. They're just a good team that stays healthy. Turns out that's all you need. Outside of swapping closer Grant Balfour for Jim Johnson, they did what they always do in the offseason and stayed good.
Sonny Gray will get the start, a very young, very A's pitcher who gave up 19 runs in 64 innings last year, with 67 punch-outs and only 20 walks. He's backed by Josh Donaldson, Josh Reddick, Yoenis Cespedes, Coco Crisp, and the rest of the constantly underrated A's offense that will probably win their division, again.
Mariners @ Angels, 10:05 pm
Mariners: The Mariners signed Robinson Cano this offseason. The Mariners were not one Robinson Cano away from the World Series. The Mariners will not win the AL West, but a new star and a new manager in Lloyd McClendon signals the start of a new era.
Felix Hernandez is awesome.
That is all.
Angels: Mike Trout's $144.5 million deal is secure, as are his concerns about the team doing well out the gate. Angels have failed to do so the last two years, despite boasting Albert Pujols and Josh Hamilton in their lineup. Jered Weaver was hurt early last year, and fell off from an impressive 2012. The AL West's playoff behemoth has traditionally been the A's, a team stitched together and presumably beatable. The Angels have spent a lot of money to be the opposite of the A's. In a way, they are, having made the opposite of the playoffs.