Yasiel Puig limited at Dodgers camp due to inflammation

Yasiel Puig is a strong hitter with a big bat and a slick fielder with a frighteningly accurate arm. He's a 23-year-old phenom who took the league by storm, is great with kids, and and unquestionably polarizes the media who at different times love his energy and condescend his lack of their exact morals.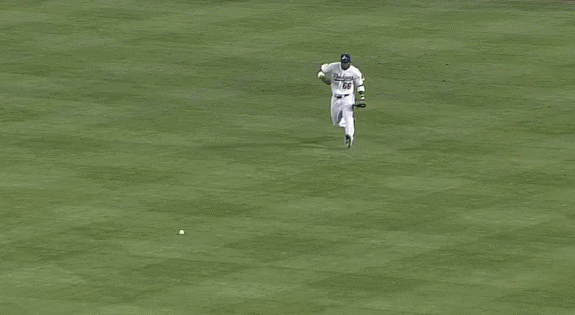 *sigh*
Naturally, being the league's hottest rising star, any sort of news about his health will be blasted to the top of the news cycle. He suffered from dehydration and calf cramps in the 2013 season; something we know because someone bothered to report it because it was happening to Puig and not A.J. Ellis.
So you may want to breathe into a paper bag when you are told that Puig is dealing with inflammation in his right shoulder.
Puig dealt with the same inflammation throughout the year, and it didn't seem to slow him down. The Dodgers are taking precautions with their star, naturally, but at the moment, he is not going full speed at training camp (though who is on February 14).