Phillies RISP Report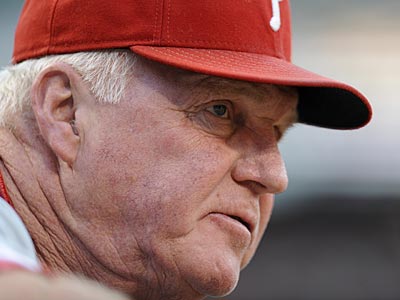 How the Phillies fared with RISP in the first half.
Phillies RISP Report

We found this hard to believe, but at the All-Star break, the Phillies' batting average with runners in scoring position (.250) is actually higher than the National League average (.247).
Also, it turns out that three of the top four Phillies in RISP average are not currently on the active major league roster.
Here is how the Phillies' RISP team numbers break down by situation and a player-by-player look at RISP performance:
PHILLIES TEAM RISP BREAKDOWN
Runner(s) on
H- AB
2B
3B
HR
RBI
Avg.
NL Avg.
NL Rk.
2nd
60-252
11
3
9
51
.236
.238
6th
1st & 2nd
56-202
9
0
4
49
.277
.242
5th
3rd
19- 86
4
0
2
29
.221
.255
12th
1st & 3rd
19- 82
6
0
4
41
.232
.271
10th
2nd & 3rd
13- 63
1
0
1
28
.206
.253
13th
Bases Loaded
21- 66
6
1
1
54
.318
.249
3rd
Totals
188-751
37
4
21
252
.250
.247
10th
PHILLIES INDIVIDUAL RISP
Player
H-AB
Avg.
RBI
Player
H-AB
Avg.
RBI
Pete Orr
4- 8
.500
5
Brian Schneider
4-18
.222
2
Laynce Nix
5- 12
.417
9
Ty Wigginton
13-61
.213
25
Carlos Ruiz
23- 69
.333
33
Chase Utley
1- 5
.200
0
Hector Luna
5- 16
.313
9
Cliff Lee
1- 5
.200
1
Jimmy Rollins
18- 63
.286
24
John Mayberry Jr.
10-54
.185
16
Juan Pierre
16- 56
.286
17
Michael Martinez
2-11
.182
4
Jim Thome
6- 22
.273
10
Joe Blanton
1- 8
.125
1
Shane Victorino
23- 87
.264
28
Roy Halladay
1-10
.100
1
Cole Hamels
1- 4
.250
2
Ryan Howard
0- 1
.000
0
Freddy Galvis
13- 55
.236
18
Kyle Kendrick
0- 2
.000
0
Placido Polanco
12- 51
.235
11
Erik Kratz
0- 2
.000
0
Mike Fonenot
5- 22
.227
5
Vance Worley
0- 3
.000
0
Hunter Pence
24-106
.226
31