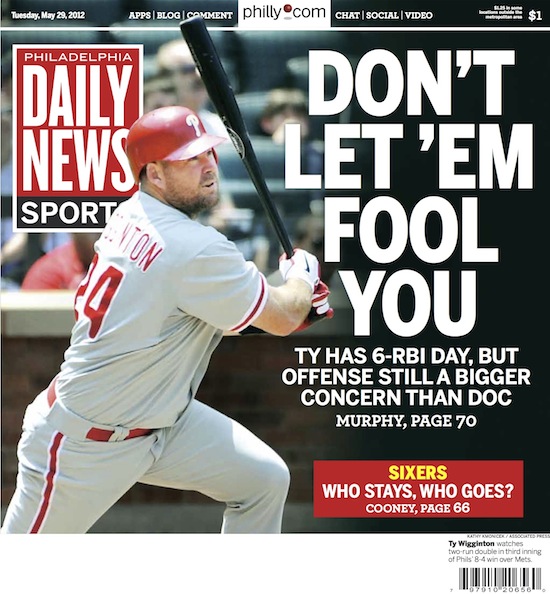 The question is hypothetical, because we do not yet have an indication that the Phillies are serious players for Roy Oswalt, who is still back home in Mississippi gearing up to play some ball. But we know that the team has seen the veteran righthander pitch, and we know that Roy Halladay is headed for a doctor's appointment today, and we know that Roy Halladay does not tend to make doctor's appointments and leave games early for minor ailments. So there is plenty of reason to believe that Ruben Amaro Jr. might have interest in bringing Oswalt back for another go-around.
The tricky variable is the offense, which has shown some signs of life over the last month but still has yet to prove that it is anything more than a middling unit that does most of its damage against middling pitchers. And the two biggest variables for the future of the offense are Chase Utley and Ryan Howard, neither of whom are likely to have returned by the time Oswalt picks a team. All of that could be related if the Phillies have a limited amount of payroll that they can take on between now and the trade deadline.
Maybe the offense does not need any help. Maybe Utley gives you what he gave you after his return last season, and maybe Howard can at least get himself back to the point where he is the batting order's top power threat and RBI producer. And maybe Ty Wigginton rotates in at first base against left-handed pitchers and Laynce Nix and Juan Pierre rotate with John Mayberry Jr. in left field and all of it works to produce a cohesive unit. And maybe Jimmy Rollins breaks out of a funk that has been going on two months and maybe Shane Victorino and Hunter Pence get back to the levels they were playing at for the bulk of last season.
But that is a lot of maybes, very few of which will be sorted out before a decision on Oswalt is due. I don't get the sense that the Phillies will allow themselves to be hamstrung by finances at this point. But I don't know that for sure. Left field is the one clear opening where they can slot a potential difference-making bat -- think Josh Willingham of the Twins, although it is not certain that he will be available. Boston's Kevin Youkilis could also be available at third base. Point is, the Phillies need to have the flexibility to make such a move if July arrives and the jury is still out on the offense. Which is why I'm not sure that spending a sizeable chunk of money on Oswalt would be a prudent move.