Going Long on Joe Blanton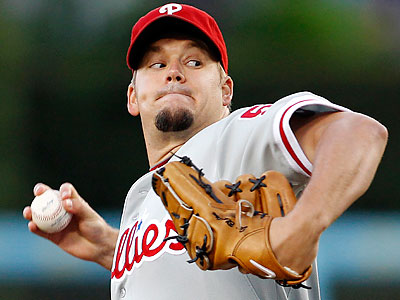 The major league and Phillies records for most consecutive games allowing a home run.
Going Long on Joe Blanton

Joe Blanton managed to keep the Dodgers in the yard Monday night, ending his streak of home runs allowed in 11 consecutive starts. That falls one short of the club record held by Randy Wolf.
The major league mark is held by Bert Blyleven, who was touched 20 games in a row.
Here are the Phillies pitchers and major league pitchers who have allowed home runs in the most consecutive games:
PHILLIES (9+)
No.
Pitcher
First Game
Last Game
12
Randy Wolf
April 19, 2000
June 19, 2000
12
Joe Blanton
May 14, 2012
July 7, 2012
10
Bruce Chen
April 23, 2001
June 19, 2001
9
Dennis Cook
July 2, 1989
Aug. 15, 1989
9
Don Carman
June 1, 1987
July 11, 1987
MAJOR LEAGUE (13+)
No.
Pitcher
First Game
Last Game
20
Bert Blyleven
Sept. 8, 1986
June 10, 1987
19
Curt Young
June 3, 1987
Sept. 26, 1987
15
Ramon Ortiz
May 1, 2005
July 17, 2005
15
Mark Leiter
April 17, 1996
July 4, 1996
14
John Thomson
May 17, 2002
Aug. 3, 2002
14
Dennis Rasmussen
July 10, 1986
Sept. 29, 1986
13
Brandon Backe
April 17, 2008
June 22, 2008
13
Runelvys Hernandez
Oct. 2, 2005
Aug. 10, 2006
13
Steve Parris
July 31, 2002
May 6,2003
13
Steve Trachsel
May 25, 1999
July 30, 1999
13
Dave Johnson
May 23, 1990
July 23, 1990