Four managers are on the hot seat in 2014

Baseball has seen historically flawed franchises turn the corner in recent years.
The Rangers clinched two American League pennants after a postseason desert, the Braves finally broke through and toppled the Phillies' five-year run as National League East champs, and the Pirates broke their 20-year curse. But without a ring on anyone's fingers, teams start to get impatient.
Kirk Gibson already got his, but four managers' contracts are up at the end of 2014, and in some cases their team's performances this season may dictate what lies ahead.
Fredi Gonzalez, Braves
Gonzalez joined the Braves after being kindly asked to leave the Marlins following a dispute with shortstop Hanley Ramirez. That was three years ago.
Since then, he inherited a young Braves team full of talent that took the NL East without much of a fight from the Nationals. Gonzalez managed in his first postseason game but his team proceeded to be soundly eliminated by the Cardinals in the NLDS.
It was during yet another early playoff exit for the Braves that Gonzalez's decision-making took a beating, no moreso than during Game Four when he nearly made Craig Kimbrel explode by not bringing him in.
His long ties with the organization – Gonzalez coached in AA Richmond before being bumped up to the coaching staff of the Braves from 2003-06 – and positive raport with Atlanta's youth movement indicate his job is likely not on the line, though the Braves' obstacles ahead in keeping their core together may prove troublesome in the years to come.
Ron Washington, Rangers
Washington and Texas' general manager, Jon Daniels, are worried about neither job security after 2014, nor the team's reactions to their manager's ambiguous future. Washington came aboard in 2007, and in his tenure won the AL pennant twice (2010 and 2011) and lost the one-game Wild Card playoff to the Orioles in the first year of its existence (2012).
Things haven't always been peachy for Washington. In 2007, he was reported to have an issue with then Rangers first baseman Mark Teixeira. In 2009, he admitted to using cocaine. But he is also the Rangers' managerial leader in wins (582), and only the second Rangers manager to reach the playoffs, ever.
The Rangers are his baby and he's bought himself a little leeway - not that he'll necessarily need it, as the team has bought him a couple of All-Stars to work with in 2014.
Ron Roenicke, Brewers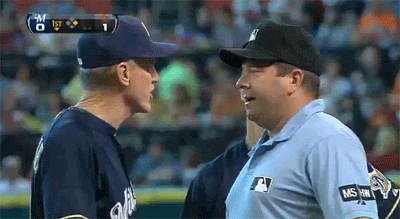 Roenicke has been around only since 2011, and in his first year managing in Milwaukee, the Brewers won the most games in franchise history. The team stumbled in his sophomore effort, marred by the whole "Ryan Braun" thing, and losing Prince Fielder to the Tigers.
Giving up on him now seems short-sighted, but like Hurdle, he'd have to see a howling, flaming downward spiral in his third year at the helm to be in serious danger.
The team is acclimating to potentially contending every year, and without a horrendous drug scandal to also contend with, their actions like acquiring Matt Garza should help Roenicke remain where he is. His deal has an option for 2015, so the Brewers would just need to flick the switch to keep him around.
In 2012, as the team stumbled out of the gate, people were already wondering why Roenicke and GM Doug Melvin received extensions, so impatience is of course at play for a team who hasn't gotten far enough in the playoffs recently to be satiated by a mere Wild Card slot.
Clint Hurdle, Pirates
Well, it would be hard to imagine a world in which Clint Hurdle, the man who lassoed the Pirates and pushed them into the playoffs for the first time in 20 years and was NL Manager of the Year quite handedly, could screw up enough to not get his contract renewed.
Should the Pirates squander a chance to build off their big season, it still would be a surprise to see Hurdle's 2015 option not picked up. Removing the leader from the clubhouse full of players who changed the course of Pittsburgh baseball with him would be... puzzling.
If they stuck with Hurdle as the Buccos raised hopes and collapsed for their 19th and 20th consecutive losing seasons, he gave them plenty of reason to stick with him past 2013.
Ninety wins! The Pirates won 90 times last season!