THE ORIGIN of the term "Dog Days" goes back to ancient Greece when Sirius - the Dog Star - rose just before or simultaneously with the sun.
This is no longer true because of the precession phenomena, which over time has gradually shifted the orientation of the Earth's rotation axis.
The ancients would sacrifice a brown dog to Sirius, believing that the star was the cause of oppressively hot weather.
Of course, science tells us that "The Dog Days of Summer" are simply a natural occurrence due to the Earth's rotation around the sun, and its dates vary between regions based on climate and latitude.
In baseball, we've come to refer to the "Dog Days" as the period from August to September, when not only does the atmospheric temperature rise throughout major league ballparks but also the intensity of competition increases as the contenders separate themselves from the pretenders in the pennant races.
Here in Philadelphia, we've been treated to two of the most entertaining "Dog Days" runs the past two seasons as the Phillies twice ran down the wilting New York Mets to win the National League East.
Last year the Phillies' ability to withstand the heat culminated in the franchise winning its second World Series.
The Major League Baseball season is a 162-game grind. By the time teams get to August, they've played a little more than 60 percent of the season. The "Dog Days" arrive just about at the point when players are most vulnerable to succumb to physical and mental fatigue. A lack of focus can easily happen when you're playing seven games in 8 days with temperatures in the low- to mid-90s.
The Phillies have not shown to be that type of team. In 2007, the Phillies went 33-23 after July 31; last season, they were 33-21.
This season, the Phillies entered August with 61 games to play. If they play .600 ball the rest of the way, they would finish with 94 victories.
The Florida Marlins would need to win 40 of their final 58 to get to 94 victories, while the third-place Atlanta Braves would need to win 41 of their final 58.
That's why you have to love the move Phillies general manager Ruben Amaro Jr. made in acquiring American League Cy Young Award winner Cliff Lee from Cleveland. It adds another player to a mix of players who have shown that they rise to the occasion when the physical and mental stress of the "Dog Days" has beaten other players down.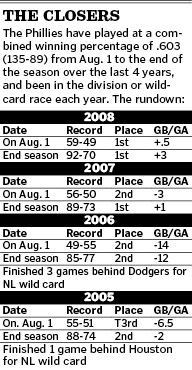 Last season in 10 starts in August and September, Lee went 8-1 with 2.47 ERA. He also averaged 7 2/3 innings per start.
Adding Lee to the top of the rotation with Cole Hamels gives the Phillies a potent 1-2 punch to lead the pitching staff through the stretch drive of a pennant race.
Hamels only had a 5-4 record in 11 starts after July 31, but with a 2.71 ERA, he would have had a much better record with some run support. Joe Blanton went 4-0 in 11 starts, while Jamie Moyer was 6-1 with a 3.50 ERA and averaged nearly six innings in 11 starts.
Setup man Ryan Madsen pitched 28 1/3 innings last August and September, with an ERA of 2.22.
For those concerned about closer Brad Lidge, last July Lidge had seven saves but his ERA was 5.14. After July, he had 15 saves and dropped his ERA to 1.55.
It wasn't just the Phillies pitchers who heated up as things got hot.
Last season in Seattle, leftfielder Raul Ibanez had 68 hits in 214 (.318) with eight home runs and 47 RBI after July.
Shortstop Jimmy Rollins struggled much of last season as he has this. But down the stretch of the pennant race, Rollins had 61 hits in 214 at-bats and scored 26 runs. During his MVP season in 2007, Rollins scored 49 runs and had 73 hits.
Second baseman Chase Utley played through the pain of a hip injury for most of last season. Still, it was mind-over-matter after July as Utley had 57 hits in 197 at bats (.298) and scored 38 runs.
In 2007, Utley was limited to 32 "Dog Day" games because of a broken right hand, but after coming back in late August, Utley hit .321 with 25 runs scored and 21 RBI.
Then, of course, there is Ryan Howard, who has proven to be the ultimate late-season slugger.
Howard showed the first signs of how he could carry a team during his rookie season in 2005 when he had 16 home runs and 43 RBI in the last 52 games. In 2006, it was 23 bombs and 62 RBI after July 31, and 18 dingers and 50 RBI in 2007.
After struggling with his swing for much of last season, Howard clobbered 18 home runs and drove in 51 in the 54 games of the last 2 months.
The "Dog Days" are hot. The Phillies have shown they can be even hotter.
Send e-mail to
For recent columns, go to
http://go.philly.com/smallwood.