Halladay Cy Young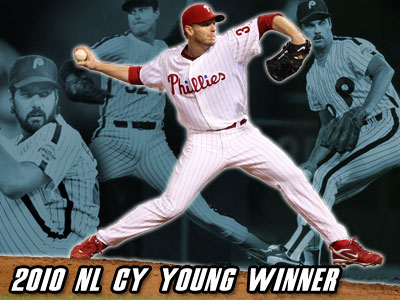 When Roy Halladay was named the winner of the National League Cy Young Award on Tuesday, he was golfing in Mexico with Mike Sweeney, Chris Carpenter, and Chris Young. Yes, even Halladay knows how to take a vacation and find a foursome somewhere.
Sam Donnellon: It is really impossible to overstate the effect that Roy Halladay had on the rest of the Phillies' pitchers. It's not why he won the Cy Young, and it likely will get lost among the numbers and feats he posted this season. But it is undoubtedly the best part about having him.
Moments to Remember
At 9:23 p.m., Ronny Paulino grounded out to third to set off the celebration. Roy Halladay did a TV interview on the field then went into the clubhouse to a round of applause. The first person he thanked was his catcher, Carlos Ruiz.
Roy Halladay fulfilled a dream in the Phillies' 4-0 Game 1 win over Cincinnati. His performance was not just a no-hitter, not just a no-hitter in a postseason game, but a no-hitter in a postseason game for which he had waited an entire career.