Smackdown coming over new PA wrestling regulations

Editor's Note

:

Wrestling with Regulation

is a three-part series covering the Pennsylvania State Athletic Commission's regulation of professional wrestling and its strange intersection with one of the state's most vibrant — and secretive subcultures. Click here for Part One and click here for Part Two.
HARRISBURG – Godsmack's "Keep Away" screams out of a makeshift set-up of oversized speakers, announcing the impending arrival of the Rockin' Rebel inside the fog-machine haze of the cramped and darkened Stevens Fire Hall in Stevens, Pa.
Inside the ring, the 47-year old Rockin' Rebel stands 6-feet tall, weighs in at "1,000 pounds, including his ego" and has no remorse about delivering a running leg drop to a young rookie.
Outside the ropes, the Rebel is known to his family as Chuck Williams, and is a master at handling paperwork to gain governmental approval for wrestling matches around the state. At one time, he was the second largest promoter of wrestling in the state behind the WWE.
Despite Williams' expertise in navigating bureaucratic red tape, his theme song "Keep Away" would be an apt description for the historic feelings of most in the wrestling industry about the state stepping in, which led to wide deregulation of the sport in the 1980s.
At a time when the commission appears to be re-entering the ring of regulation, most everyone in the wrestling industry wants a different outcome. The state wants more money, independent promoters want protection, outside observers want more regulation and wrestlers are torn.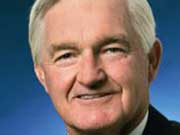 Currently, violators of certain provisions of the Wrestling Act can be charged with a third-degree misdemeanor. Robbins' bill would allow the Pennsylvania State Athletic Commission to administer an additional civil penalty fine to promoters, and possibly wrestlers themselves, up to $5,000 for violating the Wrestling Act.
Robbins' office would only say that the athletics commission requested the penalty-specific language; requests for comment from the senator went unanswered.
Greg Sirb, executive director of the athletic commission, said the bill was intended to give the Wrestling Act "more teeth" to go after promoters who failed to pay their talent or deliver their advertised product to the fans.
Williams says that's a good thing.
"I'd rather they crack down on some of these crappy promoters," he said.
According to Williams, the commission has "busted down on a lot of guys, because they have had a lot of fraudulent promoters in the last few years."
The bill would also allow the commission to administer a fine for any violation of the Wrestling Act, such as blading (intentionally cutting oneself for theatrical effect), destroying ticket stubs or using a performer under the age of 18.
That part is troubling for promoters, as it would allow the commission to fine a promoter for a wrestler's actions.
"I can't physically stop" a wrestler from blading, Williams said.
Although he could prevent the wrestler from working for him again, once they're in the ring he has little control.
The bill represents the largest potential increase in the commission's regulatory power in recent years, but for many it doesn't go nearly far enough.
"It's just a matter of time before there's another Chris Benoit," argued Muchnick, nephew of a wrestling promoter and author of a book on the Benoit murders.
In boxing or mixed martial arts, a failed drug test will prevent the fighter from competing. Wrestling has no such restrictions, and many performers, including Richard "Reid Flair" Fliehr in March and Matt "Doink the Clown" Bourne in July, have died drug-related deaths.
But there are numerous clean wrestlers as well. Twelve-year wrestling veteran Rickey Shane Page does not smoke, drink or use drugs.
"I had a half a wine cooler once when I was 16. It was Y2K and I thought the world was ending," Page joked.
Many are not as convinced additional state regulation is needed or will be beneficial.
Dave Meltzer, publisher of The Wrestling Observer, said it's a hard question whether pro wrestling warrants more regulation than it currently has.
The WWE is "safe as you can be" through a self-regulated wellness program and there's probably not anything a commission could do above what the WWE already does, he said.
Muchnick disagrees, and said the WWE's wellness program is "something of a joke" because there's "no oversight" with WWE controlling the drug testing.
Meltzer said he wonders if new regulation would be "cost-effective" or "does it put these shows out of business?"
Amid the debate over regulation, there's little evidence the state does any better with the powers they currently have.
Rob Strauss, who performs for TNA Wrestling — the second largest wrestling promotion in the nation — as Robbie E said he hasn't seen a commission official at a Pennsylvania wrestling show in years.
The commission is not required to have an official present at any show, but taxes the wrestling promotion regardless.
Sirb said he tries to get an official to a promoter's show about once a month for an inspection. PA Independent is awaiting a response to a Right-to-Know request regarding how many shows officials have attended in the last three years.
Page told PA Independent he wasn't "against commissions getting involved" but wishes "they were more informed about pro wrestling."
According to Williams, he once told the director of the athletic commission, who he considers a friend, "You know about as much about wrestling as I know about boxing. And I don't know a f**king thing about f**king boxing."
Contact Gary Joseph Wilson at gary@paindependent.com or on Twitter @gjw34.
The Pennsylvania Independent is a public interest journalism project dedicated to promoting open, transparent, and accountable state government by reporting on the activities of agencies, bureaucracies, and politicians in the Commonwealth of Pennsylvania. It is funded by the
the Franklin Center for Government and Public Integrity, a conservative nonprofit organization.