The Phillies won't get home until Monday, the Sixers will play the Nets in front of a few yawning ushers and popcorn vendors Saturday night, and the Flyers will take a stab at the Sabres in prime time on Sunday.
But those searching for watchable weekend sports in Philadelphia won't have to crowd into a bar for the Final Four.
Saturday and Sunday, Sedgley Woods in Fairmount Park will host disc golfers from all over the mid-Atlantic for the Philly Open, a tournament similar to events held by the Delaware, Bucks County, Lehigh Valley, and New Jersey disc golf clubs.
"This is the biggest event of the year for us," says volunteer and disc golfer Aaron Fahey. "It was always farmed out to somebody else, but this is the first one we're running as a club in a long time. We did a lot more work – this one has a lot more going on."
The course received a $10,000 grant to get new tee pads installed, but the efforts of the course's volunteers – the Friends of Sedgley Woods - are mostly responsible for the upkeep. Thanks to new local sponsorship and successful fundraisers, the Philly Open features the largest winner's purse in tournament history and the sign-up sheets have been maxed out for both amateurs and pros. Holes will be combined and new ones added to increase difficulty (Sedgley may be older and smaller than most of its counterparts, but they said the same about Merion), and a driving range, where golfers will be winging discs 120-150 yards, is to be installed.
But like any sport trying to grow, disc golf needs both more enthusiasts and more space to put them. The biggest-ever Philly Open certainly isn't going to do anything to quell interest in a sport that's been in Philly for 37 years and North America for most of the last century.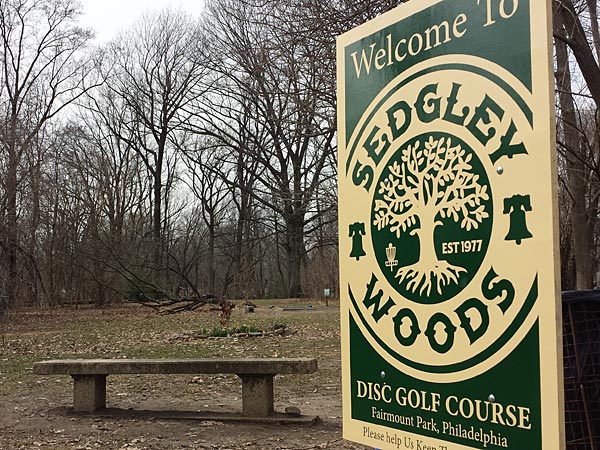 …
Saskatchewan, 1926. A Canadian named Ronald Gibson invents a game with his friends in which they hurl tin plates at trees. A phenomenon is born.
And quickly dies.
The game resurfaced in the '60s through men like Kevin Donnelly, who as a recreation supervisor for the city of Newport Beach set up Frisbee golf tournaments at local playgrounds; George Sappenfield, who involved Wham-o, the company that invented and produced Frisbees; and "Steady Ed" Headrick, a Wham-o employee who built the first disc golf course and formed the authoritative bodies of the sport, like the Professional Disc Golf Association (PDGA).
However, to gain nationwide attention, disc golf would need to put a stake down somewhere outside of California. And in 1977, Philadelphia became that somewhere.
But it's not as though 1977 was peacetime on the Philadelphia sports scene. What would make this laid back, west coast game so appealing to a city whose sports fans were ripping their hair out and screaming for blood in the Spectrum, nine miles away?
"It's laid back here on a casual Tuesday afternoon," grants Fahey. "But on Sunday, when all those guys who've driven four hours to get here have paid to play, and there's a $6,400 prize pool, it's gonna be a little more intense. In the second round you're gonna hear some things. It's just like any other sport."
Disc golf would indeed find a home in Sedgley Woods almost 40 years before this weekend's Philly Open. But naturally, the sport's roots in Philadelphia were born out of a thoughtless crime.
In the old days, all you needed was a Frisbee and a tree to throw it at. The more modern version of the sport has replaced innocent wildlife with manmade baskets draped with chains serving as a backboard, courtesy of Ed Headrick (One of Sedgley's original baskets, donated by "Steady Ed," sits in the center of the course in a memorial garden). Which isn't to say these trees don't take some abuse; the bruised bark is a record of misfires and loose wrists over the course of several decades, but volunteers planted 200 trees in the last year to combat their inaccuracy.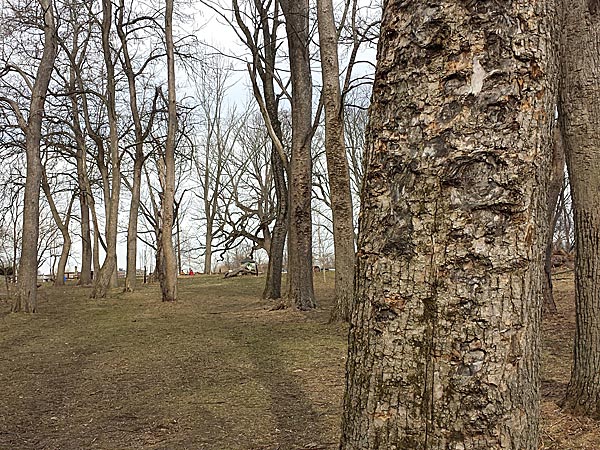 In the early 1980s, Sedgley Woods was a quiet pocket of foliage brushing up against a terrifying neglected neighborhood. The Philadelphia Frisbee Club, as it was then called, had existed only for a few years, but was already shrinking as its members fled with their growing families to the suburbs.
But one Thanksgiving Day, John Stash was out for a drive with a friend that took them down a detour on Kelly Drive. They'd been hearing about this disc game people were playing in the woods nearby and brought a few Frisbees to check it out. The course was not being maintained on the regular at this point, due to lack of popularity and manpower, but Stash took to the sport quickly and found himself showing up to play a round more and more often.
"And then," Stash says, "nine of the baskets were stolen."
There's no reason to steal a disc golf basket. You can't sell them for scrap. They aren't built for any purpose outside of catching Frisbees. You certainly couldn't impress your friends with one – let alone nine – unless your friends were fans of a sport that barely existed at that point.
"That was kind of the catalyst for the Friends of Sedgley Woods," Stash says. "Because people said, 'should we abandon it?' The neighborhood was bad, and who would steal baskets? They were worthless."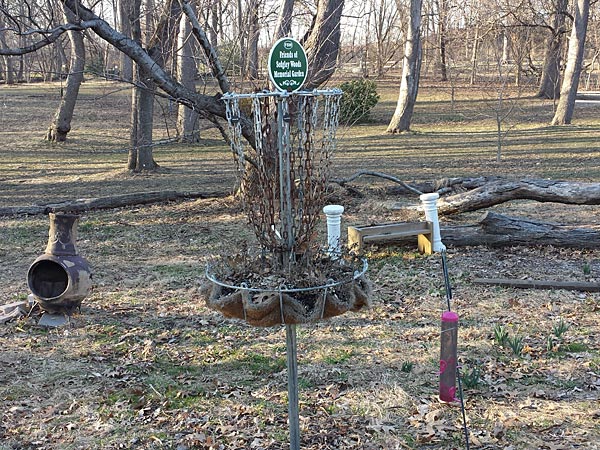 …
Instead of leaving the woods, the group hunkered down and began a period of self-governance. The city was not willing to extend a hand, so if the course needed tending, it was up to whoever had a free Saturday to help haul off a dead tree. The volunteers didn't (and still don't) own the land on which the course is built, but they do own the baskets, without which this would be just another unkempt plot of wasted Philadelphia.
Recently, the city has stepped up. A Parks & Recreation vehicle drives by and honks. Stash, now 62, gives him a shout and a wave.
"Hey! C'mon and do some work over here!" he yells playfully.
"That's our Fairmount Park liaison," he explains. "Hopefully he's going to do some mowing. We got this beautiful land here, man. We want to take care of it."
Combined forces like this have improved things in the area in general. Part of Brewerytown's propulsion forward is due to the efforts of Sedgley's band of merry men and women.
"I was working with Stash," says Fahey, "and they wanted us to clean 33rd Street. I've been coming here since 2000 and I've never seen 33rd Street clean. It's becoming more of a vibrant area. And there are plenty of people who wouldn't have ventured out to this area had the disc golf course not been here."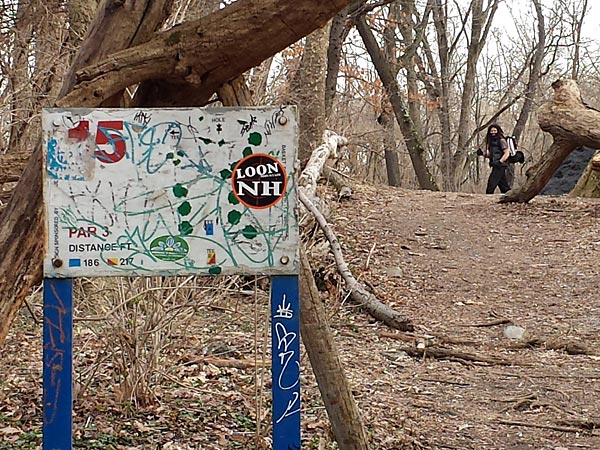 The increase in local businesses has led to greater sponsorship for the Philly Open, completing the cycle and giving the independent efforts of the Friends of Sedgley Woods an added boost. Josh Hughes, a graphic designer who spearheaded the group's newsletter, sees the tournament as growing even more in the future, becoming a two-day event taking place at FDR Park on a second course that doesn't exist yet.
"In a perfect world, we'd be able to set up a temporary course around the lake," Hughes dreams. "But disc golf is still somewhat of a subculture, people don't realize it can be such a competitive sport. If you look at course growth nationally, or even worldwide, your major tournaments – United States championship, the world championship – you get people that come to compete from many different countries."
Indeed there is a planet-wide appeal to disc golf, with hotspots in Scandinavia, Japan, Sweden, and the Netherlands. The versatile draw brings all walks of life into Sedgley as well – lawyers, magicians (at least one lawyer/magician) and a rocket scientist are all regulars. Players who are passing through the area make a point to come through.
"You get a little bit of everything," Hughes says. "My whole family plays; I've basically raised my two kids here. I love it. I love the club."
Sedgley now faces the curse of increasing popularity. The members obviously want the sport to carve out a permanent spot in local culture, but at the same time, they don't want to have to deal with long lines at the tee. The answer, obvious to them, is a second course. The minimal imposition and environmental impact of an installation make it seem far from unfeasible, but as always, the process has been slow.
"Come out here on an 80-degree Saturday in June," says Fahey. "You're waiting on every hole. There are groups of six, and it's great, I'm not gonna complain – but at the same time, it'd be nice to have the option: 'Sedgley's gonna be crowded today, let's go to the other park.'"
Until the day the mystical "other park" is real, Sedgley will remain the epicenter of disc golf in Philadelphia. Until then, for two days, the course will allow the opportunity to watch masters and amateurs of an old sport compete for honor and cash on a stretch of disc golf's most legendary ground.
If nothing else, it'll get you some sun. Which is more than the Sixers can boast.