The sudden call to move the Stotesbury Cup Regatta, the largest high school rowing regatta in the world, from the Schuylkill in Philadelphia to the Cooper River in Camden County this weekend is "unprecedented," says a race organizer, and has set off a massive logistical undertaking.
Bonnie Mueller, a director of the regatta, said the river was moving too fast and with too much volume because of recent rain to be able to guarantee fairness and safety at the famed course above Boathouse Row. By Tuesday morning, the forecast was for the river to crest at more than 7½ feet.
>>READ MORE: What you need to know about this weekend's Stotesbury Cup Regatta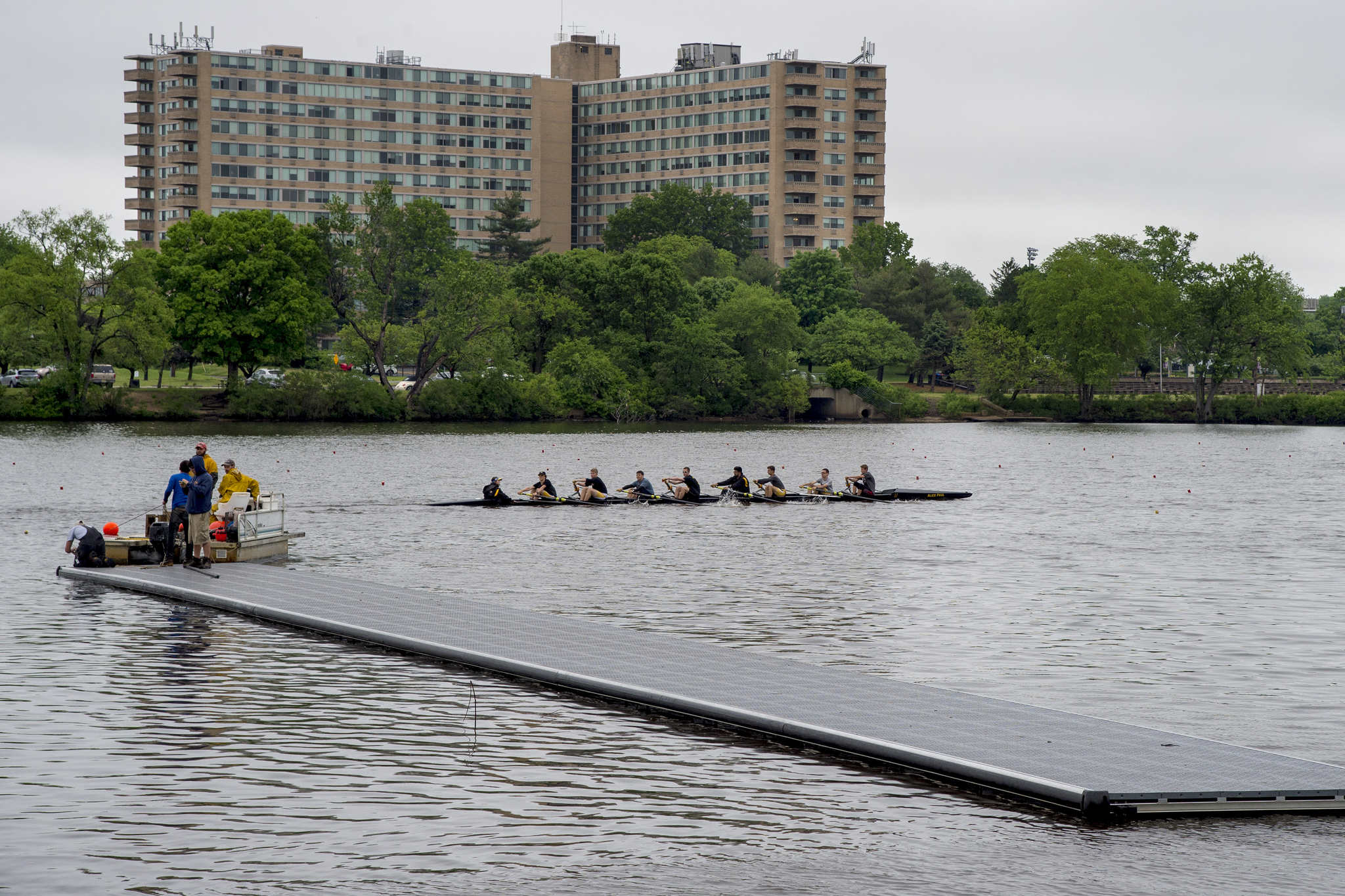 Mueller was quick to note that the switch was not made because of what rowers say is a dire need to dredge the river.
But she said it means a large-scale effort to reach out not only to rowing clubs across the country and their parents, but to all the vendors and sponsors that planned to set up along the banks of the Schuylkill. The regatta runs from Friday through Saturday.
The regatta took to social media to keep rowers and parents informed.
PARENT REGATTA ALERT: ALL TEAMS REPOST. We have confirmed that we will be able to stage all planned rented tents and the local "host/volunteer school" tents typically in front of Peters Island. @acmemarkets is going to deliver onsite. More to come. That's all we know so far.

— Stotesbury Cup (@StotesRegatta) May 16, 2018
The event is a Philadelphia institution and economic driver that brings 6,000 rowers from across the nation and Canada, as well as 35,000 spectators, to the Schuylkill's banks. The 2018 event has 195 schools entered with 975 boats. The race was first held in 1927 as male-only. Girls began rowing in it in 1974 and now are more than half of the race's participants.
The races are organized under the nonprofit Schuylkill Navy of Philadelphia, which oversees Boathouse Row. Mueller is also a vice commodore of the navy. She said the event has been moved only once before. That was in the late 1980s, when it was switched to Delaware because of river conditions. But the regatta was much smaller then.
"This is unprecedented in moving an event this size on this small of a notice," Mueller said. That includes removing a large new dock that had just been installed on the Schuylkill for the race and placing it in the Cooper River.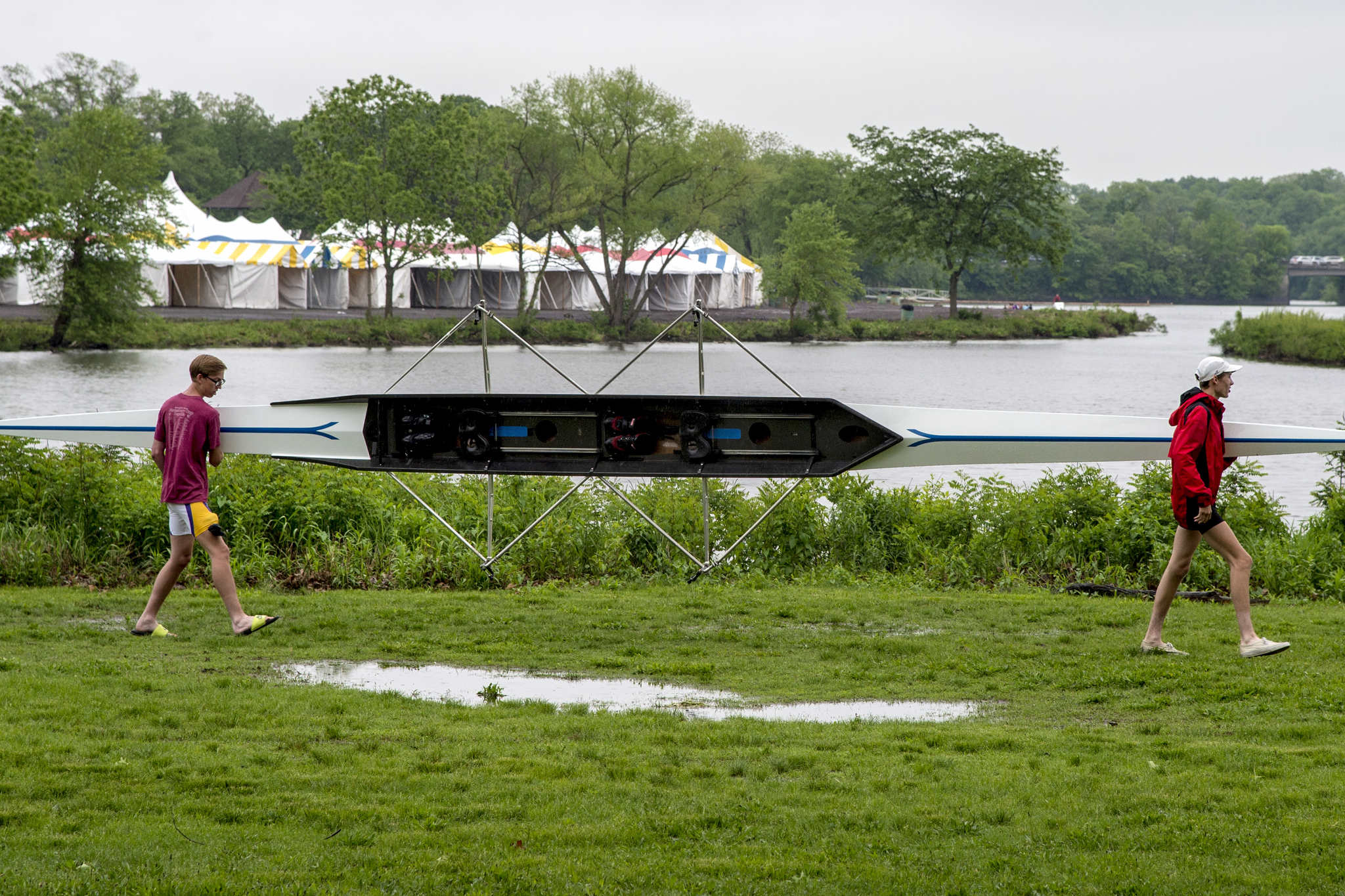 The Cooper River in South Jersey, a spot for rowers for decades, has gained traction in recent years as a bigger draw, especially since Camden County completed a $10.5 million dredging a year ago. It's also made other improvements, such as a $2 million restoration of banks, and has improved connections between rowers and local hotels and restaurants. The course is bordered by five towns: Pennsauken and Cherry Hill on the north side and Camden, Collingswood, and Haddon Township on the south.
Water flow on the Cooper can be adjusted better than on the Schuylkill, she said. So there are no worries of high water.
"A lot of people don't realize this is more than just giving people a new location," Mueller said. "The good news is that it's only eight miles apart. So the volume of competitors from out of town can still stay in the city and region. An eight-mile shift is workable for most of the teams who are coming in from out of town."
Still, she said, "there are thousands of parents who have questions about where their tents are going to go for tailgating. But we knew that if we didn't make the call, then we would be looking at the weather and river every day and wondering if it's still safe to row."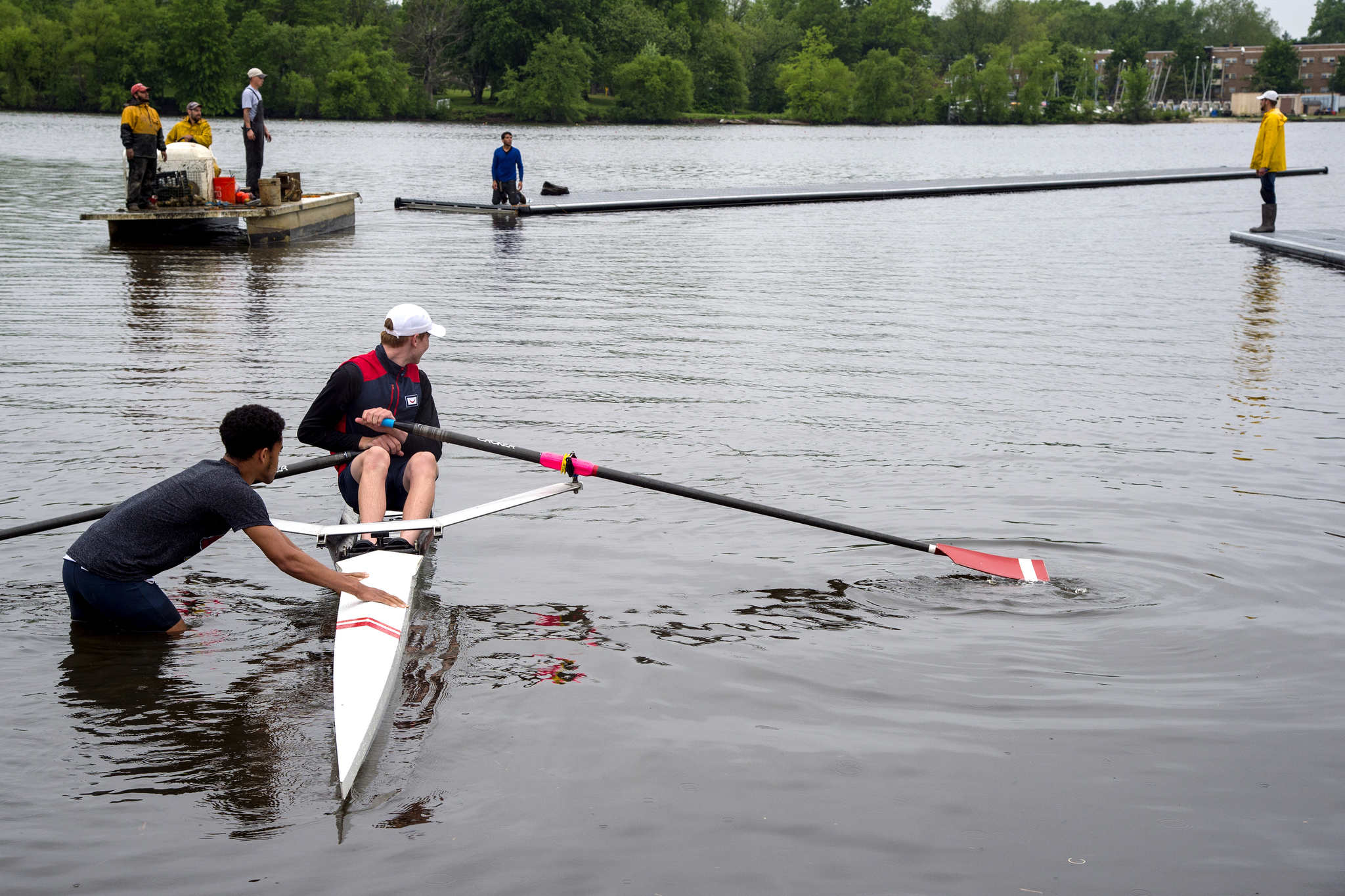 Jamie Stack, who manages the boathouse at Camden County Boathouse and regattas on Cooper River, said he was a bit stunned at the turn of events. He got a call from the regatta's organizers Tuesday morning. By noon, they had made the call to switch to Cooper River.
It is already setup to run regattas on a large scale. The county has booked 17 regattas, including one expected to draw 20,000 rowers, family members, and spectators, for the summer. Still, the Stotesbury is even bigger.
"It will be the biggest event ever since I've been here, and I've been here since 2001," Stack said.
"I don't want to say I was in a panic," Stack said of the short notice. "Mostly, I was just saying to myself: 'Is this really happening?' "
He said logistics on land presented the biggest problem. Four people were dispatched to get the 1,500-meter course ready for the regatta.
Already, the county is sprucing up landscaping. Regatta organizers had installed colorful tents along the north side of the Cooper River by Wednesday afternoon. The company supplying portable toilets has been notified to switch locations. Trolleys already arranged to transport parents from Philadelphia's hotels to the Schuylkill will be rerouted.
Two 120 foot docks are being installed, as are two 100 foot docks.
Workers using a giant crane were busy loading aluminum dock plants into the water on the south bank of Cooper by Wednesday afternoon.
"The racecourse is already in and being fine-tuned," Stack said.