2013 U.S. Open: The parties that raged outside Merion Golf Club

The quiet streets of Ardmore are lined with out-of-state license plates. A police car squeezes through, on its way to the end of the street and yet another U-turn. Overhead, the Goodyear blimp hovers quietly.
This is Golfview Road at the end of the world. Residents have been paid tens of thousands of dollars to take a vacation, leaving their homes in the care of the USGA to provide housing and localized facilities for U.S. Open golfers and workers. Happy families are in the tropics or the mountains as Tiger Woods tees off a few yards from their screened-in patios.
But this neighborhood is far from abandoned.
A little girl sees me coming as I wander in her direction.
Will Merion Golf Club host another U.S. Open?
"Lemonade!" she yells. I am the only one on this street.
"…lemonade…" she whispers as I pass on the opposite sidewalk.
I smile. We both know I'm not coming back. I pretend to check my phone and she gives me one last sales pitch at the top of her lungs.
"LEMONADE!"
But there are occupied houses touching Merion's front nine, on the other side Ardmore Avenue from where the historic clubhouse sits.
A free vacation wasn't enticing enough for some to leave the U.S. Open behind; their choices signified by a big white tent in the backyard, under which they've gathered to party until the marshal's arms go up.
The streets surrounding the U.S. Open are quiet - because the backyards are making all the noise.
***
Merion spent the first few days of the week being effectively violated by a relentless storm, turning groomed dirt paths into mud pits and concocting a stench that would fester and thrive inside nostrils for the remainder of the tournament. Hopes of a timely U.S. Open were dashed as the sky fell, along with Andy Goldberg's hopes of reaching the area in time to host his shindig on Golfview Road.
But it would take more than booming messages from the gods and furious lightning strikes to keep him out of Ardmore – even as his flight from Chicago was canceled with less than a day between him and his party.
"The storm must have been moving at 82 miles an hour, because I stayed with it the whole way. I set my cruise control to 82, I was like, 'I'm gonna pass it. We're gonna get there,'" Goldberg recalls. "We never passed it."
Goldberg made the 11-hour drive from a Chicago airport with the thunderous tempest riding shotgun. If anything, it seemed to be following him, and intensifying its efforts the closer he got to the Pennsylvania border.
"All of a sudden, we see this lightning bolt come up. I look over and see a funnel cloud in the distance to the left."
Goldberg's snoozing co-workers shook off his claims of an impending tornado, and the group pulled into a rest area to refuel before the final push.
"All the people in there were shell-shocked," Goldberg says. "They said they just got out of the bomb shelter; they had flipped off the pumps and everybody in the whole rest area went downstairs because there were seven tornado warnings in the area, and one touched down on Lake Erie, which had been on our left."
Goldberg nods in vindication. "I was like, I knew it."
For the view from Goldberg's place, any golf fan might have forced their way through nature's wrath. They might as well be sitting on the 8th fairway, only by staying off the course, they're free to serve limitless drinks in the shade of a catering tent.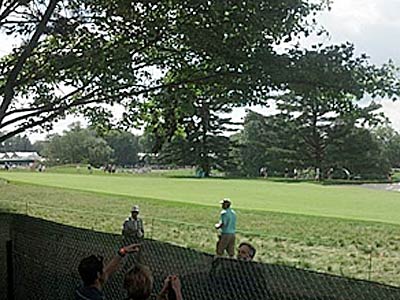 During the storm's hangover, the fate of Thursday's play was left ambiguous, but Goldberg poked his head over the fence and spotted an ESPN cameraman crouched in the rough.
"I saw the camera man sitting there and yelled 'What's up?'" Goldberg recalls with a laugh. "He said, 'Ten minutes.' So then, we were gonna leave, but then we told everybody – 'Tiger's up!'"
The spot paid off, and Goldberg, along with 12 others, spent the afternoon Tiger hunting from house to house, following Woods as he parred and bogeyed his way to three-over in the first round.
"We've been looking forward to this since the day they announced it," Goldberg grins.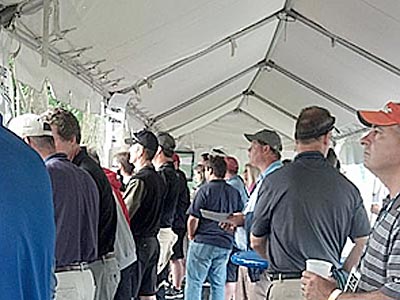 A few houses down from Goldberg's party, Corey Lonberger is gearing up for a long weekend. Lonberger, a partner with Rittenhouse Realty Advisors, saw the Open as a business opportunity.
"One of our clients owns this house, and we threw the party here and invited all of our clients," he says. "It's been good; over the weekend, we'll have about 400 clients here. In the business that we're in, we have a lot of golf fanatics, so we thought it'd be a good way to entertain them."
Lonberger is pushing through the weekend, charming clients with a cup in his hand through the Open in its entirety. He nods with a grim smile.
"Sunday, I'll be hurting."
***
It's Saturday afternoon at the fence on 8, and Kevin Kane is not happy about the brim on Rickie Fowler's hat.
"Fix your hat, Rickie!!" he yells. "Just give it to me, I just need 30 seconds… let me bend it!"
These are properties that rub right up against Merion, making her the first thing they see in the morning. From here, it's like being on the course, only our smart phones haven't been confiscated by security and we can watch the U.S. Open in person while remaining privy to the day's most newsworthy events.
"Kim K. had her baby!" a woman exclaims.
Given the tent village, endless throngs, rerouted thoroughfares, and intensified police presence, the Open is tough to ignore on Golfview Road, and it doesn't care whether you're a golf fan or not.
Fortunately, Kane is - unfortunately, he's gainfully employed.
"I had to get some work done today, but I knew I couldn't get any done here," Kane, a financial advisor, explains. "So I went into the office and watched on my computer."
Kane and the rest of the normally hard workers in this backyard - a couple houses down from Goldberg's - have been at it for hours; an admirable feat, given the event this house hosted Friday night. You may have seen it in the background of Chris Berman's sign off from ESPN's golf coverage.
Several yards away, Nick Thompson lands deep in Merion's unforgiving rough. A boy on the course races up, waving a golf ball at his neighbors on the other side of the fence, bragging about getting it from Rickie Fowler earlier in the day.
"Ask this guy for his," somebody suggests. "Put that one in your pocket and try to get this guy's. I'll give you five bucks."
He considers it. "Ten."
This counteroffer doesn't suit, and the guy shakes his head. But this auction just started.
"I'll give you twenty!" another man shouts from further down the fence.
"Don't listen to Mr. McCarthy," the first guy replies, apparently the kids' coach. "I'll give you more playing time."
"Twenty bucks!" the second man disputes. "You could buy yourself some new equipment…"
Thompson finally hikes from the tee into the ankle-deep jungle, and the kid wastes no time making the request.
"I've got three more holes to play," Thompson replies sympathetically, before garnering some applause for a nice shot onto the green.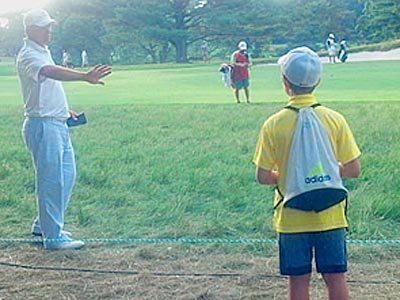 Everybody is going to be at the Murphys'. You don't host a party that gets coverage in USA Today and not expect a horde of uninvited guests. Yet, there was a notable subtlety with which the Murphys identified their gathering.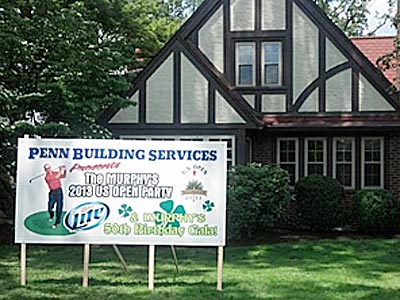 "That's the place to be tonight," Kane says with an aggressive nod. "You've got to get in there."
If the warning nailed to a tree in the backyard is any indication, crashers may have a hard time infiltrating the Murphys' house. You can peek your head over the fence all you want; but anybody looking for a hand-out has come to the wrong course-adjacent property.
At least, until after five o'clock, when the band starts blasting "Soul Man," and everybody's thinking, "Screw it; toss me a beer."
Of course, if you were lucky enough to be at the neighborhood's party last night – like some of the tournament's caddies – you probably could have scored an invite to tonight's blow out. Pat Murphy was here, gleefully posting verbal flyers for the weekend's penultimate rager.
"You can always wander down the driveway and see where that leads you," somebody suggests.
***
Saturday night, the sun is quickly setting on Merion, as well as Tiger Woods. Endless crowds are replaced by greenskeepers, quietly going about their business. Sports analysts filter out of the media tent, dodging the headlights of golf carts, whizzing up and down paths like monstrous fireflies in the dusk. One worker is adding straw to a nearby mud swamp in hopes that it'll recreate a ground-like experience.
On Golfview Road, gone are the middle school water and hot dog vendors, replaced by a pair of middle-aged woman pedaling by on children's bicycles.
"Happy U.S. Open!" one of them shouts into a backyard. She receives a blast of cheers and raised red Dixie cups in response.
The next day, the final round of the Open wouldn't go as planned for some; but Phil Mickelson and Corey Longberger probably weren't the only ones hurting.
Philly.com has complete coverage of the 2013 U.S. Open at Merion Golf Club.