Three things to look for in Flyers' Game 5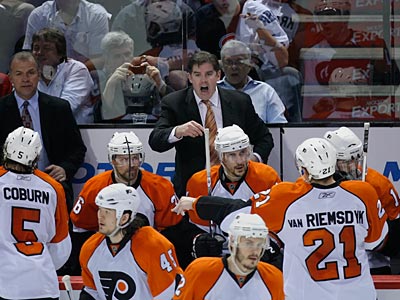 Three things.
Three things to look for in Flyers' Game 5

With the Prince of Wales Trophy in the house, three things to look for as the man in the blue blazer and the cotton gloves from the Hockey Hall of Fame polishes off the final fingerprints. Or not...
1) The emotional wave. Naturally, geometrically, the Flyers' bandwagon in Philadelphia continues to grow. We have seen it before and we are seeing it again. As captain Mike Richards said at this morning's pre-game skate, "I'm not paying for a whole lot of meals right now." But if recent history is any guide, it really is meaningless after the first couple of minutes of the game. Home ice is a geographic fact but not any real advantage (except to club chairman Ed Snider's bottom line). Truth be told, over-ampedness (new word; patent pending) could be the Flyers' enemy tonight. They have been best against the Canadiens not when they have been rambuctious, but when they have been tough and persistent. Too-wild a start could give Montreal the counter-atacking opening it so desperately craves. For the Flyers, this needs to be about backbone most of all. As coach Peter Laviolette said this morning, "Our compete-level may have to be the best it's been in this series. We're going to have to battle them for pucks and space."
2) Persistence, Part II. This really is the only issue in Game 5. The Flyers have the blueprint. They wrote it in Game 4 at the Bell Centre. They lived it. They implemented it, forecheck after punishing forecheck. The real question tonight will be the approach of the Canadiens. They want to counter-attack off of neutral zone turnovers. They want to fly. But it is possible to make the argument, counter-intuitive as it might seem, that Montreal's best shot might be to mimic the Flyers -- to throw the puck in and go get it, making the Flyers' defensemen their targets and hoping to set up that way. But can they? You can't do it just once or twice. It sometimes takes a period or more of pounding before the effects start to show. With small forwards, some people wonder if the Canadiens could pull it off. Still, the physics professors in the dressing room will tell you that momentum equals mass times velocity -- the rough translation of which is, little guys can still hurt you if they're moving fast enough.
3) Lineups, tactics, etc. Laviolette has been about as informative as Pravda at this point in the preceedings, and nothing changed before Game 5. If there is to be a lineup change for tonight -- Dan Carcillo returning, say -- the coach isn't letting on. One tweak could come on the penalty-kill. Ian Laperriere, the PK Extraordinaire, had only one shift on the penalty-kill in Game 5 as he got reacclimated to the game following the multitude of head traumas that kept him out of 10 games in the post-season. Tonight, maybe more? "Whatever they need me to do," said Laperriere, who could not possibly hide how overjoyed he is to be back, even if he wanted to.