Progress or Posturing in Labor Talks?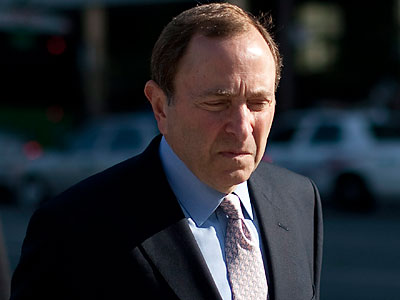 Philadelphia Flyers news on Philly.com
Progress or Posturing in Labor Talks?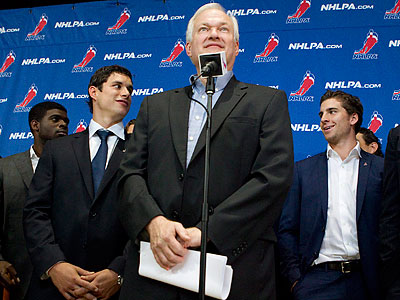 NEW YORK -- NHL commissioner Gary Bettman stood in the lobby of the league's Manhattan headquarters on Tuesday and professed that his leadership team made a "significant" and "meaningful" step toward navigating an impasse with the NHL's Players Association.
The real test will come on Wednesday, as hockey creeps within 18 days of its second labor stoppage in 7 years, when the two sides are scheduled to meet again.
Donald Fehr and the NHLPA needed the night to pore over the league's latest proposal, which came on Tuesday, more than 6 weeks after their first proposal from July 13.
More than 20 players are scheduled to attend Wednesday's meetings in Manhattan, where Fehr is expected to report back to the league on the NHLPA's findings.
In relatively simple terms, the NHL's latest offer is indeed different than the first, but that doesn't necessarily mean it suits the players' collective needs.
According to multiple reports, the new 6-year CBA as proposed by the league on Tuesday would include:
-No planned salary rollback from existing contracts, as compared to the starting point 24 percent the NHL was asking for on July 13.
For example: Shea Weber's $110 million deal in Nashville would have become an $83.6 million deal under the July 13 proposal.
-The players' share of Hockey Related Revenues (HRR) would drop from 51.6 percent in 2012-13, to 50.5 percent in 2013-14, to a low of 49.6 percent in 2014-15, followed by the remaining three seasons at a shared 50-50 split. The July 13 proposal from the league was seeking to cut the players' share of HRR from the current 57 percent down to 46 percent.
However, the NHL is still seeking definitional changes to what exactly is included in HRR. That's where the new hang-up may reside.
Under the July 13 proposal, the NHL sought to remove certain streams from the HRR, thus further cutting into the players' piece of the pie. In essence, the 46 percent proposed players cut from July 13 was really only 43 percent in current CBA dollars.
It is unclear whether the NHL is asking for those same concessions in this second proposal. It is also unclear, at this time, whether the NHL lessened any of their other demands, including a term limit on contracts to be set at 5 years, and requiring players to skate for 10 seasons before being granted unrestricted free agent status.
In many ways, the NHL's latest proposal is focusing on the big-picture economics of the league.
From the NHLPA's perspective, it is not only about what is included in the HRR and how much the players will share with the owners, it is also about how revenue is shared throughout the league's 30 teams to maintain a healthy business environment for both big and small market teams.
Bettman told reporters on Tuesday that he was attempting to create "common language," so that both sides are using the same definitions when finally trying to hammer out percentages.
According to TSN's Darren Dreger, the salary cap for next season would drop from the current temporary $70.2 million all the way to $58 million under this new proposal. The Flyers are one of 16 teams currently exceeding that $58 million number. Rather than undergo a salary rollback to trim the cap by that number with current contracts, players would give up far more in escrow to ensure a proper revenue share.
Under the current CBA, players were already griping about escrow funds, which reached as high as 12 percent of yearly salaries off the top. It's hard to believe they would be interested in an even larger tie-up of funds this time around.
For the most part, both sides are keeping the details of this proposal close to their vest.
That can only be viewed as a positive for fans, as the NHLPA was quick to release details of the NHL's original proposal as laughable, which served as the start of a 6-week gap in any true progress.
In all, the NHL made concessions of up to $460 million on Tuesday over the span of the 6-year deal, as compared to their first July 13 offer.
Still, Fehr was sure to not characterize the NHL's offer as either positive or negative on Tuesday, saying he needed to review it further and include players on the process.
One NHLPA member told the Daily News that Fehr sent an e-mail to all players on Tuesday evening updating them on the day's events but the note "did not contain much detail at all."
"It didn't sound optimistic or pessimistic," the player said of the e-mail from Fehr. "It was vague. It was blah."
Time is ticking for the two sides to come together to avoid another lockout. Bettman has vowed to lockout players when the current CBA expires at 11:59 p.m. on Sept. 15.
Players are already beginning to review their options to skate in Europe. On Tuesday, a report in Finland said Scott Hartnell would be interested in player for KalPa, where Hartnell owns 5 percent of the franchise with teammate Kimmo Timonen. Multiple reports have Pittsburgh's Evgeni Malkin returning to Russia in the event of a work stoppage, with him already agreeing to terms with Metallurg Magnitogorsk of the KHL.
Either way, Wednesday figures to be a big day for hockey fans. There will be light at the end of the tunnel and the real hope of training camps opening on-time in three weeks, or the looming labor clouds will continue to roll closer.
Stay tuned. We'll have continue updates from New York.
For the latest updates, follow Frank Seravalli on Twitter: @DNFlyers