Flyers Special Section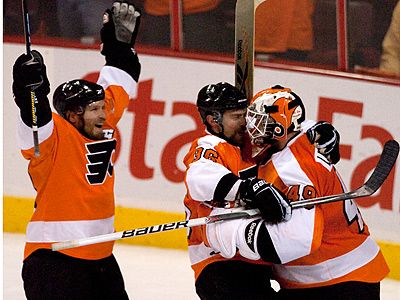 Pivotal Matchups
10 things to watch for in the Finals - by The Inquirer's Sam Carchidi










When you analyze the talented rosters, the Flyers and Blackhawks are oh, so evenly matched. Among the intangibles in the Flyers' favor, however, is that they could have a more desperate edge to their game.
HEAD TO HEAD: FLYERS VS. BLACKHAWKS
CHICAGO - Some people know Antti Niemi as the Chicago Blackhawks' 26-year-old rookie. Others, especially back home in Finland, might remember him as the player who drove a Zamboni to make extra money.

CHICAGO - Two kids and a cast-off are the keystones of the Chicago Blackhawks. At age 22, Jonathan Toews is the youngest captain in the NHL and in the history of the Hawks. His close friend and first-line mate, Patrick Kane, is a mullet-wearing 21-year-old who looks as if he's 16. And one of the team's elder statesmen, Patrick Sharp, 28, once was a seldom-used Flyer.

CHICAGO - Phil Jackson accomplished the feat while coaching the Chicago Bulls. So did former Bears boss Mike Ditka and Blackhawks coach Mike Keenan.
ON THE FLY: INSIDE THE STANLEY CUP FINALS
MOST POPULAR FLYERS PHOTOS