Report: Gustafsson signs in Russia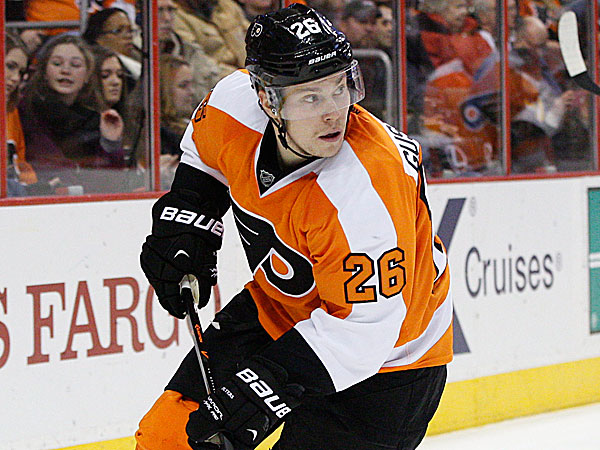 According to a report out of Russia, the Flyers will not retain the services of defenseman Erik Gustafsson for next season.
Report: Gustafsson signs in Russia

Erik Gustafsson will not be returning to the Flyers next season, as the defenseman has signed with Avangard Omsk of Russia's KHL.
His departure was first reported by Igor Eronko of Sports.ru, and confirmed by the Flyers later on Friday.
General manager Ron Hextall said the team was "disappointed" by Gustafsson's decision, but wished him the best.
The move leaves the Flyers short of a young and inexpensive defenseman on their roster.
Gustafsson, 25, was set to become a restricted free agent again this summer. He earned $1 million last season in his first full year in the NHL, but only appeared in 31 games - barely above his career-high mark in a year he shuttled back and forth between the AHL and NHL.

He will likely earn more money and significantly more playing time in the KHL. Gustafsson is currently representing Sweden in the World Championships for the second year in a row.

By offering him a qualifying raise this summer, the Flyers will retain Gustafsson's rights next season, should he ever decide to return to the NHL. Gustafsson averaged 17:50 minutes over 91 career NHL games, where he netted 23 points.

Gustafsson was never more than a third pairing defenseman for the Flyers. Craig Berube's decision to play Hal Gill in Game 5 against the Rangers in place of Nick Grossmann also said a lot about where Gustafsson fell on the Flyers' depth chart.

With six NHL defensemen already on the roster, it was unlikely Gustafsson would have played a larger role next season. His departure does decrease the flexibility new general manager Ron Hextall has if Hextall planned to move a defenseman to slide Gustafsson into one of those spots.

One bright spot in Gustafsson's abrupt departure is the Flyers also now have room for a prospect on the roster, including either Shayne Gostisbehere or Robert Hagg. Hextall made it obvious in his initial press conference that he does not believe in rushing prospects to the NHL, but the Flyers will have a need for substantial contributors who are small chips on their salary cap next season.

For the latest updates, follow Frank Seravalli on Twitter: @DNFlyers