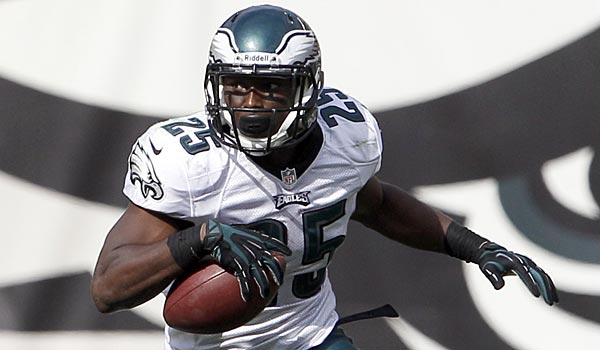 LeSean McCoy rushed for 81 yards and a touchdown against the Ravens in Week 2. (Yong Kim/Staff Photographer)
Second-week surprises—Arizona beat New England? Seattle beat Dallas?—have created a muddled pack of 1-1 teams in search of their 2012 identities. Just five teams remain unbeaten after two games, including the Eagles, while six remain winless, including an unlikely and unlucky New Orleans.
1. San Francisco (2-0); Last week: 1: Alex Smith completed 20 of 31 passes for 226 yards and 2 TDs and extended his franchise-record streak of passes without an interception to 284, including postseason games as the 49ers beat Detroit for the ninth straight time, 27-19. The defense was equally impressive, holding the Lions' offensive juggernaut to just 296 yards of total offense. Next up: at Minnesota.
2. Houston (2-0); Last week: 3: The Texans started the season 2-0 for the third straight year with a dominating 27-7 victory over Jacksonville—the team's second win by at least 20 points. Arian Foster picked up 110 yards and a TD and Ben Tate added 74 yards and 2 TDs. Houston had no turnovers, and shut out the Jaguars on third downs (0-for-9) while going 8-for-17 themselves. Next up: at Denver.

3. Atlanta (2-0); Last week: 5: Matt Ryan threw his 100th career touchdown pass and Roddy White had 102 yards receiving and a TD as the Falcons capitalized on Peyton Manning's dreadful start to beat Denver, 27-21. Atlanta forced four turnovers, including three first-quarter INTs. Next up: at San Diego.
4. Green Bay (1-1); Last week: 8: Green Bay bounced back from an opening-game loss to San Francisco as the defense led the way in a convincing 23-10 win over Chicago, thanks to four interceptions and seven sacks—3½ by Clay Matthews—against Jay Cutler. The Pack also held Brandon Marshall to two catches for 24 yards. Aaron Rodgers, sacked five times himself, finished 22-for-32 passing for 219 yards, with 1 TD and 1 INT. Next up: at Seattle.
5. New England (1-1); Last week: 2: Stephen Gostkowski, who had already made four field goals including two longer than 50 yards, missed a late 42-yarder as visiting Arizona stunned New England, 20-18. Tom Brady completed 28 of 46 passes for 316 yards and extended his streak to 34 games with at least one touchdown pass, fourth-best in NFL history. Aaron Hernandez suffered an ankle injury and is expected to be out until October. Next up: at Baltimore.
6. EAGLES (2-0); Last week: 10: The Eagles aren't doing things the easy way, as they became the first team in NFL history to win their first two games each by 1 point. Throw in nine turnovers in the games, a medical ward full of injured players, and it's surprising they're not winless. What's ahead? Just a game against supposedly soft Arizona that's 2-0 after a stunning upset at New England. No rest for the weary. Next up: at Arizona.
7. Baltimore (1-1); Last week: 4: The Ravens found a kicker to replace Billy Cundiff, whose 32-yard miss in last year's AFC Championship game kept Baltimore from a possible Super Bowl appearance. Too bad at the end of a 24-23 loss to Philadelphia, they couldn't get inside the long range of rookie Justin Tucker, who made fields goals of 56, 51, and 48. Joe Flacco was off, completing just 8-of-25 passes in the second half. Next up: vs. New England
8. New York Giants (1-1); Last week: 9: Eli Manning shook off three first-half interceptions to rally the Giants to a 41-34 win over Tampa Bay, completing 31 of 51 passes for 510 yards and three TDs. After an opening-week loss, New York trailed, 27-13, with a minute left in the third quarter before Manning worked his comeback magic. Next up: at Carolina.
9. Pittsburgh (1-1); Last week: 11: Ben Roethlisberger completed 24-of-31 passes for 275 yards and 2 TDs in a convincing win over the New York Jets, 27-10. The Steelers' defense held the Jets to just 219 yards of total offense and they didn't take a snap inside the Pittsburgh 30 in their final eight drives. Next up: at Oakland.
10. Denver (1-1); Last week: 6: Peyton Manning's disastrous start—three interceptions in the first quarter—doomed Denver in its 27-21 loss to Atlanta. Though Manning finished 24-of-37 for 241 yards and 1 TD, the Broncos were unable to rally late. Willis McGahee had 113 yards and 2 TDs on 22 carries. Next up: vs. Houston.


11. Dallas (1-1); Last week: 7: Will the real Dallas Cowboys please stand up? Are they the ones who knocked off the defending champion New York Giants in the opener, or the ones who got knocked around in a stunning 27-7 loss to Seattle. Dallas gained just 296 yards of total offense—after picking up 112 in the first quarter. They yielded 182 rushing yards while gaining just 49. Next up: vs. Tampa Bay.
12. San Diego (2-0); Last week: 14: Backup tight end Dante Rosario made the most of his fill-in role for Antonio Gates, catching three touchdown passes in San Diego's 38-10 rout of Tennessee. Philip Rivers went 24-of-32 for 284 yards, the 3 TDs, and 1 INT, and the offense had a whopping 27-minute advantage in time of possession. Next up: vs. Atlanta.
13. Detroit (1-1); Last week: 12: Detroit lost to San Francisco, 27-19, running their losing streak to the 49ers to nine straight. Matthew Stafford (19-of-32 for 230 yards, 1 TD, 1 INT), and the offense gained just 296 total yards. Stafford missed the chance to become the first player in NFL history to throw for at least 350 yards in five straight games. Next up: at Tennessee.
14. Arizona (2-0); Last week: 23: In the week's biggest upset, Arizona beat host New England, 20-18, as backup quarterback and ex-Eagle Kevin Kolb (15-for-27, 140 yards) ran for a touchdown and threw for one. The Cardinals' defense sacked Tom Brady four times and the special teams blocked a punt that set up a score. The last time the Cardinals won their first three games was in 1974 when they were in St. Louis and Don Coryell was their coach. Next up: vs. Philadelphia.
15. Cincinnati (1-1); Last week: 17: Cincinnati owns Ohio—though Ohio State may have something to say about that—after its 34-27 win over Cleveland, it's 13th win in the series' last 16 games. Andy Dalton (24-of-31 for 318 yards) tied his career high with three touchdown passes and Adam "Pacman" Jones returned a punt 81 yards for a score. Next up: at Washington.
16. Washington (1-1); Last week: 15: Washington lost a close game and a whole lot more in its 31-28 defeat to St. Louis. LB Brian Orakpo and DE Adam Carriker are both out for the season after sustaining first-quarter injuries, and their absence will be felt on a team that has allowed 63 points and more than 800 yards in two games. Josh Morgan ruined Washington's last chance for a win when he got an unsportsmanlike conduct penalty for throwing the ball at Rams CB Cortland Finnegan. Next up: vs. Cincinnati.
17. Chicago (1-1); Last week: 13: The Bears not only lost to hated rival Green Bay, they may have lost Pro Bowl running back Matt Forte to an ankle injury for this week's game. Chicago's maligned offensive line didn't help Jay Cutler as he finished the 23-10 loss with seven sacks, four interceptions and just 11-for-27 passing for 126 yards. Next up: vs. St. Louis.
18. Carolina (1-1); Last week: 21: Carolina wasted no time getting its offense back on track in a 35-27 victory over New Orleans. Cam Newton went 14-for-20 for 253 yards and 1 TD passing and the Panthers collected 219 rushing yards, led by Newton (13 carries, 71 yards, 1 TD) and DeAngelo Willaims (14-69, 1 TD). Next up: vs. New York Giants.
19. New York Jets (1-1); Last week: 19: The Jets led, 7-3, after the first quarter against Pittsburgh, but got blown away over the final three quarters in a 27-10 debacle. The offense gained just 219 total yards, and Mark Sanchez went 10-of-27 for 138 yards, while the defense allowed the Steelers to convert 8-of-15 third downs. Next up: at Miami.
20. New Orleans (0-2); Last week: 16: With New Orleans, it all depends on how you look at their two losses. While they've yielded 922 yards of total offense and 75 points in two games, they were facing two unique quarterbacks in Robert Griffin III and Cam Newton. Will the Saints fare better against more conventional quarterbacks after their 35-27 loss to Carolina? Offensively, Drew Brees threw for 325 yards but was picked off twice, and Pierre Thomas (110 yards rushing) and Darren Sproles (13 catches for 128 yards) played well. Next up: vs. Kansas City.
21. Seattle (1-1); Last week: 25: In the week's second biggest upset, Marshawn Lynch ran for 122 yards and a fourth-quarter score as Seattle shocked Dallas, 27-7. The Seahawks' special teams had two first-quarter plays that led to 10 early points and the team never let up, holding a nine-minute edge in time of possession in QB Russell Wilson's first win. Next up: vs. Green Bay.

22. Tampa Bay (1-1); Last week: 20: The Buccaneers let a late third-quarter, two-touchdown lead slip away in a 41-34 loss at the New York Giants. The defense surrendered 604 yards of total offense, while Josh Freeman (15-of-28 for 243 yards, 2 TDs, 2 INTs) and the offense converted just 2 of 10 third downs. Vincent Jackson finished with 5 catches for 128 yards and a touchdown. Next up: at Dallas.
23. St. Louis (1-1); Last week: 28: Danny Amendola tied an NFL record with 12 first-half catches and kept up in the second half to help St. Louis hold off Washington, 31-28. He finished with 15 receptions for 160 yards and a score, while Sam Bradford went 26-of-35 for 310 yards, 3 TDs, and 1 INT. The Rams were 7-for-12 on third down conversions and totaled 452 yards. Next up: at Chicago.

24. Buffalo (1-1); Last week: 26: NFL rushing leader C.J. Spiller picked up 123 yards and 2 TDs on 15 carries as the Bills defeated Kansas City, 35-17. Ryan Fitzpatrick (10-of-19, 178 yards, 2 TDs) was solid and Leodis McKelvin returned a punt 88 yards for a score in a rout where Buffalo led, 35-3 at one point. Next up: at Cleveland.
25. Indianapolis (1-1); Last week: 30: Andrew Luck drove the Colts 45 yards in 23 seconds to set up the NFL's most clutch kicker, Adam Vinatieri, for a 53-yard, game-winning field goal for Luck's first NFL win, 23-20, over Minnesota. Luck finished 20-of-31 passing for 224 yards and 2 TDs, and Donnie Avery had 9 catches for 111 yards. Next up: vs. Jacksonville.

26. Minnesota (1-1); Last week: 22: Even facing a rookie quarterback, Minnesota still couldn't win at Indianapolis, as the Vikings fell to 0-10 overall in Indy after a 23-20 defeat. Christian Ponder went 27-of-35 for 245 yards and 2 TDs and the offense converted 7-of-15 third downs but it wasn't enough against Indy's Andrew Luck. Next up: vs. San Francisco.

27. Miami (1-1); Last week: 31: Reggie Bush ran for 172 yards and two touchdowns on 26 carries and the Dolphins won a home opener for the first time since 2005 with a 35-13 victory over Oakland. It was a day of firsts for Miami as coach Joe Philbin and quarterback Ryan Tannehill got their initial wins and Tannehill (18-for-30, 200 yards) threw his first touchdown pass. Next up: vs. New York Jets.

28. Kansas City (0-2); Last week: 18: The Chiefs followed one rout with another as they lost, 35-17, to Buffalo a week after a blowout loss to Atlanta. Down 35-3 at one point, Kansas City rallied for late scores. Matt Cassell finished 23-of-42 for 301 yards and 2 TDs, but he also had an interception and a fumble. Next up: at New Orleans.
29. Oakland (0-2); Last week: 24: Oakland's defense couldn't stop Miami's running game and its offense was just as ineffective on third downs, converting just 1-of-12, in a 35-13 loss. The Raiders allowed 263 rushing yards and 452 overall. Carson Palmer was 24-for-48 for 373 yards but led the team on only one touchdown drive. Next up: vs. Pittsburgh.
30. Tennessee (0-2); Last week: 27: The struggles continued for Tennessee, which suffered a second rout in a 38-10 loss to San Diego, following last week's 34-13 loss to New England. The Titans gained just 212 yards of total offense and Chris Johnson had just 17 yards on 8 carries, after last week's career-low 4 yards on 11 carries. They were just 1-for-9 on third-down conversions. Next up: vs. Detroit.

31. Jacksonville (0-2); Last week: 29: Pick a number, any number, and it wasn't good for Jacksonville in a 27-7 loss to Houston. The Jaguars finished with a franchise-low 117 yards of total offense, were 0-for-9 on third downs, and got swamped in time of possession: 43:17 to 16:43. Blaine Gabbert finished 7-for-19 for 53 yards before being sidelined with a hamstring injury. Next up: at Indianapolis.
32. Cleveland (0-2); Last week: 32: Rookie QB Brandon Weeden threw for 322 yards and 2 TDs to bounce back from his four-interception debut a week earlier but the Browns still lost to Cincinnati, 34-27. Trent Richardson became the first Browns rookie to rush for 100 yards and score on a run and pass in the same game. The Browns are 0-2 for the fifth time in the last seven seasons. Next up: vs. Buffalo.