Here are 10 players the Eagles may choose in this year's NFL draft, which starts Thursday at AT&T Stadium, Arlington, Texas. Our beat writers grade the likelihood they will be selected by the Eagles, with 10 being most likely to be picked, and 1 least likely.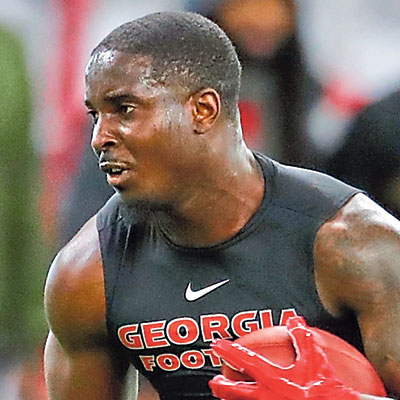 Sony Michel, running back, Georgia. Average grade: 6.5.
Zach Berman, Grade 8: Michel is a dynamic running back who's drawn comparisons to New Orleans' Alvin Kamara. That could excite the Eagles, who could put Michel in a running back committee. He can help in the passing game, too. Like LSU's Derrius Guice, the positional value is a question.
Les Bowen, Grade 7: I think Michel is more likely to be available in a trade-down scenario than Guice, but that's just a guess. Like Guice, a long-term starter. I would throw USC's Ronald Jones II into that group of 30s-to-40s running backs, all offering good value.
Paul Domowitch, Grade 7: He shared the backfield with Nick Chubb at Georgia, averaging just 11 carries a game. But the Eagles aren't looking for a workhorse. Michel excelled as a receiver and pass-protector. There's probably a better chance he'll still be on the board at 32 than Guice.
Jeff McLane, Grade 7: He didn't exactly shine at the combine, which may be why he hasn't cracked many first-round boards, but Michel produced in college. He's an elusive runner, doesn't shy from contact, and could be the future No. 1 back with Jay Ajayi under contract for only one more season.
[ Who are the Eagles most likely to trade during the draft? ]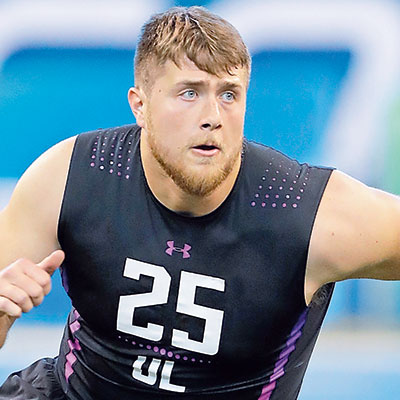 Kolton Miller, offensive tackle, UCLA. Average grade: 6.5.
Zach Berman, Grade 7: Miller is the type of offensive tackle the Eagles could invest in because he has the size and tools that are desired, but might need time for development. With Lane Johnson, Jason Peters, and Halapoulivaati Vaitai in the building, the Eagles can be patient.
Les Bowen, Grade 7: This is the kind of athlete Jeff Stoutland likes. He might need quite a bit of polishing, though. I'd see him more as the sort of player you end up with after trading back.
Paul Domowitch, Grade 4: Miller has impressive has long arms and big hands and ran the fastest 10-yard split by an offensive lineman at the combine since 2006. That's the good news. The bad news? His fingerprints were all over both of Josh Rosen's two 2017 concussions.
Jeff McLane, Grade 8: Miller hasn't gotten as much ink as Penn Charter product Mike McGlinchey, but there are some evaluators who think the UCLA tackle can be as good or better. He's raw, but he has a long (6-8, 82½-inch wing span), proportional body (309 pounds), and an athletic profile (4.91 40-yard dash) that could be molded with some seasoning.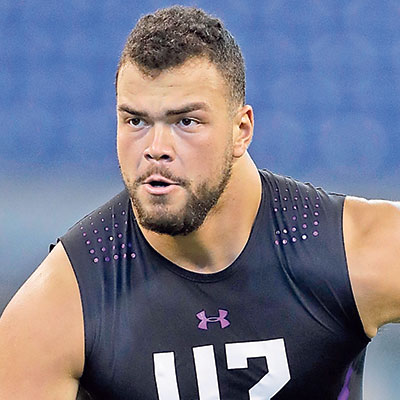 Connor Williams, offensive tackle, Texas. Average grade: 6.3.
Zach Berman, Grade 6: Williams brings versatility on the offensive line and experience at Texas, and offensive line is always an emphasis for the Eagles, but will he be a tackle or a guard in the NFL? The Eagles have a long-term need for both. A guard might not be worthy of an early investment, although the versatility is a plus.
Les Bowen, Grade 7: The Eagles desperately need not just a guy who can get by at OT, but somebody with the talent to excel, like Lane Johnson has. Williams might offer that.
Paul Domowitch, Grade 7: Jason Peters can't play forever, or can he? Halapoulivaati Vaitai played well after Peters went down last season. But they still need to add depth on the outside. Mike McGlinchey will be gone. Williams, whom the Eagles had in for a visit and is probably the second-best tackle in the draft, might not be.
Jeff McLane, Grade 5: The draft class is said to be weak at tackle, but it's a cornerstone position and there can almost never be an argument against taking one in the first round. McGlinchey will likely be gone within the first 20 picks, but Williams may slip. Even if he were to, the Eagles may still opt to trade out, which would be this writer's pick for the team's most likely first-day move.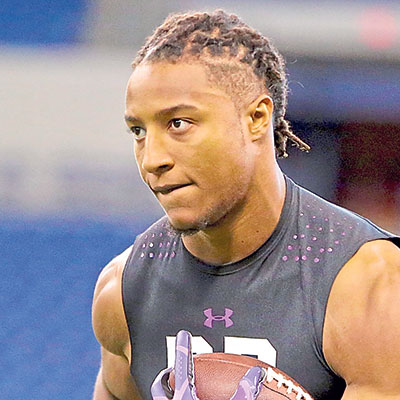 Justin Reid, safety, Stanford. Average grade: 6.0.
Zach Berman, Grade 8: Reid has Day 1 value as a third safety who can help in the slot and contribute on special teams. He has long-term value as a down-the-road replacement to either Malcolm Jenkins or Rodney McLeod. This is a pick that would make sense for the Eagles, as it helps them now and down the line.
Les Bowen, Grade 6: This is the safety who seems like the best fit for the Eagles, who have to be looking down the road at a position they haven't spent a high draft pick on in a while.
Paul Domowitch, Grade 3: Reid, the brother of former 49ers safety Eric Reid, is a smart, athletic player who would be a good fit for Schwartz's scheme. The Eagles brought him in for one of their 30 allotted visits, which always is a good sign. But 32 would seem to be a bit high for him.
Jeff McLane, Grade 7: Reid's listed as a safety, but he played every position in Stanford's secondary. The Eagles love versatile defensive backs and they have a slot cornerback spot open if Reid were to prove ready. He might not have the athleticism of his older brother, Eric, but he has good ball skills and a high football IQ.
[ Joe Douglas, the Eagles' top scout, has climbed the ranks to become one of the NFL's top talent evaluators ]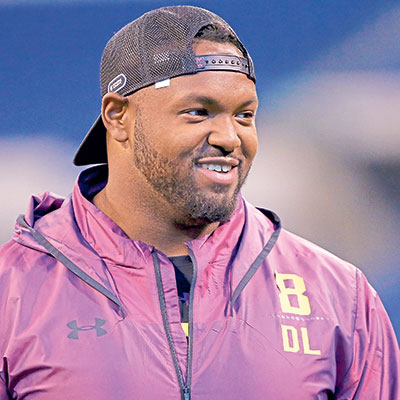 Maurice Hurst, defensive tackle, Michigan. Average grade: 6.0.
Zach Berman, Grade 8: Production? Check. Scheme fit? Check. Position that the organization prioritizes? Check. The big question with Maurice Hurst is a heart condition. If the medical staff signs off on him, Hurst would be a steal at No. 32 and could join the defensive line rotation from Day 1. Don't worry about his lack of size – it didn't hurt Aaron Donald or Geno Atkins.
Les Bowen, Grade 3: This might be a test of the "best player avalable" theory. I just don't see drafting a defensive tackle who isn't going to start anytime soon when you have one pick in the first 130 selections. He is a first-round talent.
Paul Domowitch, Grade 5: Jim Schwartz could use someone else inside to rotate with Fletcher Cox and Tim Jernigan who can affect the quarterback. He was flagged for a potentially serious heart condition at the combine, but has since been cleared. But the incident could be enough to cause him to slide to the Eagles.
Jeff McLane, Grade 8: Of the players listed here, Hurst may have the most talent, which is why he may not last to 32. But if he's there, the Eagles may have a hard time taking a pass on a building block position. Fletcher Cox and Tim Jernigan are here for the foreseeable future, but you can't have enough interior linemen.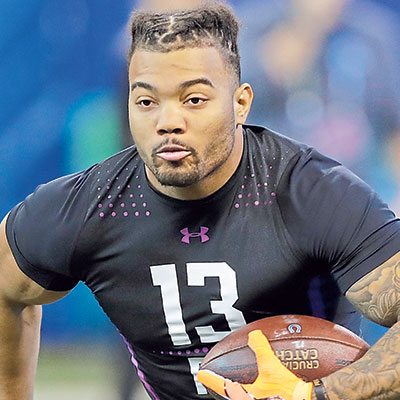 Derrius Guice, running back, LSU. Average grade: 5.8.
Zach Berman, Grade 7: Guice is the type of physical running back the Eagles need and he's only 20. Based on talent alone, the pick makes a lot of sense. The question is whether the Eagles want to invest a first-round pick in a running back and whether they have any off-the-field concerns. But it's hard to question the talent.
Les Bowen, Grade 6: The 30s and 40s might be a good area to find a difference-making back in this draft. This ought to be true even if the Eagles trade back, which seems to be a strong possibility. Guice would project as a long-term starter, a solid piece.
Paul Domowitch, Grade 5: Jay Ajayi is entering the final year of his contract and probably won't be re-signed. Guice, the second best back in the draft, has size and decent speed. He only caught 32 passes at LSU, but Corey Clement wasn't used as a receiver very much at Wisconsin and look what he did last year. Might make it to 32. Might not. Eagles had him in for a visit.
Jeff McLane, Grade 5: The Eagles haven't drafted a running back in the first round in ages, but the No. 32 pick is more of a second-rounder, as least in terms of draft grades, and Guice could be a steal. He's a tough, highly motivated ballcarrier and could be a better pass catcher than his college numbers suggest.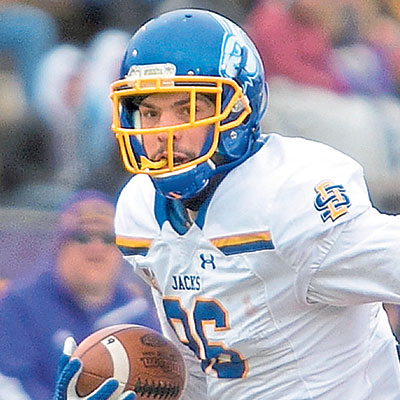 Dallas Goedert, Tight end, South Dakota State. Average grade: 5.5.
Zach Berman, Grade 5: Can the Eagles have a North Dakota State-to-South Dakota State connection for years to come? My guess is the Eagles don't use a first-round pick on a tight end, even if Goedert has intriguing upside.
Les Bowen, Grade 6: Goedert is one of several guys I think could be the Eagles' pick at 32, or at, say, 40 or so if they move back. Great potential at a position that needs investment, after the team bid goodbye to Trey Burton and Brent Celek.
Paul Domowitch, Grade 6: He's an ultra-productive receiver in South Dakota State's spread offense who caught more passes for more yards than any tight end in the country over the last two years. He'll be there at 32.
Jeff McLane, Grade 5: The name shouldn't be held against Goedert, even though he was named after the Cowboys. He grew up a Packers fan and developed into one of the better pass-catching tight ends in recent FCS-level football. The Eagles have Zach Ertz, but two downfield tight ends could be a nightmare for defenses.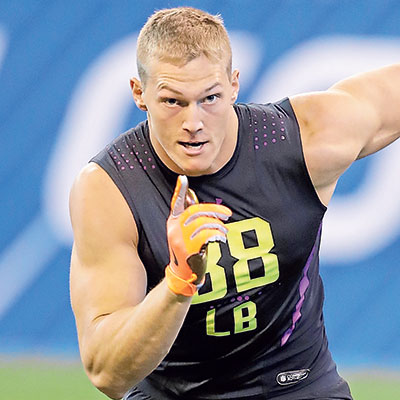 Leighton Vander Esch, Linebacker, Boise State. Average grade: 5.0.
Zach Berman, Grade 6: If Vander Esch is on the board at No. 32, he makes sense. His size, production, and athleticism should intrigue the Eagles and give them a potential starter at a position with long-term uncertainty. Vander Esch could be used as a rotational player in Year 1 and also play on special teams. But I don't think he lasts until No. 32.
Les Bowen, Grade 6: I like this guy for the Eagles, but doubt he's there at 32. We all know the Birds haven't taken a linebacker at 32 since Jerry Robinson in 1979, but Jim Schwartz's defense puts more pressure on the position than its predecessors did.
Paul Domowitch, Grade 4: Vander Esch is a big, athletic linebacker that Mike Mayock called the best zone-drop linebacker in the draft. If he's there at 32, I think the Eagles, who had him in for a pre-draft visit, would take him. I just don't think there's a very good chance of him dropping that far.
Jeff McLane, Grade 4: The Eagles traditionally have shied away from drafting a linebacker in the first round. The position has more importance in Jim Schwartz's scheme than it did for, say, Jim Johnson. And the Eagles should be concerned about Jordan Hicks' durability. If Vander Esch isn't their cup of tea, Alabama's Rashaan Evans could be an option.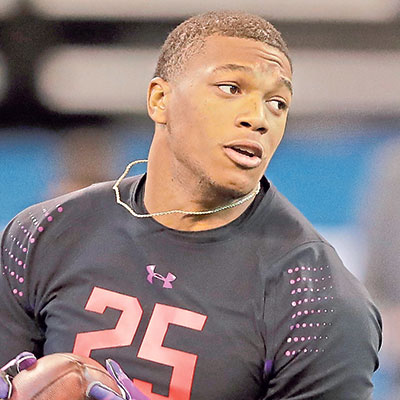 D.J. Moore, Wide receiver, Maryland. Average grade: 4.5.
Zach Berman, Grade 6: Just because the Eagles signed Mike Wallace doesn't mean they're out of the wide receiver market. Moore, a Philadelphia native, could be the first player from the city limits that the Eagles draft in the first round. The Eagles have enough at wide receiver for 2018, but Moore could also help as a punt returner as a rookie.
Les Bowen, Grade 4: This would be an amazing bounty at 32, great athlete with elite potential. Very little chance he lasts until 32.
Paul Domowitch, Grade 4: Moore is a Philly player who attended Imhotep Charter. He's skyrocketed during the draft process from a third-day pick to a likely first-rounder. He can play the slot, which would free the Eagles to move Nelson Agholor outside on occasion. Like Vander Esch, however, he probably will be off the board.
Jeff McLane, Grade 4: The Eagles don't exactly have a great need at receiver, but the same could be said about almost all the Super Bowl champions' positions. If Moore is their top-rated prospect at 32, why not draft the Philly product? He's a baller and has inside-outside capabilities.
[ Paul Domowitch ranks the top 50 prospects in the 2018 draft ]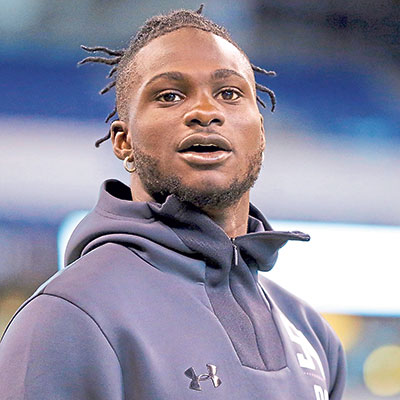 Ronnie Harrison, Safety, Alabama. Average grade: 4.5.
Zach Berman, Grade 6: At 6-foot-2 and 207 pounds, Harrison brings elite size to go along with his athleticism and range at safety. He's also a big hitter. The Eagles might look more toward a coverage safety, but a smart defensive coordinator can find a role for Harrison, who turned 21 this month.
Les Bowen, Grade 4: I really don't see Harrison in the Malcolm Jenkins-Rodney McLeod mold; he seems like more of a traditional strong safety, and that is something you don't use your first-round pick on.
Paul Domowitch, Grade 2: Harrison is considered the third-best safety in the draft after Alabama teammate Minkah Fitzpatrick and Florida State's Derwin James. But he wouldn't seem to be a particularly good fit for Jim Schwartz's defense. He's more of an up-in-the-box strong safety type.
Jeff McLane, Grade 6: It seems like the Crimson Tide produce a first-round caliber safety every year – Fitzpatrick is slated to go in the first 15 picks – and Harrison also qualifies. The Eagles have Malcolm Jenkins and Rodney McLeod returning, but neither is guaranteed a job beyond 2018 and Harrison can seemingly step into either the free or strong safety role.
[ Undrafted free agents are a key part of the Eagles' strategy. Joe Douglas thinks they'll be harder to sign this year ]