The final day of minicamp started and ended early, but Eagles coach Chip Kelly clearly didn't want the focus to be on the 35-day break between Thursday and the July 25 start of training camp at NovaCare.
"I'll go home and see my family and spend some time with them, but, I mean, I don't look at this as I need a break from what we've just done," Kelly said before the final June workout. "This is our life choice, and we enjoy it, so it's not like I can't wait for -- this isn't like Fred Flintstone with the Yabba-Dabba-Doo and we're trying to get out of work. It's another day, and we'll finish up with some different things before we get some time off. But I think anybody that's in our situation, that coaches, isn't like, 'I can't wait to get out of there.' I think most of them can't wait to get back in there."
So, just so we're clear, Chip did not slide down the tail of a Brontosaurus with his lunchpail and flip into his car alongside Barney Rubble when practice ended.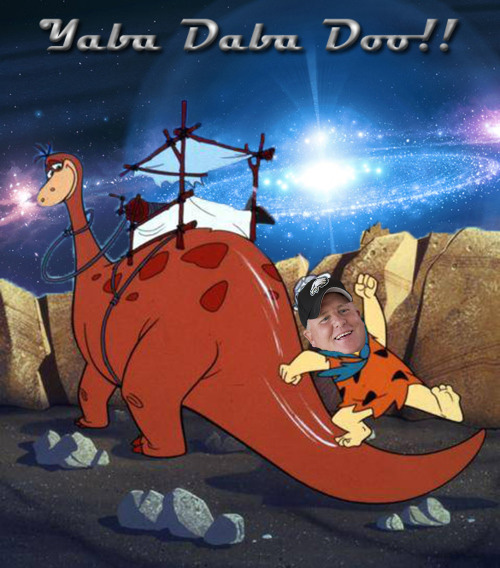 Several players echoed Kelly's sentiment. Yes, it will be nice to get some time off, but with training camp looming, it isn't like you can ignore conditioning. "From what they've been telling us, it takes only about four days not working out to where your muscles and everything start to deteriorate," center Jason Kelce said.
And coming off a 10-6 first season under Kelly, the focus is more on getting going on 2014 than on rest.
"We're anxious," Kelce said. "We're eager to get the season underway."
Some OTA and minicamp observations:
*The Eagles wanted to push Alex Henery a bit, but they aren't replacing him with undrafted rookie Carey "Murderleg" Spear. Spear missed back-to-back field goals Thursday, wide right and them wide left. If the Birds were serious about replacing Henery, there'd be somebody here who has kicked in the NFL.
*I'm going to be a contrarian on the Matt Barkley-Mark Sanchez backup QB battle. Yes, Sanchez has a stronger arm -- which he uses to throw high and wide past receivers much of the time. Barkley can't drive the ball, but he can put it in the general vicinity of an eligible receiver. As I understand football, few points are awarded for throwing hard passes that don't connect. Maybe Sanchez will be more accurate as he gets more comfortable with the offense, but he whiffed four times in a row during a hurryup drill Thursday. The bottom line might be that the Eagles are in trouble if either of these guys has to play much, unlike last season, when they had Nick Foles waiting behind Michael Vick. Pretty clear to me that Vick is head-and-shoulders better than Sanchez or Barkley, but he did not want to stay here as the No. 2.
*Rookie wideout Jordan Matthews was the spring standout, among the new guys. Running back Darren Sproles looked spry, safety Malcolm Jenkins certainly took ownership of the secondary, though we've yet to see him cover or tackle anybody from another team, obviously. There were some pleasant surprises, such as undrafted running back Henry Josey. Nobody got seriously hurt.
*Chip Kelly confirmed what had been assumed -- the Eagles will return the favor with the Patriots and spend three days practicing with New England before playing the second preseason game there, Aug. 15.
*The practice music mix could use some freshening up. A lot of the same stuff that rattled our eardrums a year ago is still blaring forth. It would be just fine if, when training camp convenes, party rock no longer is in the house.