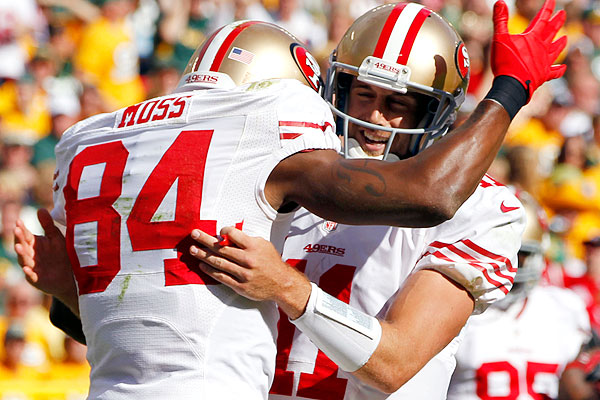 San Francisco's Randy Moss is congratulated by quarterback Alex Smith after Moss caught a touchdown pass during the first half of the Niners' 30-22 victory over the Packers Sunday. (AP)
The opening week of the NFL season taught us a few things — RG III is legit, Brandon Weeden isn't — but the 16-game schedule is a marathon, not a sprint. What teams showed in the first week is not predictor of what's ahead. So, here's our first NFL power rankings of the season; do not expect the rankings to look the same at season's end, or even next week.
1. San Francisco (1-0): Everything went the 49ers' way in a convincing 30-22 win over Green Bay—including an NFL-record-tying 63-yard field goal by ex-Eagle David Akers that hit the crossbar and bounced over. Alex Smith (20-for-26 passing, 211 yards, 2 TDs) and Frank Gore (16 carries for 112 yards and a TD) led the offense, while the team's defense stifled Green Bay all game. Next up: vs. Detroit.