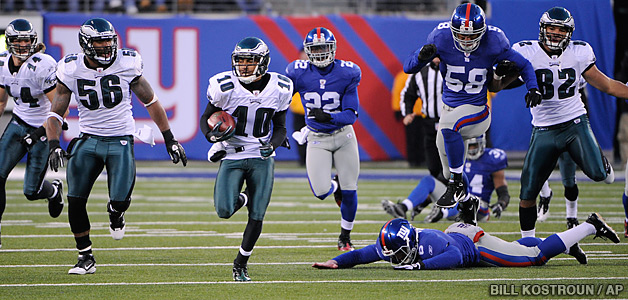 Will DeSean Jackson be returning punts this Sunday when the Eagles face the Lions at Lincoln Financial Field?
The season premiere of "The League" was on FX last night. If you play fantasy football and don't watch this show, I highly recommend checking it out this weekend.
It was an interesting episode to say the least, starting with cameos by Robert Griffin III, Trent Richardson, and Matt Kalil, among others. Then the guys headed to Dallas Cowboys training camp after a personal invite from Jerry Jones himself. Jason Witten, Felix Jones, and several other Cowboys are featured in a scene that ends with someone running naked across the practice field before getting asked to leave the premises.
But then, things got weird - as if they weren't already. The lone female player in the league, Jenny, was unable to go on the trip because she was nine months pregnant. Having her sexual advances being previously shot down by her husband Kevin, who made the trip to Dallas despite his wife's condition, Jenny decides to take matters into her own hands.
A bizarre scene follows, beginning with Jenny fantasizing about Witten. But then, out of nowhere, none other than DeSean Jackson creeps into her fantasy, pleading his case to be drafted to her team.
While all this is going on, the guys arrive home early after getting kicked out of Dallas. They walk in on Jenny, and just at that moment, her water breaks and they rush her to the hospital. Ruxin, having recently taken over as commissioner, decides that the draft needs to take place in the delivery room.
Not wanting to have her first pick be automated, Jenny agrees to draft while in labor.
Recapping that entire episode was a long way for me to explain how Jackson came to appear in the episode because he said something very interesting.1
While pitching himself to Jenny during her fantasy, his closing argument was: "Don't forget about the return yards."
Really?
On the same day Eagles writers, players, and coaches are talking about whether or not Jackson should return punts?2
Most leagues I've played in don't include return yards for fantasy, but if yours does, his comments yesterday - the real ones from after practice - coupled with Marty Morhinweg hinting that Jackson could see some return action - has to make you feel good.3
That being said, I think DeSean is a great play this week, punt returns or not. I think the game could become a bit of a shootout and that always favors Jackson. Assuming the Eagles, specifically Michael Vick, can avoid turning the ball over at such a high rate, Jackson will be in position to make some big plays Sunday.
Here's a look at some other players on the bubble that I think you should start:
Matt Schaub (QB, HOU) - The Packers have been known to have one of the better defenses in the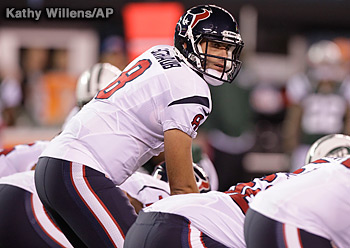 league over the past few seasons, but the Green Bay defense that Schaub will face on Sunday is not that. With Texans LB Brian Cushing out, Packers QB Aaron Rodgers could find some success. If that is the case, the Texans will be forced to pass more often than they did last week against the Jets, when Schaub only attempted 28 passes.
In the last two weeks, the Packers have allowed a combined 109 completions for 808 yards and five touchdowns to Drew Brees and Andrew Luck.
Need yet another reason to start Schaub? His safety valve is Arian Foster, one of the most explosive players in the NFL. Oh, and the game is in Houston...
Buccaneers (D/ST, TB) - Matt Cassel isn't a great quarterback, but his absence will definitely be felt in this game. Brady Quinn will get the start for the Chiefs, allowing the Bucs to focus on Jamaal Charles and the ground game. This will make an already solid rush defense (15.4 PA per game) even stronger for Tampa Bay. I think this makes them a top-five defense this week, and I made sure to pick them up in my league, starting them in place of aforementioned Packers.
Andrew Hawkins (WR, CIN) - The Browns, Hawkins' Week 6 opponent, are allowing 39.9 points per game to opponents' Wide receivers this season, including 49.5 points to the Bengals in Week 2. Sure, A.J. Green is Andy Dalton's favorite target, but there should be plenty to go around this week. Hawkins only had two receptions when the two teams last met, but one was a 50-yard touchdown. I think he gets his chances this week, and with the bye weeks in full effect, he should be in your lineup this week.
---

---
Doug Martin (RB, TB) - I've already written that I think the Buccaneers are a top 5 defense this week against a Chiefs team without their starting quarterback. In a related note, the Bucs could find themselves up big early, and if that is the case, look for Doug Martin to get plenty of carries. That, coupled with the fact that Kansas City is ranked 23rd in points against by opposing running backs, allowing 23 points per week.
Kyle Rudolph (TE, MIN) - The Vikings take on the Redskins this weekend, a team ranked 31st against opposing tight ends, allowing them to score 14.7 points per game (5.1 above the league average). Three times this season (Week 1 at NO, Week 3 vs. CIN, and Week 5 vs. ATL) they have allowed 17 or more points to the other team's tight ends, including 25 last week to the Falcons (most to Tony Gonzalez). Rudolph has four touchdowns in his last four games and continues to get red zone targets from Christian Ponder.
Now here are a few players I am down on this week, and should likely take a seat on your bench: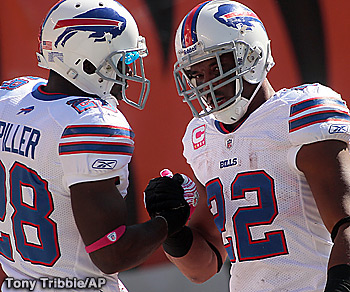 C.J. Spiller and Fred Jackson (RBs, BUF) - With Spiller and Jackson both healthy, their fantasy owners are at a disadvantage from the start. Both have the potential to break one at any moment, but instead of getting 15-20 carries a game, each will be limited to 10-12 carries. Oddly enough, since both returned to the roster in Week 4 against the Patriots, neither player has scored a touchdown (rushing or receiving). Furthermore, in those last two games, Spiller and Jackson have combined for 175 total yards (115 rushing, 60 receiving). But that might not even be the worst part...
The Bills travel to Arizona this week to face the surprising 4-1 Cardinals. They have allowed just one rushing touchdown and have held opposing backfields to under 100 rushing yards in every game but one. Ranked fifth in points allowed against running backs, the Cardinals surrender an average of 12 fantasy points per week. Their worst week was 15.5 points by the Dolphins backs in Week 4.
Joe Flacco (QB, BAL) - I don't really like either quarterback in this game, but I feel like more is expected from Flacco than Tony Romo. The Cowboys' pass defense is allowing just 13.4 points per game to opposing quarterbacks, 4.4 points below the league average. They allowed over 14.5 points for the first time in Week 4 when Jay Cutler put up 20 points. That was also the first game in which they allowed multiple passing touchdowns all season.
Expect a heavy dose of Ray Rice, who is averaging nearly 18 carries per game in his last four games. He faces a Cowboys run defense that is allowing almost twice as many points to running backs on the road (18.75 PPG) than they are at home (9.75). Rice only has one touchdown in that stretch, but look for that to change this weekend, as the only two rushing touchdowns allowed by Dallas have come away from Cowboys Stadium. Depending on your other options, you may want to considering giving Flacco a week off.
Brian Hartline (WR, MIA) - The fourth-year receiver out of Ohio State may have been born in Canton, but there won't be a bust of him residing there for all of eternity. People were talking like there could be after his big Week 4 game against the Cardinals where he hauled in 12 passes for 253 yards and a touchdown. Last week against the Bengals, he returned to earth with a modest 4 receptions for 59 yards. He may be the favorite target of rookie quarterback Ryan Tannehill, but the Dolphins face a tough Rams defense this week that is ranked 7th in the league against opposing wide receivers. I expect to see numbers more like the ones he put up in Cincinnati than he did the week before in Arizona.
---
1 Yes, I'm breaking down an episode of The League and relating it to fantasy football. I just got back from vacation and need to ease back into it...
2 Bob Ford thinks Reid will stay with Johnson; Rich Hofmann says using Jackson is a bad idea; Sheil Kapadia can see Jackson being an option in certain situations

3 Pun (most definitely) intended
---
Matt Mullin is a sports producer at philly.com. You can reach him by e-mail at mmullin@philly.com. Follow Matt on Twitter: @matt_mullin