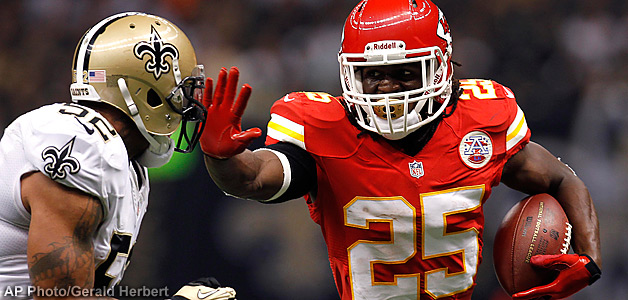 Here's a look at some players around the NFL who saw their fantasy stock go up or down in Week 3:
Sorry I'm so late with this, but I was busy picketing outside of the NFL offices in support of the referees. At least I accomplished something this week...

Jamaal Charles (RB, KC) - One week after being pulled early from the Chiefs' 35-17 loss in Buffalo, Charles reminded the fantasy world why he was so highly rated heading into the season. As the top scorer in Week 3, Charles racked up 288 total yards and a score as he helped the Chiefs to a 27-24 overtime win over the Saints. His early exit in Week 2 left many wondering if he had a setback in his surgically-repaired knee. Apparently that wasn't the case. Charles attributed his big day to the fact that he finally began to trust his legs and the ACL he tore last season. Next week, however, he faces a Chargers team that is allowing the fourth fewest fantasy points per game (8) to opponents running backs. Week 3 Stats: 33 rush, 233 yards, TD; 6 rec, 55 yards

Michael Vick (QB, PHI) - Vick is a turnover machine, plain and simple. Through three games, the Eagles' quarterback has turned the ball over eight times. EIGHT! In most leagues, that's -16 points. Factor in the ones that took place in the red zone and could have resulted in more points, and the total grows even higher. Despite averaging over 300 passing yards per game, Vick has only scored four touchdowns this season (three passing, one rushing). With a banged-up offensive line protecting him, injuries are a legitimate concern for his owners as well. Hopefully he can bounce back on Sunday night against the Giants, but their pass rush is almost guaranteed to cause problems. If I owned Vick, I would sit him if he struggles against the Giants. At this point, the chance of a breakout game is not worth the points he is costing you week after week. Week 3 Stats: 17/37 passing, 217 yards; 4 rush, 28 yards, 2 fumbles

Andy Dalton (QB, CIN) - The Dalton-to-A.J. Green connection that everyone expected to burst onto the scene this season is here at last. They were just fashionably late. Dalton has thrown for
300+ yards, three touchdowns and one interception in his last two games, and his chemistry with Green is getting better each week, as the second-year wideout has seen his point totals grow exponentially - 7 points in Week 1, 11 points in Week 2, 25 points in Week 3. Just look at the list of quarterbacks Dalton (51 points) has outscored this season, despite posting just 5 points in Week 1: Tom Brady, Aaron Rodgers, Philip Rivers, Tony Romo, Matthew Stafford, Michael Vick, Cam Newton, Matt Schaub, and Jay Cutler. Not too shabby. Week 3 Stats: 19/27 passing, 328 yards, 3 TD, INT; 2 rush, 16 yards

Chris Johnson (RB, TEN) - So apparently Johnson's struggles in 2011 were not a result of a holdout and a lockout-shortened offseason. He's been even worse this year, scoring a grand total of eight points this season. Considering a player (RB/WR/TE) gets one point for every 10 yards and 6 points for a touchdown, there have been 70 (9 rushing, 61 passing) individual plays this season went for eight points or more. It has taken Johnson three full games to score what 70 players have scored in ONE play. I would not be trading or dropping Johnson just yet, though. His value can't get any lower, so sit him on your bench for the time being and hope he turns it around, although it doesn't look likely. Week 3 Stats: 14 rush, 24 yards; 1 rec, 5 yards
Ryan Mathews (RB, SD) - Mathews looked good in his first game of the season, averaging 4.4 yards on 10 carries. He was also targeted eight times by Philip Rivers, catching five for 32 yards. If the Chargers had not fallen behind so early, Mathews would have likely seen more carries - and probably less receptions. That shouldn't be a problem this week, as the Chargers face the Chiefs. The one question mark for Mathews - now that he looks healthy - is whether or not coach Norv Turner trusts him. Turner said earlier in the week that they will limit Mathews touches in "certain situations" after a costly red-zone fumble last week against the Falcons. I'm sure owners are hoping those situations don't take place near the goal line. Week 3 Stats: 10 rush, 44 yards; 5 rec, 32 yards

Any WR facing the Jets - It's not often that a cornerback is team's most valuable player, but that's exactly what Darrelle Revis was for the Jets. The four-time Pro Bowl corner tore his ACL in the Jets' 23-20 overtime win in Miami. With Revis out of the lineup, the Jets will have to make neccessary adjustments, as they are accustomed to stranding the opposition's best receiver on Revis Island. While their defense is still solid, you should no longer have to consider sitting one of your top wideouts just because of this matchup. First up for the Revis-less Jets? The San Francisco 49ers. And although they say they're disappointed they won't face the best shut-down corner in the game, the Niners' receivers are almost certainly sleeping better tonight.
---

---

LeSean McCoy (RB, PHI) - For the third week in a row, McCoy has not lived up to expectations. And for the third week in a row, it isn't his fault. Sure, the Eagles were playing from behind for most of Sunday's game against the Cardinals, but with the game still close in the first half, McCoy only rushed the ball four times (30 total yards - 15, 8, 7, 0). The lack of touches, combined with the Eagles' inability to deviate from a game plan that involves Michael Vick getting hit on every play, a turnover rate of one per quarter and an offensive line that has lost key players for the season, the future doesn't look bright for Shady this season. He is one of the most talented backs in the league, but he may not reach his potential this season because of his surroundings. Oh, and his upcoming opponents? The Giants, Steelers, and Lions are allowing their opponents' running backs to score an average of 11.5 points per game. Not a good sign. Week 3 Stats: 13 rush, 70 yards; 3 rec, 8 yards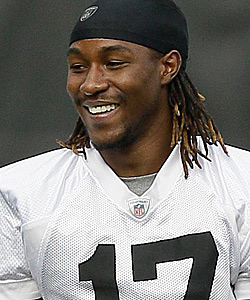 Denarius Moore (WR, OAK) - After missing the Raiders' first game of the season, Moore has looked better and better in each of the last two weeks. Last week against the Steelers, Moore was targeted a team-high 11 times. Carson Palmer has looked better this year, and that is a good sign for Moore owners as well. He also has a favorable matchup this week against a Broncos team that has struggled against opposing wideouts. With Darrius Heyward-Bey expected to miss the game, Moore could see even more targets, but he can also expect more attention from the Broncos' secondary. Keep an eye on rookie Rod Streater this week, who filled in nicely for Oakland when Moore was out earlier in the season. Week 3 Stats: 5 rec, 45 yards, TD

Tony Romo (QB, DAL) - Romo got off to a hot start when he torched the Giants, in the Meadowlands, during the first game of the NFL season. Since then, he has been a huge disappointment, combining for just 19 points in his last two games. He faces a tough matchup against the Bears on Monday night at Cowboys Stadium, as he is just 1-1 vs. the Bears in his career with three touchdowns and three interceptions. He has also had his struggles on Monday Night Football, going 5-4 with nine touchdowns and 12 interceptions. Week 3 Stats: 25/39 passing, 283 yards, INT
Click here for a recap of my weekly fantasy football chat with Ed Barkowitz of the Daily News
I unsuccessfully tried to find a scene from Boiler Room that was appropriate to post. Oh well, here's the trailer.