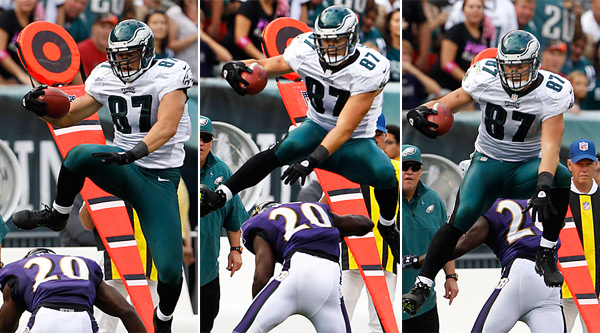 Here's a look at some players around the NFL who saw their fantasy stock go up or down in Week 2...

Brent Celek (TE, PHI) - Celek has proven he is capable of big games before. And for some reason, he has a knack for doing against teams known for their strong defensive play. Remember Week 15 of last season? Celek went off for 156 yards and two touchdowns on five receptions. In his career, the 27-year old tight end has six games with over 100 receiving yards, and two have come in his last five games, both of which were also over 150 yards. With opposing defensive backs focused on preventing Jeremy Maclin and DeSean Jackson from getting behind them and keeping Michael Vick and LeSean McCoy in front of them, it shouldn't be a surprise that Celek found himself open so often against the Ravens. The next few weeks could be favorable matchups for Celek also, as the Eagles face three teams (Cardinals, Giants, Saints) not known for their defense. Week 2 Stats: 8 rec, 157 yards


LeSean McCoy (RB, PHI) - McCoy's stock is falling, and it is no fault of his own. Injuries have depleted an offensive line already missing it's Pro-Bowl left tackle, Jason Peters. McCoy has combined for just 23 fantasy points through the first two games, but has played better than those numbers suggest, averaging nearly 4.25 yards per carry. McCoy is still a must-start in every league, but could be a potential trade target if you are looking to try to buy low (the same goes from Raiders running back Darren McFadden). However, if you own either of those players - and I do own McFadden, I would be hesitant to move them, because right now you almost certainly won't get equal value. This wouldn't much of a stock watch if there wasn't at least some talk of trading... Week 2 Stats: 25 rush, 81 yards, TD

Robert Griffin III (QB, WAS) - You may be surprised that there isn't a green arrow next to RGIII's name. That's because his stock was soaring after Week 1, and I didn't see anything in Week 2 against the Rams to change my mind about that. The Redskins' rookie quarterback has been outstanding so far this season. The trouble for most owners is he was on your bench for at least one, if not both, of his starts. If you now find yourself with two stud quarterbacks (like Griffin and Tom Brady, for example), it's time to move one of them. Depending on your other option, Griffin is likely the best choice to move. That is because Griffin's value is nearing the tipping point, and there's a better chance that he will level out or even regress. With a guy like Brady, however, you more or less know what you are going to get out of him. Week 2 Stats: 20/29 passing, 206 yards, TD, INT; 11 rush, 82 yards, 2 TD

Trent Richardson (RB, CLE) - The Brown's rookie running back struggled in Week 1 against the Eagles, and I'll admit, I was down on him after that performance. Richardson bounced back in Week 2 against the Bengals, and I was left thinking that maybe the Eagles' defense, who also kept Ray Rice in check, is way better than I was giving them credit for. Or maybe it was merely rust, considering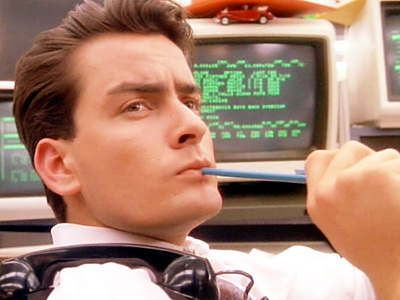 Richardson hadn't played all preseason (as a rookie, mind you) and underwent arthroscopic knee surgery less than two months ago. Either way, Richardson had a great bounce-back performance, and proved a lot of doubters, including me, wrong. Week 2 Stats: 5 rec, 128 yards, TD

Larry Fitzgerald (WR, ARI) - The main reason Fitzgerald's stock is falling is thanks to our old friend, Kevin Kolb. Kolb has played in 11 games for the Cardinals since being traded from the Eagles prior to the 2011 season. In that time, he has thrown just two touchdowns to Fitzgerald, and the pair hasn't connected for a score in their last six games together. John Skelton, who was replaced by Kolb after suffering an injury in Week 1, has thrown 6 of his 13 career touchdowns to Fitzgerald. Neither is a great option if you're a wide receiver, but Skelton seems to have much better chemistry with Fitzgerald, and that's not a good sign going forward, at least until Skelton returns. As long as Kolb keeps winning, however, the Cards should continue to ride Kolb. Week 2 Stats: 1 rec, 4 yards

Tom Brady (QB, NE) - Brady hasn't been terrible this season, but he hasn't been Tom Brady, either. I'm not ready to say that he is in for down year, but the loss of Aaron Hernandez doesn't help. What's that you say? New England has another tight end? Rob Grok-what? Oh, yea. Tom should be fine. Don't panic if you own Brady. He has still thrown for 552 yards, 3 touchdowns and an interception in first two games. He's not lighting up the world, but he's certainly looked better than Matthew Stafford. Week 2 Stats: 5 rec, 128 yards, TD

Vincent Jackson (WR, TB) - After just four receptions for 47 yards on 10 targets in Week 1, owners may have been left wondering how Jackson would play with Josh Freeman throwing to him rather than Philip Rivers. Jackson put those fears to rest on Sunday during the Bucs' 41-34 loss to the Giants. They were playing the Giants, whose secondary looks worse and worse each week, but 20 targets through two games is good news for any fantasy owner. Week 2 Stats: 5 rec, 128 yards, TD

Steelers' Running Backs - Stay away from this trio: Jonathan Dwyer, Isaac Redman, and Rashard Mendenhall. As a team, the Steelers have run for just 141 yards and a touchdown through their first two games. Now Mendenhall is about to return from injury, and those carries will get spread out even more. If in a couple of weeks, one emerges (likely Mendenhall if healthy) as the team's primary runner, my stance may change. What won't change, unfortunately, is the fact that the Steelers are primarily a passing team.
DeAngelo Williams (RB, CAR) - Week 1 was a forgettable one for Williams, who rushed six times for a total of -1 yards. That's right, as in negative. The return of Jonathan Stewart to the Panthers' backfield seemed like it would work against Williams, but he bounced back with a solid performance in Week 2. What could be most optimistic for fantasy owners is that he did so while Stewart was racking up a few points of his own. Add to that the fact that Cam Newton stole a rushing touchdown from them, and things may not be as bleak in Carolina as they looked last week. Week 2 Stats: 5 rec, 128 yards, TD
Download our 2012 Pro Football App!
It's awesome, and it's free this season. I had it last year, and it was more than worth the $2.99 that I paid. You get all the latest news, photos, videos, plus a live game center that features an in-game box score and our live chat all on one screen.
We are also running a contest that you can enter once you download the app. The winner gets a mini-helmet signed by Jeremy Maclin. That's pretty cool. Did I mention that it was free?
All the links you need to download it on your Apple or Android device can be found right here.
---
Matt Mullin is a sports producer at philly.com. You can reach him by e-mail at mmullin@philly.com. Follow Matt on Twitter: @matt_mullin