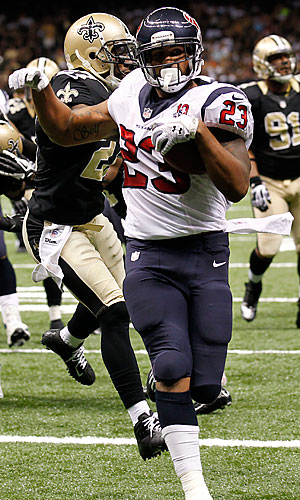 Here we are, Friday before the first weekend of NFL action, and it appears not much has changed since 2011. The status of one of the top picks in most fantasy drafts, Arian Foster, is in question after he left Thursday's practice with what the team is calling a "minor" knee injury. Texans coach Gary Kubiak says Foster will be a game-time decision.
Those who picked up his capable back-up, Ben Tate, are giddy, and those who own Foster but were unable to handcuff themselves by also drafting Tate, are left hoping that the Mayan prophecy comes true a few months early.
Matthew Berry, ESPN's foremost authority on all things fantasy, tweeted earlier that if Foster is out, Tate becomes a top 10 play this weekend.
I'm not willing to go that far, but Tate proved himself to be more than capable last season, averaging 5.4 yards/carry. The Texans open against the Dolphins, the same team they faced in Week 2 last season - Foster's first game back. Although Foster played, he only carried the ball 10 times for 33 yards. It was Tate's 23 carries for 103 yards (and four receptions for 32 yards) that helped Houston to a 23-13 win.