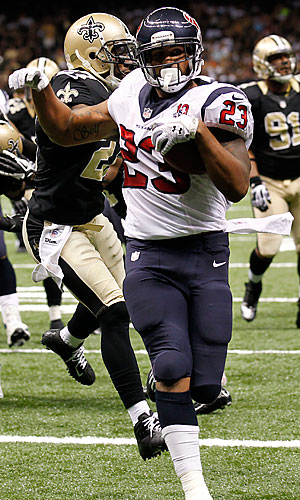 Here we are, Friday before the first weekend of NFL action, and it appears not much has changed since 2011. The status of one of the top picks in most fantasy drafts, Arian Foster, is in question after he left Thursday's practice with what the team is calling a "minor" knee injury. Texans coach Gary Kubiak says Foster will be a game-time decision.
Those who picked up his capable back-up, Ben Tate, are giddy, and those who own Foster but were unable to handcuff themselves by also drafting Tate, are left hoping that the Mayan prophecy comes true a few months early.
Matthew Berry, ESPN's foremost authority on all things fantasy, tweeted earlier that if Foster is out, Tate becomes a top 10 play this weekend.
I'm not willing to go that far, but Tate proved himself to be more than capable last season, averaging 5.4 yards/carry. The Texans open against the Dolphins, the same team they faced in Week 2 last season - Foster's first game back. Although Foster played, he only carried the ball 10 times for 33 yards. It was Tate's 23 carries for 103 yards (and four receptions for 32 yards) that helped Houston to a 23-13 win.
Even if Foster can go, expect Tate to get his fair share of carries. Especially if the Texans can get out to a big lead, look for Tate to get the bulk of the touches as I'm sure they don't want to risk injuring Foster any further. If you have either player, you will have to wait until the inactives are announced before setting your lineup. However, Tate could be worth a flexor RB2 spot even if Foster plays.
If Foster is out, Tate becomes a borderline RB1.
All Day, No Play?
If you have Adrian Peterson, you probably have some questions at running back this week. The Vikings haven't announced whether Peterson will play or not, but considering he hasn't been a full practice participant yet, I doubt he will be a full game participant.
Vikings offensive coordinator Bill Musgrave said he doesn't have "too much doubt" that Peterson will play. However, if he does play, it will be in a very limited role. Toby Gerhart is the better play this week, but I think Peterson will return to the top option before long.
Just because Gerhart is the better play, doesn't mean he is a smart play. The Jaguars were a top 10 defense against the run last season (sixth), so I have Gerhart as a flex start this week, unless of course you are really stacked at WR and need him to fill that RB2 role.
Poor Richardson's Almanac

Despite not playing all preseason, it appears as though Browns' rookie RB Trent Richardson will play this Sunday against the Eagles. He returned to practice this week, and although he was limited, he should get the green light on Sunday.
Or will it be a yellow light? Look for limited carries for Richardson, especially if the Browns' weak offensive line struggles early or the Eagles get out in front and the Browns are forced to rely on another rookie, quarterback Chris Weinke Brandon Weeden, to keep them in the game.
Richardson may be worth a start, however, because we've all seen what the Eagles' look like against the run.
No, the other Jon Stewart

Panthers running back Jonathan Stewart, listed as questionable for Sunday's game against the Bucs after suffering an ankle injury during the preseason, may play after all. Coach Ron Rivera is optimistic that Stewart will be able to go.
Even if he is able to go, there is no reason for the Panthers to rush him back into the rotation. They have DeAngelo Williams and Mike Tolbert, as well as this Cam Newton kid at quarterback. I've heard he can run a little bit too.
There's no reason to think that Stewart is anything more than a flex player this week, and I don't even think that much. He's on my bench for now.
But wait, there's more!
Here are some other running backs with injury questions heading into week 1:
Ryan Mathews (SD) - I wrote the other day that with Ryan Mathews' status still up in the air, Chargers' back-up Ronnie Brown may be worth a look this week. However, with the late kick off on Monday, starting either is risky.
Marshawn Lynch (SEA) - Listed as questionable, Lynch will be a game-time decision on Sunday with back spasms. If he can't go, rookie Robert Turbin will get the start.
Rashard Mendenhall (PIT) - Just eight months removed from ACL surgery, Mendenhall is listed as doubtful. Although he is hoping to play, reports are that he won't see any meaningful action on Sunday.
---
Matt Mullin is a sports producer at philly.com. You can reach him by e-mail at mmullin@philly.com. Follow Matt on Twitter: @matt_mullin