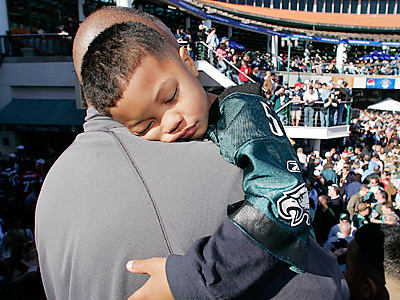 I know what you're thinking. Stop right there. It's not like that.
A story on the Wall Street Journal's website looks at how three NFL teams - the Baltimore Ravens, the San Francisco 49ers, and the New York Jets - are using sleep experts help better prepare their players for game day, especially when traveling across the country.
In an attempt to gain a competitive edge, the teams have gone beyond the traditional "bed check" and curfew, and some of the methods may surprise you:
The Baltimore Ravens and San Francisco 49ers spent the summer tearing through sleep studies—some of them commissioned by the U.S. military—looking for ways they might help their players improve their performance by sleeping more like teenagers. "We've looked at quite a few of them," said San Francisco coach Jim Harbaugh.
Prior to a 1 p.m. game against the Jets in New Jersey this season, San Francisco moved its entire team to a hotel outside of Youngstown, Ohio—not because they had any particular reason to be in Ohio, but to give the team a chance to get acclimated to Eastern Standard Time.
And after sleep specialists visited the Jets earlier this year, linebacker Bryan Thomas said the team has made an extreme effort to make sure everyone is sleeping properly. This includes pre-setting all temperatures in the team hotel rooms to the sleep-therapy recommended 68 degrees and recommending players sleep in pitch-black rooms. Click here to read the full story.
The Eagles are not one of the teams mentioned, so one can assume that their struggles this season are a result of poor sleep habits.