For those of you who are unfamiliar, during the season, we do a "hierarchy/obituary" every week. It's basically my hackneyed spin on power rankings, except I don't pretend to know the AFC, so we just skip it altogether. We also kill off teams when they are no longer realistic playoff contenders, and never speak about them again.
Here's my pre-draft hierarchy, sans the obituaries, which should also serve as somewhat of my NFC preview. (Warning: It got a little out of control. It's over 2,300 words, so you might want to save this for a trip to the bathroom.)
16) Cowboys
Throughout the week, we published our "dumpster fire" series on the NFC East teams. You can read them all here:
• 10 reasons the Cowboys are going to be a dumpster fire this season
• 10 reasons the Redskins are going to be a dumpster fire this season
• 10 reasons the Giants are going to be a dumpster fire this season
Of the Eagles' three NFC East rivals, the Cowboys may be the most primed for a disastrous season.
The Cowboys were the third worst defense in NFL history last year, and they lost DeMarcus Ware (cap casualty), Jason Hatcher (free agency) and Sean Lee (torn ACL) this offseason. They also lost their fourth best defender, Orlando Scandrick, for the first four games to a suspension.
This is the most sorry defensive depth chart I've ever seen (via Ourlads):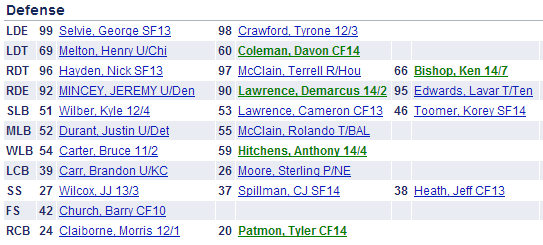 Frankly, it might be best if the Cowboys go 3-13 this year. That would put them in the position to draft an elite QB prospect, hire a legitimate NFL head coach, and dare I say... pressure Jerry Jones into hiring a GM who won't continue to so horribly mismanage his roster. OK, that last one ain't happening.
15) Vikings
In the NFL, if you don't have a quarterback you have no chance, unless you have some kind of historically amazing defense like the 2000 Ravens or 2003 Buccaneers. The Vikings don't have a QB (for now) and they gave up the most points in the NFL last season.
The Vikings went undefeated in the preseason, which is historically meaningless. Here are all the teams who went undefeated in the preseason over the last decade, and how they fared in the games that counted:
The combined record of those teams above: 114-142 (.445).
The Vikings have a long way to go before they'll be legitimate Super Bowl contenders, but they're in competent hands with Mike Zimmer running the show and Norv Turner back in his comfortable position as offensive coordinator, with some weapons to work with.
14) Redskins
I just did over 1000 words on the Redskns earlier this week, but I'll add one more thing. Here's Jim Haslett's last seven years as a defensive coordinator, after he was let go as the Saints' head coach.
How in the hell is Jim Haslett still an NFL defensive coordinator?
13) Giants
Eli Manning is a two-time Super Bowl winner, and as every Super Bowl winner should, Eli basked in the spoils of being a winner. He went on Saturday Night Live, and bathed in SpaghettiO's:
But at what point should a team look at the face of its franchise and begin to wonder if they're only staying with him because of what he has done in the past, as opposed to projecting what he'll do in the future?
Eli regressed a bit from 2011 to 2012, and then he downright stunk in 2013. Here's his contract, which expires at the end of the 2015 season:
Eli will turn 35 at the conclusion of the 2015 season. Even if he plays well over the next two seasons, are the Giants going to re-sign him to a lucrative deal with a big signing bonus that would potentially guarantee him a roster spot for an additional two or three years, keeping him on the roster until he's 37 or 38?
The Giants had five preseason games this year. Because the Giants' offense was so bad during the preseason, Eli played in all five, when most established veteran QBs only play three. You don't want to make too much of the preseason, but here's what Eli did this preseason:
The Giants have arguably a bottom five offensive line, starting running back, and starting tight end heading into the season, to go along with a QB coming off a 27 INT campaign. Everything seems aligned for colossal failure on offense. Could this be Eli's final season with the Giants?
12) Buccaneers
In doing research on the Jaguars for the Eagles' Week 1 matchup, I expected Jacksonville to have the #32 ranked offense last year. Nope. It was the Bucs, which came as a surprise, seeing as they've gotten some preseason buzz.
The Bucs brought in Josh McCown to be their new QB, they drafted Mike Evans out of Texas A&M, and they'll be getting Doug Martin back from injury. All of that will help, but they still have a loooong way to go.
11) Falcons
Because Hard Knocks was so thoroughly boring this year with the Falcons as the focus, I'm not writing anything about them.
10) Rams
The Rams open up the season against the Vikings, Buccaneers, Cowboys, and then they have an early Week 4 bye. They better win those games, because their schedule gets brutal in the next eight games thereafter:
For the third consecutive year, the Rams open the season as the youngest team in the NFL, which in theory bodes well for their future.
And they're not just young -- they're talented.
However, in the NFL, as noted above, if you don't have a quarterback, you have no chance.
Next year.
...or the one after if they still don't have a QB.
9) Bears
I've seen people include the Bears among the top 10 teams in football, and I think that's what Ilike to call "fantasy football syndrome." The Bears have easily visible talented skill position players like Matt Forte, Brandon Marshall, Alshon Jeffery, and if you want to include Jay Cutler and Martellus Bennett, I'll allow it.
However, did those people watch the Bears' run defense last year that allowed 5.3 yards per carry?
5.3 yards per carry!
The next closest team was the dreadful Falcons defense, which gave up 4.8 yards per carry. Here's how bad the Bears' run D was last year:
That's historically bad.
The Bears selected defenders (including two DTs) with four of their first five picks in the draft. They also added DE Lamarr Houston, and aging pass rush specialist Jared Allen.
But until the Bears show they can stop teams form walking all over them in the run game, I'm not trusting this team for a second, no matter who their weapons on offense may be.
8) Panthers
Carolina already had an offense that struggled to come up with explosive plays, as they finished dead last in gains of 20+ yards.
And now they arguably have four downgraded positions on offense this season.
The Panthers will still have a good defense, but can they score?
7) Lions
This is sort of random, but we looked at the Eagles' disastrous 2011 draft a week ago. The Lions' 2011 draft was roundly praised at the time, but has turned out to be awful.
The only player left not just on the team, but in the league, is the extremely disappointing Nick Fairley.
The Lions will have an explosive offense this season. They have two good running backs in Reggis Bush and Joique Bell, three tight ends with different skill sets in Brandon Pettigrew, Joseph Fauria and Eric Ebron, and a decent #2 WR in Golden Tate to go along with the best WR in the game.
6) Cardinals
The Cardinals have some nice pieces in place, but again... it all comes back to, "Do you have a good QB?"
In my opinion, the Cardinals do not, making them one of the most over-hyped teams of the 2014 season.
5) 49ers
Yep. 5th. The 49ers' offseason timeline of awfulness:
• February: A possible rift between head coach Jim Harbaugh and the 49ers' organization emerged, with several twists and turns. While there are a lot of unknowns in play here, there's enough smoke to indicate that Harbaugh and the Niners aren't exactly singing kumbaya after practice every day.
• March 28: Projected starting CB Chris Culliver was arrested on felony hit-and-run and weapons possession charges.
• April 10: QB Colin Kaepernick was investigated for sexual assault in Miami. He was later cleared of all charges.
• April 13: Aldon Smith was arrested for being an idiot at LAX. (Those weren't the actual charges). It was Smith's third arrest in as many years. Smith has 42 sacks in his first three seasons, and is among the best pass rushers in the game.
• May 11: The Niners traded for Blaine Gabbert. Yes, traded, as in, they gave up something to get him. OK, so that's not really a distraction. It's just funny to me.
• June 16: Star TE Vernon Davis wrote in a column for MMQB that he's holding out. His words:
Why I'm Holding Out
In 2010 I signed a five-year, $37 million contract extension with $23 million guaranteed. It was the biggest contract for a tight end in league history. Four years later, and I'm playing at a higher level than I was then, which brings me to why I'm holding out. It's all about getting paid what you deserve. It's not that complicated. I want the 49ers to win the Super Bowl, and I want to be on the field this summer working toward that goal, but I have to worry about my future first. Most of my teammates and many players in the NFL understand that. A few don't. Behind closed doors, they'll say they're all about the team and would run through a brick wall for the organization. But when you look closer, they're doing things to contradict themselves. I can't listen to anyone but my family and my advisors, because those are the people who are going to be there when football inevitably dumps me.
Davis did ultimately show up for training camp after missing OTAs and minicamp.
• July 23: OG Alex Boone held out from training camp. Boone was scheduled to make $3.7 million over the next two years, and the Niners eventually caved, reportedly giving Boone a new two year worth up to $8 million.
• August 29: Aldon Smith suspended nine games.
• August 31: Ray McDonald was arrested on felony domestic violence charges.
That is a laundry list of nonsense for one offseason, with most of the Niners' incidents involving the most important people in their organization. At a minimum, the Niners will be an interesting case study a team's ability to overcome an abnormal number of offseason distractions. Will the Niners weather the storm and continue to be the force that has participated in each of the last three NFC Conference Championship Games? Or will their offseason distractions carry over to the football field like they did for the 2005 Eagles?
Obviously, the Eagles (and the rest of the NFC for that matter) would benefit from the latter.
Also, obviously, the Niners' defense isn't going to be anywhere near as good without Navorro Bowman and Aldon Smith.
4) Eagles
Here's my 40,000 foot view of the Eagles:
If that first item turns out to be right, and they ever get that dominant pass rush (not easy), watch out.
3) Saints
We pretty much know what to expect from the Saints by now, right? At least on offense, anyway. So... Here are a bunch of Brandin Cooks gifs.
Stud from Day 1.
2) Packers
In the eight games Aaron Rodgers started and finished in 2013, the Packers averaged 30.6 points per game and went 6-2. In the other eight games, the Packers averaged 21.5 points per game and went 2-5-1 against a slate of teams that included just one team (the Eagles) with a winning record.
If you strip away the QB position, the Packers really aren't a very good team, but as long as they employ the best player in the league, they'll always be in the mix for Super Bowl contention. I kind of see the Packers as the Patriots of the NFC.
1) Seahawks
I'm terrified by how annoying the Seahawks will be if they turn out to be a dynasty.
Follow Jimmy on Twitter: @JimmyKempski