This month marks the 20th anniversary of Jeffrey Lurie taking over as owner of the Philadelphia Eagles after purchasing the team from Norman Braman in 1994.
While Lurie has yet to deliver a Super Bowl title to Philly - not that any of the owners before him did - his 20 years in control of the franchise stack up nicely when compared to the other three teams in the NFC East.
While the Giants (2) and the Cowboys (1) hold the East's only Lombardi trophies over that time, the Birds rank first in wins, winning percentage, division titles, and playoff appearances.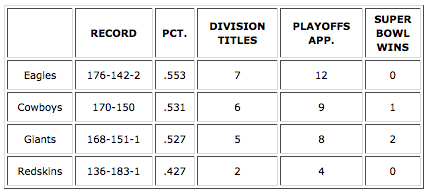 Peter King of MMQB.com took a look at the Eagles since Lurie took over, and had the following assessment:
A frustrated Eagles fan said to me at training camp a couple of years ago he was exasperated with the Andy Reid regime and the team's inability to ever win the big one. I said to him that almost every July, you look at the Eagles and feel they can contend to play football in January, and there aren't many franchises you can say that about. I understand that franchises, and ownerships, are ultimately measured by the number of titles they win. So the Eagles, obviously, need to win one to show that Lurie is making all the right calls and putting the right people in position with his franchise. But I like the consistency of the ship he runs.
[MMQB.com]
While many fans will point to the lack of a parade first when talking about Lurie's ownership, it is hard to find another franchise that has been as consistent over the last two decades.
And hey, if it makes you feel any better, Jerry Jones hasn't been close to the Super Bowl since the Cowboys won three in four years from 1992-1995 - and they don't look poised to return any time soon. And down in D.C., Daniel Snyder is, well, still doing Daniel Snyder things.
The way the NFC East has been shaping up, the Eagles look like the most championship-ready team in the division, and Lurie has played a large part in making a smooth transition from Andy Reid to Chip Kelly. Furthermore, the fact that the team has been able to stay consistently competitive (with the exception of three sub-.500 seasons since 2000) and maintain a young, homegrown roster speaks volumes.
Still, a Super Bowl would be nice.