Scouting the wide receivers
By Ed Barkowitz
barkowe@phillynews.com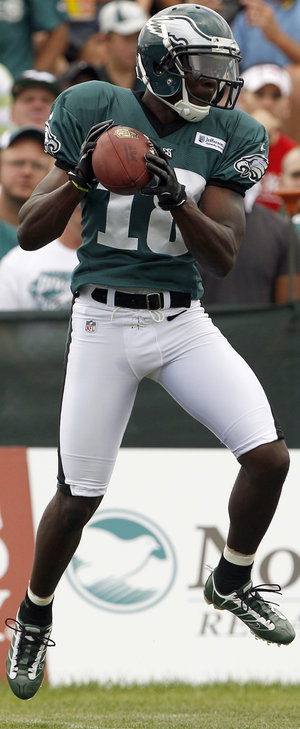 QUICK HITTERS
On the way up: Julio Jones, Atlanta
On the way down: Dwayne Bowe, Kansas City
Riskiest pick: Mike Wallace, Pittsburgh
Sleeper: Titus Young, Detroit
Late-round look: Danny Amendola, St. Louis
Please avoid: Randy Moss, San Francisco
Top rookie: Justin Blackmon, Jacksonville
Miles Austin, Dallas: Austin has had hamstring problems and hasn't played at all during the preseason. Problems with his hammy cost Austin six games last year.
Kenny Britt, Tennessee: Shame there's not a PPA league to reward Britt points per arrest. Britt's looking at an early-season suspension of a few games and is recovering from knee surgery. Wait until the eighth round before taking a chance on him.
Vincent Brown, San Diego: Really liked this guy until he broke his ankle in a preseason game. He should be back for the second half of the season, but is worth a roster stash only in larger leagues.
Victor Cruz, NY Giants: Told the New York Daily News that he has an even better feel for defenses. "I'm definitely more cerebral when I'm out there running routes," he said, "and I can find openings a lot easier." The one thing Cruz needs is a raise from the $540,000 he'll make this year. Best bargain in football.
Larry Fitzgerald, Arizona: Eighty catches last year and two drops. Shame he doesn't have a reliable quarterback.
A.J. Green, Cincinnati: Spent part of the offseason working out with Fitzgerald. This kid wants to be an elite receiver and is a fine option for those nervous about taking Andre Johnson or Mike Wallace.
DeSean Jackson, Eagles: Told ESPN last week something our Paul Domowitch had last month: that the uncertainty of his contract led directly to a lackluster performance in 2011. Double-digit touchdowns would be the best way for Jackson to show fantasy fans he's back to being a dynamic playmaker.
Andre Johnson, Houston: Spotty injury history lately is a concern, but he's OK now. Has never had more than nine touchdown receptions in a season.
Calvin Johnson, Detroit: God decided he wanted to create a wide receiver (6-5, 235) the day Johnson was born. The Lions decided they wanted to keep him happy when they gave him a $132 million contract with almost $50 million guaranteed.
Julio Jones, Atlanta: The Falcons are going to be less run-oriented and nobody on their roster can match Jones in skills and speed. Having Roddy White on the other side is even better.
Jeremy Maclin, Eagles: It would be shortchanging Maclin's talents to think his numbers are directly tied to Michael Vick's health. He'd be a good sixth-rounder in a 12-team draft.
Brandon Marshall, Chicago: Had 167 catches in his two seasons with Miami despite not having an elite quarterback. Still doesn't have one in Chicago, but Jay Cutler is solid and the two of them had good chemistry in Denver in 2007-08.
Robert Meachem, San Diego: The loss of second-year wideout Vincent Brown (ankle) should mean even more targets for Meachem, who spent the last 4 years in New Orleans as one of Drew Brees' secondary options.
Hakeem Nicks, NY Giants: Broke a foot in the offseason and has just recently gotten into active duty. It wouldn't be a surprise to see Nicks start slowly and pick it up after a game or two.
Jordy Nelson, Green Bay: Exploded with 15 touchdowns last year and has looked great in training camp.
Torrey Smith, Baltimore: The Ravens should have more life in their offense and Smith is expected to be a key contributor. Goes against the Eagles' secondary in Week 2.
Mike Wallace, Pittsburgh (if signs): Tried to cash in on two terrific seasons by holding out of camp. It didn't work and he signed a 1-year tender. The Steelers have a new offensive coordinator (former Temple coach Bruce Arians), so excitement for Wallace should be moderate until its clear he knows the new offense.
Reggie Wayne, Indianapolis: Somebody's going to have to be Andrew Luck's favorite receiver and Austin Collie has had concussion problems this preseason.
Wes Welker, New England: The addition of Brandon Lloyd gives Tom Brady another toy, though Welker remains a monster in PPR leagues.
Roddy White, Atlanta: Led all wide receivers with 180 targets last year. That number should dip with Julio Jones' continued improvement.
Titus Young, Detroit: Was targeted 30 times over the final four games and is a contender to be Calvin Johnson's sidekick.
THE RANKINGS:
Top Pick -- - Calvin Johnson, Lions