We are a quarter of the way through the 2012 NFL season and things are finally starting to come into focus. One thing we know for sure is that Robert Griffin III is basically Cam Newton II. The Redskins rookie has picked up right where Newton left off in 2011, when he lit the fantasy world on fire.
While Newton had the more gaudy numbers, Griffin has been the model of consistency, with just two turnovers (1 interception, 1 fumble) through his first four games. The other main difference? Griffin has his Redskins at 2-2, just a game back of lead in the NFC East, while Newton and the Panthers were 1-3 despite the strong play of their quarterback.
The reason I decided to look at these two today, however, is because of a number most of you will care about more than any other, their fantasy points. So far, they are EXACTLY the same. Both players posted 100 points through their first four starts.
With all the comparisons between Griffin and Newton leading into the season, I think it's incredible that the two performed at the same high level.
Here is how their numbers compare through the first four games of their respective careers:
| | | |
| --- | --- | --- |
| Newton | | Griffin III |
| 2011 | Year | 2012 |
| 59.5 | Completion % | 69.4 |
| 1,386 | Pass Yards | 1,070 |
| 133 | Rush Yards | 252 |
| 1,519 | Total Yards | 1,322 |
| 5 | Pass TD | 4 |
| 5 | INT | 1 |
| 4 | Rush TD | 4 |
| 1-3 | Record | 2-2 |
| 100 | Fantasy Points | 100 |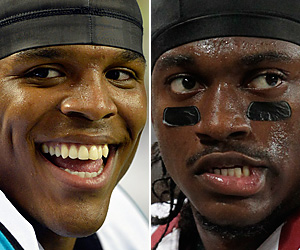 The real question will be this: What can you expect out of Griffin going forward and should Newton be the model to project Griffin's production?
Newton saw a big dip in his numbers over his next seven games. During that stretch, the Panthers went 2-5, and Newton averaged just 19.7 points per game - compared to 25 over his first four.
He split the difference over his final five games, averaging 22.8 points per game, and so far this season, the former Heisman winner is averaging just 19 points.
Because he set the bar so high last season, this looks like a sophomore slump for Newton, but he still ranks fifth among fantasy quarterbacks.
Griffin, after the first quarter season of his NFL career, is the top fantasy scorer, bar none. His ability to protect the ball and avoid turnovers leads me to believe that he will avoid the same type of drop-off.
However, it is safe to assume that there will be a dip of some sort as a relatively easy schedule gets much more difficult for the Redskins. Griffin will also have to deal with teams adjusting to his style as they get more footage to use in preparation.
Couldn't they just use old footage of Cam Newton?
Not really. That would be like studying for a calculus exam with an algebra text book. Similar, but very different.
---

---
Matt Mullin is a sports producer at philly.com. You can reach him by e-mail at mmullin@philly.com. Follow Matt on Twitter: @matt_mullin