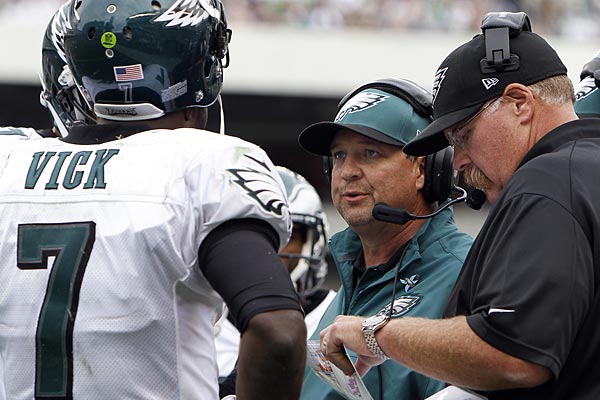 Andy Reid's post-bye week record of 13-0 will be on the line against the 6-0 Falcons on Sunday at Lincoln Financial Field. (David Maialetti/Staff Photographer)
Week 7 of the NFL is donezo and the balance of power lies in the NFC. Five of the top six teams in the rankings and eight of the league's 11 teams with winning records reside in the National Football Conference. After years of the Colts, Patriots and Steelers dominating the AFC (and NFL), the balance of power has shifted to the Giants, Packers, Falcons and 49ers.
Coming up: After Houston's dismantling of injury-ravaged Baltimore, who is the second-best team in the AFC? Is yesterday's rookie phenom Cam Newton the starting quarterback of the worst team in football? And is non-football guy Jason Babin able to name all 32 NFL teams?
1. Atlanta (6-0); Last week: 1 | Week 7 result: Bye
Altanta survived surprising tests from the Redskins and Raiders in the two weeks before its bye. Even more so than Matt Ryan or its defense's ability to force turnovers, the reason behind the Falcons' undefeated record is undoubtedly this. Can it help them get their first win in Philadelphia since 1988? Next up: at Philadelphia
2. Houston (6-1); Last week: 2 | Week 7 result: Won vs. Baltimore, 43-13
The Texans rebounded nicely from their loss to the Packers with their own domination of the Ravens, earning their first-ever win against Baltimore in what should have been a marquee AFC matchup. Instead, Houston had little trouble against a defense playing their first game without Ray Lewis and Lardarius Webb. Arian Foster ran for two touchdowns and cornerback Johnathan Joseph added a return touchdown off one of two Joe Flacco interceptions. Next up: Bye
3. New York Giants (5-2); Last week: 3 | Week 7 result: Won vs. Washington, 27-23
The Giants could not quiet Eminent Supreme Rookie Dear Quarterback Leader Sir Robert Griffin III, but pulled out a late win thanks to a long Victor Cruz reception with 1:23 left. Eli Manning rescued an otherwise tepid effort with the touchdown. Next up: at Dallas

4. Chicago (5-1); Last week: 6 | Week 7 result: Won vs. Detroit, 13-7
The six-point victory over the Lions was the Bears' lowest margin of victory this season; they had previously won by 20, 17, 16 and 38 points. All of this despite Jay Cutler sporting an 8/7 TD/INT ratio. How are the Bears winning? Chicago's defense ranks first in the NFL with 21 takeaways (14 interceptions – five of which have been returned for touchdowns – and seven recovered fumbles). Next up: vs. Carolina
5. San Francisco (5-2); Last week: 4 | Week 7 result: Won vs. Seattle, 13-6
The 49ers beat the Seahawks on a short week after getting demolished by the Giants, but not before head coach Jim Harbaugh cost bettors many, many thousands of green people from history time. (And of course it was the right decision.) Next up: at Arizona
6. Green Bay (4-3); Last week: 7 | Week 7 result: Won at St. Louis, 30-20
Aaron Rodgers appears to be back on track, with nine touchdowns in his last two games, giving him an NFL-best 19 for the season. The Packers, after alternating wins and losses in their first five games, have won two in a row and own a winning record for the first time this season. But, they lost Charles Woodson for at least six weeks to a broken collarbone. Next up: vs. Jacksonville
7. New England (4-3); Last week: 8 | Week 7 result: Won vs. New York Jets, 29-26 (OT)
Nothing has been pretty for New England this season, despite their offense leading the NFL in yards and points per game. Mark Sanchez threw for more yards than Tom Brady, but his fumble in overtime allowed the Patriots to escape with a game-winning field goal and move into first place in the AFC East. Next up: at St. Louis
8. Denver (3-3); Last week: 10 | Week 7 result: Bye
During the bye week, the Broncos enjoyed ten more Philip Rivers turnovers.
Next up: vs. New Orleans
9. Baltimore (5-2); Last week: 5 | Week 7 result: Lost at Houston, 43-13
Baltimore's loss to the Texans is not its biggest concern. Is anyone healthy on this team? The Ravens got Terrell Suggs back, but does it really matter if he's playing without Ray Lewis and Lardarius Webb? The defense was living more off reputation than anything even with those guys on the field. Luckily, they have the best quarterback in the NFL. No need to give the ball to Ray Rice, Cam Cameron. Next up: Bye
10. Minnesota (5-2); Last week: 11 | Week 7 result: Won vs. Arizona, 21-14
If someone had said before the season that the Vikings would be in second place in the NFC North, you might have believed them. If someone had said they would be ahead of the Packers and only a half game out of first after Week 7? That's another story. Adrian Peterson had 153 rushing yards and the Vikings' defense sacked Arizona QB John Skelton seven times in the win over the Cardinals. Next up: vs. Tampa Bay
11. Pittsburgh (3-3); Last week: 14 | Week 7 result: Won at Cincinnati, 24-17
Trailing 14-3 when they got the ball back with 8:29 to go in the second quarter, the Steelers outscored the Bengals 21-3 the rest of the way. A depleted Pittsburgh defense held A.J. Green to only one catch, Jonathan Dwyer ran for 122 yards and Ben Roethlisberger improved to 15-2 all-time in his home state of Ohio. Next up: vs. Washington
12. Seattle (4-3); Last week: 9 | Week 7 result: Lost at San Francisco, 13-6
Seattle has made a winning record out of being competitive. With a suffocating defense and an opportunistic offense, the Seahawks hung around against the 49ers just like they had against the Patriots and Packers. This time, though, they could not get that late score. At least they covered! Next up: at Detroit
13. Washington (3-4); Last week: 12 | Week 7 result: Lost at New York Giants, 27-23
In their past three games, the Redskins have lost by a touchdown to Atlanta, beat Minnesota and lost to the New York Giants by four points. A lot of that is Robert Griffin III, and little of it is their defense, which ranks 29th in the NFL in yards allowed per game and 28th in points per game. To further illustrate the point, the Redskins would have beaten the Giants if not for this. Next up: at Pittsburgh
14. Arizona (4-3); Last week: 13 | Week 7 result: Lost at Minnesota, 21-14
So much for that hot start. The Cardinals lost their third in a row, are missing their top two running backs and have John Skelton starting at quarterback again. Next up: vs. San Francisco
15. EAGLES (3-3); Last week: 15 | Week 7 result: Bye
(Insert jokes about no turnovers and holding a fourth-quarter lead here.) Next up: vs. Atlanta
16. Miami (3-3); Last week: 16 | Week 7 result: Bye
The Dolphins saw themselves move into second place in the AFC East without even playing, which is somehow more believable than it would have been during Hard Knocks. Next up: at New York Jets
17. San Diego (3-3); Last week: 17 | Week 7 result: Bye
The 2013 Chargers are pretty much guaranteed a win coming out of their bye week under head coach Andy Reid. Next up: at Cleveland
18. Dallas (3-3); Last week: 19 | Week 7 result: Won at Carolina, 19-14
The Cowboys have most of the same big names they have had for the last few years, if only in a "Let's see how they blow this big game" kind of way, but this may be the most boring, predictable team in the NFL. Tony Romo will throw five interceptions just when you think he has turned the corner, Dez Bryant will drop passes and Felix Jones and Miles Austin will get hurt. America's Team is overwhelmingly mediocre. Next up: vs. New York Giants
19. Cincinnati (3-4); Last week: 18 | Week 7 result: Lost vs. Pittsburgh, 24-17
The Bengals, up 14-3 in the second quarter, were in a good position to snap their two-game losing streak against a division rival. Instead, they enter the bye week below .500. Star wide receiver A.J. Green was held to just one catch for eight yards, though it was a touchdown, and Andy Dalton threw for a meager 105 yards as Cincinnati could not take advantage of the Steelers' banged-up defense. Next up: Bye
20. New York Jets (3-4); Last week: 22 | Week 7 result: Lost at New England, 29-26 (OT)
Here's Mark Sanchez kicking a fumble out of the end zone. The phrase "passes like he has two left feet" comes to mind. It was another Sanchez fumble – this one in overitme – that killed all chances of an upset for the Jets. Next up: vs. Miami
21. New Orleans (2-4); Last week: 15 | Week 7 result: Won at Tampa Bay, 35-28
Drew Brees threw for 331 yards and four touchdowns in the first half of the Saints' win over the Buccaneers and he had the second-most passing yards in the game. The New Orleans defense allowed Josh Freeman to throw for 420 yards but escaped with a win, thanks to Mike Williams being pushed out of bounds before catching what would have been a game-tying touchdown pass. Next up: at Denver
22. Tennessee (3-4); Last week: 24 | Week 7 result: Won at Buffalo, 35-34
Matt Hasselbeck's touchdown pass to Nate Washington with 1:08 left gave the Titans their second straight win in what turned out to be a wild game in Buffalo, mainly because Chris Johnson ran for 195 yards and two touchdowns. How bad is the Bills' defensive line when the Titans' offensive line dominates you? Next up: vs. Indianapolis
23. St. Louis (3-4); Last week: 23 | Week 7 result: Lost vs. Green Bay, 30-20
The Rams let Aaron Rodgers complete 30-of-37 passes for 342 yards and three touchdowns. It doesn't get any easier against Tom Brady. At least it's a home game. Off to London!
Next up: vs. New England
24. Detroit (2-5); Last week: 20 | Week 7 result: Lost at Chicago, 13-7
The Lions avoided being shut out by the Bears on Monday Night Football with a late touchdown. Ndamukong Suh played Bane to Jay Cutler's Bruce Wayne/Dark Knight, for which the Soldier Field turf sought revenge at the expense of Matthew Stafford. Next up: vs. Seattle
25. Buffalo (3-4); Last week: 21 | Week 7 result: Lost vs. Tennessee, 35-34
After spending $50 in guaranteed money on Mario Williams in the offseason, the Bills have yielded the most rushing yards in the NFL (by a lot) and the second-most total yards per game. At least Williams has 3.5 sacks. Next up: Bye
26. Indianapolis (3-3); Last week: 27 | Week 7 result: Won vs. Cleveland, 17-13
Andrew Luck ran for two touchdowns in a game the Colts very well should have lost, if not for the Browns' receivers. Luck's rushing touchdowns made him the first Indianapolis quarterback to score twice on the ground in a game since 1988. Next up: at Tennessee
27. Tampa Bay (2-4); Last week: 26 | Week 7 result: Lost vs. New Orleans, 35-28
Thank the Bucs for introducing us to the rule prohibiting players from being the first to touch the ball if they are pushed out of bounds and re-enter play while the quarterback is out of the pocket. The only person who knew that rule was Mike Pereira. Next up: at Minnesota
28. Oakland (2-4); Last week: 28 | Week 7 result: Won vs. Jacksonville, 26-23 (OT)
Oakland fell behind 20-6, but a passing and rushing touchdown each from Carson Palmer sent the game to overtime, where Sebastian Janikowski won it with a field goal after the Raiders recovered a Cecil Shorts fumble. Next up: at Kansas City
29. Cleveland (1-6); Last week: 29 | Week 7 result: Lost at Indianapolis, 17-13
Think Brandon Weeden misses Justin Blackmon? Next up: vs. San Diego
30. Jacksonville (1-5); Last week: 31 | Week 7 result: Lost at Oakland, 26-23 (OT)
Think Justin Blackmon misses Brandon Weeden? Blaine Gabbert was knocked out of the Jaguars' loss – along with Maurice Jones-Drew – and was replaced by Chad Henne. Gabbert has a torn labrum in his non-throwing shoulder, but probably won't miss much time. Next up: at Green Bay
31. Carolina (1-5); Last week: 30 | Week 7 result: Lost vs. Dallas, 19-14
Remember how much fun Cam Newton was to watch last year? Of course you don't, because now there's RG3. Newton and the Panthers lost their fourth straight game, and the questions surrounding the sophomore quarterback's character continue. Next up: at Chicago
32. Kansas City (1-5); Last week: 32 | Week 7 result: Bye
The only quarterback controversy surrounding the Chiefs is who made the determination that Brady Quinn and Matt Cassel are NFL caliber. Quinn was named the starter for the rest of the season. Poor Jamaal Charles. Next up: vs. Oakland