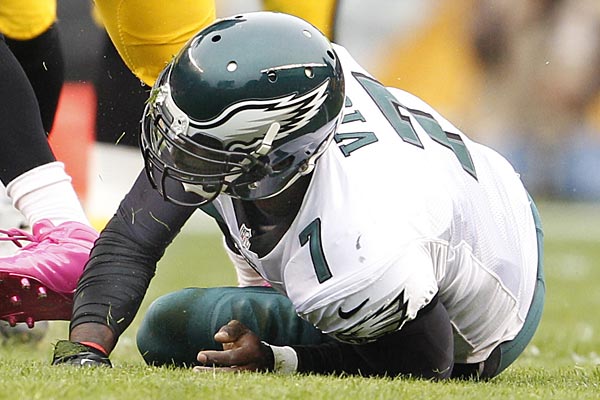 Michael Vick fumbled three times, losing two, against the Steelers during the Eagles' 16-14 loss on Sunday. (Ron Cortes/Staff Photographer)
The haves (that's you, unbeaten Atlanta and Houston) and have-nots (as always, Cleveland and Jacksonville) are shaking out in the NFL. But what about the "How's thats?" Minnesota has as many wins as preseason playoff picks New Orleans, Green Bay, and Detroit combined? And everyone in the usually woeful NFC West has a winning record? How's that, indeed.
1. Houston (5-0); Last week: 1: The Texans deliver a 1-2 punch: They're the AFC's stingiest defense (14.6 ppg.) and the AFC's second-highest scoring offense (29.8 behind New England). They rolled past the New York Jets, 23-17, as Arian Foster picked up 152 yards and a touchdown and Matt Schaub extended the longest active quarterback-winning streak to nine. Next up: vs. Green Bay.
2. Atlanta (5-0); Last week: 2: Atlanta advanced to its first 5-0 start in franchise history with a 24-17 victory over Washington. Matt Ryan completed 34 of 52 passes for 345 yards and two touchdowns, while Tony Gonzalez caught 13 passes for 123 yards and a score. Next up: vs. Oakland.

3. San Francisco (4-1); Last week: 3: Ho-hum, another game, another rout. Thanks to the NFL's toughest defense (13.6 ppg.), the 49ers pounded Buffalo, 45-3, a week after shutting out the New York Jets, 34-0. Alex Smith led the offense to a franchise-record 621 yards of total offense. Next up: vs. New York Giants.