UPDATE (11:45 a.m.): According to Geoff Mosher of CSNPhilly.com, a team source confirmed to him that Johnson does not have a workout scheduled with the Eagles.
UPDATE (10:20 a.m.): Ruben Frank of CSNPhilly is reporting that while Johnson may be headed to Philly, he is not here to work out for the Eagles.
-----
Considering he has 3,756,408 Twitter followers, you may already know this: Wide receiver Chad Johnson Ochocinco Johnson is coming to Philly.
Last night at 12:37 a.m., the troubled wide receiver, who was released from the Dolphins last month after a domestic battery incident with then-wife Evelyn Lozada, tweeted the following: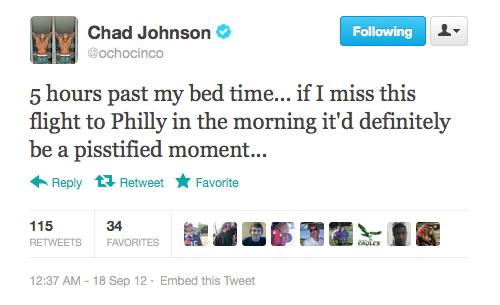 Sure, that doesn't tell us much, and Johnson didn't expand on why he was coming to Philly, but with Jeremy Maclin suffering his second injury in as many games and Riley Cooper still out, it wouldn't be a stretch to assume that he is going to work out for the Eagles. But we know what happens when one assumes.
Johnson, 33, caught just 15 passes for 276 yards and a touchdown in New England last season. However, in his last two seasons with the Bengals (2009, 2010), Johnson caught 139 passes for 1,878 yards and 13 touchdowns.
We can't rule out that a late-night Call of Duty marathon led Johnson to develop a craving for cheesesteaks, but with all the injuries to Eagles receivers, his trip to Philadelphia could be more for business than pleasure.