Birds' First Impressions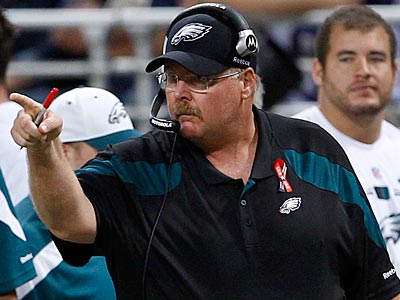 A look at the first play of each season under Andy Reid.
Birds' First Impressions

You wait all summer (and/or through a work stoppage) and can't wait for the first real snap of the pigskin on the NFL's opening weekend. What you usually get from the Eagles is not worth waiting for.
Take Sunday, when Michael Vick was forced to scramble for 9 yards on the Birds' first play and the Rams' Steven Jackson romped 47 yards into the end zone (right) on their first snap.
One thing you have never seen on the Eagles' first play of the season is a running back touching the ball. (That would just be silly!)
A breakdown of the first play of each of Andy Reid's 13 seasons:
| | | |
| --- | --- | --- |
| | Eagles | Opp. |
| RB Rushes-Yards | 0-0 | 8-66 |
| QB Scrambles-Yards | 2-13 | 0-0 |
| Comp-.Att.-Yards | 3-7-31 | 3-4-32 |
| Sacked-Yards | 1-3 | 1-7 |
| QB Fumble-Lost | 1-1 | 0-0 |
| Offensive Penalty-Yards | 1-(-5) | 0-0 |
| Defensive Penalty-Yards | 1-28 | 0-0 |
| Net Yards | 41 | 91 |
| Touchdowns | 0 | 1 |
| Turnovers | 1 | 0 |