Holy Ghosts
Franklin Field soaked in Eagles memories
CHUCK BEDNARIK pinned Jim Taylor to the Franklin Field grass at the 8-yard line. Taylor tried to wriggle free, writhing and cursing and panting. The crowd shrieked, loud enough to rattle windows as far away as City Hall. The clock ticked down to 0:00.
Bednarik scrambled to his feet, scowled down at Taylor and screamed, "You can get up now . . . this friggin' game is OVER."
The game was over, the 1960 postseason, too. The Eagles had come from behind to beat Vince Lombardi's Green Bay Packers, 17-13, winning the National Football League championship.
And if you're lucky enough to have a ticket to the Eagles' practice session at Franklin Field tomorrow, get to your seat early, take a deep breath, fill your lungs with that oxygen-rich mix of nostalgia and high hopes. Gaze at that spot, open end of the horseshoe, 8-yard line.
That's where Bednarik wrestled Taylor to the turf. That's where time ran out. That's where the Eagles won the NFL championship. The last time the Eagles won the NFL championship.
They put Roman numerals on wars back then, not on football games. Bednarik fought in World War II, waist-gunner on a B-24 bomber. Rumbled over Nazi Germany 30 times, dropping bombs. Got home, enrolled at Penn, played big-time football in front of big-time crowds.
That's right. Penn led the nation in attendance a couple of years. Played Notre Dame, Ohio State, Southern Cal. Could add some temporary bleachers and cram 80,000 inside the stadium on 33rd Street. That ornate clock on the wall at Weightman Hall with PENNSYLVANIA instead of numbers, and a 9 and a 5 on the perimeter, that's to remind us the stadium was built in 1895.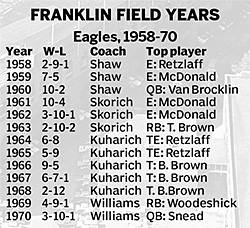 And while Penn was drawing huge crowds, the Eagles were playing in front of skimpy numbers at Connie Mack Stadium. Then Penn joined the Ivy League and football crowds dwindled and the Eagles worked a sweetheart deal to play at Franklin Field. Lured Norm Van Brocklin to play quarterback and won nine in a row in that magical 1960 season. Bednarik sat on Jim Taylor and the Eagles won a championship and this became a pro football town, shazam, just like that.
That championship game was played on a Monday afternoon, the day after Christmas. No local television. Attendance was 67,325, thanks to some temporary bleachers.The Eagles couldn't pay rent to a nonprofit institution, so at the end of the year they'd hand Penn a check for $100,000 for maintenance. Penn kept the revenue from parking and concessions. It was a win-win deal and the Eagles played there from 1958 to 1970 until moving, reluctantly, to Veterans Stadium.
Bednarik played 58 minutes. That's right. Center on offense, outside linebacker on defense. Every play except for kickoffs and punt returns.
Hammered Paul Hornung out of the game with a crunching tackle. Sat on Taylor at the end. Was not named most valuable player. That honor went to Van Brocklin, who had a mediocre game for him - 9-for-20 with one interception and a botched lateral on the first play from scrimmage.
It was a sympathetic vote because everyone knew the Dutchman was retiring after the season. It was a sentimental vote, a reward for Van Brocklin's heroics during the season.
The soft-spoken coach, Buck Shaw, retired after the season. Van Brocklin thought he had a promise he was going to get the job but he had no proof. But that's another long and bitter story.
Franklin Field was a great place to watch football. Terrific sightlines, no gaudy signage, handy to public transportation, cheap tickets. Ancient stage for all the drama that played out there, comedy and tragedy, thrill of victory, agony of defeat.
It still draws passionate fans to the Penn Relays every year. There is that cauldron of noise at the closed end, that unique "whooooo" as runners sprint through that final turn and into the stretch.
They staged the USSR-USA track meet there in 1959 and our Jack McKinney showed a fistful of Russian athletes parts of the city that tourist maps neglected.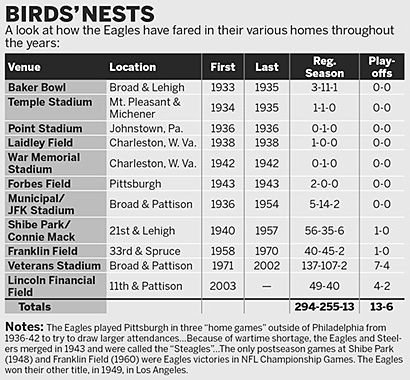 There was a track meet that matched Marty Liquori against Jim Ryun in the mile in the most memorable race I've ever covered and I covered four Olympics.
Jim Thorpe played there, with the Carlisle Indians, back in 1907. Red Grange set an NCAA record in 1925 when he rushed for 331 yards and Illinois beat Penn, 24-2.
It hosted lacrosse championships and pro soccer and a Canadian Football League game. The Stars of the USFL beat the Jersey Generals there in a playoff game in 1984.
Franklin Roosevelt accepted the nomination for president in 1936 on a rainy night with 100,000 in attendance. In 1997, the band U2 launched its PopMart Tour there.
NFL commissioner Bert Bell suffered a heart attack and died there, last two minutes of an Eagles-Steelers game, October 1959.
"Monday Night Football" came to Franklin Field on Nov. 23, 1970. Eagles owner Leonard Tose entertained broadcaster Howard Cosell before the game. Perhaps it was the pregame martinis that caused Cosell to puke on Dandy Don Meredith's cowboy boots during the telecast. Cosell was gone by halftime, bundled into a taxi headed for New York.
No history of Franklin Field is complete without the snowballs at Santa episode. Took place on Dec. 15, 1968. The Eagles, coached by the unpopular Joe Kuharich were 2-11 and playing the Vikings.
The Eagles lured a guy in a Santa suit out of the stands to take part in the halftime pageantry, after brutal weather had kept the original Santa from making it to the game. The fans pelted him with snowballs. The Eagles lost, a reputation was born.
---
Email: stanrhoch@comcast.net