All-Eagles NFL Draft
NFL Draft: All-time greatest Eagles player taken in each round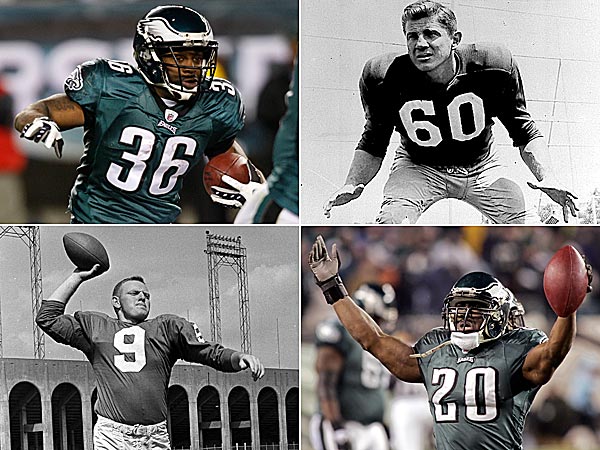 In the weeks leading up to the NFL Draft, help us determine the best draft picks in Eagles history for each round.
Breaking down the Eagles' best draft picks ever

by Rich Hofmann, Daily News

Many of the greatest players in team history - and in the history of the entire sport - arrived in Philadelphia via the NFL Draft. We asked readers to vote on the best player ever selected by the Eagles in each round of the draft.

With thousands of votes counted, it's time to present the outcome, as well as columnist Rich Hofmann's take on the results and a look at what was written in the paper the day after he was drafted.
Who is the Eagles' best first-round pick of all time?

Donovan McNabb, QB, 1999
  3233 (32.0%)
Tra Thomas, OT, 1998
  174 (1.7%)
Keith Jackson, TE, 1988
  61 (0.6%)
Jerome Brown, DT, 1987
  903 (8.9%)
Mike Quick, WR, 1985
  281 (2.8%)
Bob Brown, OT, 1964
  76 (0.8%)
Chuck Bednarik, LB, 1949
  3661 (36.2%)
Steve Van Buren, HB, 1944
  1724 (17.0%)
Add your vote  •   Total votes = 10113
Van Buren? Third?

In his later years, Steve Van Buren would have this running comedy act with Chuck Bednarik. Van Buren was the Hall of Fame running back, the star of the Eagles' 1948 and '49 championship teams. Bednarik was a kid on the '49 team and the veteran who played both ways on the 1960 championship team.

And so it went…

Steve: You were the best.

Chuck: No, you were the best.

The conversation would continue, wander. Stories would be told and re-told. Memories would be lovingly recalled. and then they would do it again.

Steve: You were the best.
Chuck: No, you were the best.

Chuck's son-in-law, Ken Safarowic, told the story at Van Buren's memorial service in 2012. He concluded it by saying, "The only Philadelphia Eagles player who (Bednarik) ever acknowledged was a better player than him was Steve Van Buren."

I wrote that day that, when Bednarik ultimately passes, he and Van Buren and Reggie White can arm wrestle to see who was the greatest player in the history of the franchise.

Van Buren would not be third on that list. He should not be third on this list — or any list, really.




The day Bednarik was drafted

The Philadelphia Eagles will have first choice in the player selection at the National Football League draft next month, it was disclosed today.

Charlie Ewart, general manager of the Eagles, said his team won the right to make the first choice at a lottery held during a special NFL meeting at Pittsburgh last Monday.

The Eagles have their eye on a particular player, Ewart admitted, but he would not disclose his name "until we contact him and get his oral agreement to play with us next year."

— Daily News, November 18, 1948
Who is the Eagles' best second-round pick of all time?

LeSean McCoy, RB, 2009
  1376 (14.3%)
DeSean Jackson, WR, 2008
  57 (0.6%)
Brian Dawkins, S, 1996
  7052 (73.3%)
Eric Allen, CB, 1988
  99 (1.0%)
Randall Cunningham, QB, 1985
  946 (9.8%)
Maxie Baughan, LB, 1960
  87 (0.9%)
Add your vote  •   Total votes = 9615
Of course...

In my mind, no one can touch the combination of playing ability, passion and fan connection that Brian Dawkins brought to the Eagles. That he received the highest percentage of votes in this survey seems appropriate.

But a word about cornerback Eric Allen. He never gets a sniff for the Hall of Fame but he was a great, great player. He had 54 career interceptions and made six Pro Bowls. You shouldn't hold it against him that he played only half of his career in Philadelphia, the other half in New Orleans and Oakland.

Allen was that good. Dawkins, though, was otherworldly at his height.


The day Dawkins was drafted

If safety Brian Dawkins, Mr. 61, proves to be the second coming of Wes Hopkins, or even Greg Jackson — the Eagles need him to be one of those — then holding on to that extra second-rounder will have been the right call.

If Dawkins becomes Mike Reid and isn't on the roster in three years . . . and if Jermane Mayberry, the guy the Eagles settled for at 25, plays like Andy of Mayberry (it was just a matter of time before we used that one), we can say the Eagles blew it.

— Kevin Mulligan, Daily News, April 23, 1996
Who is the Eagles' best third-round pick of all time?

Nick Foles, QB, 2012
  345 (3.7%)
Brian Westbrook, RB, 2002
  6308 (67.2%)
Jeremiah Trotter, LB, 1998
  445 (4.7%)
Bill Bradley, DB, 1969
  172 (1.8%)
Tommy McDonald, FL, 1957
  2112 (22.5%)
Add your vote  •   Total votes = 9382
History says otherwise

I know, I know — Brian Westbrook was such a versatile player, and such a clutch player — big plays, big moments: Westbrook owned them. But Tommy McDonald was the more accomplished player. The guy made six Pro Bowls and played on the 1960 championship team. When he retired, he had 84 touchdowns — the second most in NFL history at that point. Oh — and he's in the Pro Football Hall of Fame.

Just because he played before you were born doesn't mean you shouldn't know who he is.


The day Westbrook was drafted

At 5-9, 200 pounds, the native of Fort Washington, Md., figures to be used in much the same way as Duce Staley. Westbrook caught 219 passes for 2,639 yards (12.1 average) at 'Nova. Four of his 84 career touchdowns came on kickoff returns. Versatility might be his greatest asset.

"I think I bring a lot to the table," he said. "I can help in a lot of roles. That's what people are looking for. It's an opportunity to play with Donovan McNabb. They already have a lot of pieces in place, obviously. I wanted to go to a team that could compete for a championship. I think the Eagles are right there. I rooted for the Redskins when I was younger. And a little bit for the Cowboys. But this is a new day."

— Mike Kern, Daily News, April 22, 2002
Who is the Eagles' best fourth-round pick of all time?

Todd Herremans, OL, 2005
  1569 (18.4%)
William Thomas, LB, 1991
  1301 (15.2%)
Dennis Harrison, DE, 1978
  186 (2.2%)
Frank LeMaster, LB, 1974
  728 (8.5%)
Sonny Jurgensen, QB, 1957
  4753 (55.7%)
Add your vote  •   Total votes = 8537
Why you're right

This one was tough. Sonny Jurgensen is in the Hall of Fame, yes, but he is known mostly as a member of the Washington Redskins. For the Eagles, he backed up Norm Van Brocklin on the 1960 championship team, then started for a couple of years and made one Pro Bowl with the Eagles. But he was traded in 1963 and then spent a decade in Washington, and that is where he did most of his best work.

William Thomas was a very good linebacker, and if this was restricted to a player's work in a green uniform, he would have been the better choice. But there is no such restriction, and Jurgensen is the better choice.


The day Jurgensen was drafted

Jurgensen is a split-T quarterback with great potential. Along with his pin-point passing, he is also a fine runner...

Chances are that if (fellow draftee Billy) Barnes and Jurgensen don't make the grade as offensive players, they will be used on defense.

— Bob McGowan, Daily News, November 27, 1956
Who is the Eagles' best fifth-round pick of all time?

Brent Celek, TE, 2007
  1005 (11.7%)
Trent Cole, DE, 2005
  5211 (60.8%)
Ike Reese, LB, 1998
  469 (5.5%)
Pete Pihos, E, 1945
  1626 (19.0%)
Al Wistert, T, 1943
  262 (3.1%)
Add your vote  •   Total votes = 8573
Why you're wrong

I know, I know — if it's an opinion, you can't be wrong. This time, though, you are. This is from the Pro Football Hall of Fame:

Peter Louis Pihos ... Indiana All-American, 1943 ... Fifth-round draft pick in 1945 even though he couldn't play until 1947 ... 60-minute star on Eagles title teams, 1948-1949 ... Caught winning TD pass in 1949 NFL championship ... All-NFL six times in nine seasons, once at defensive end, 1952 ... Played in six Pro Bowls ... Three-time NFL receiving champ, 1953-1955 ... Career record: 373 catches for 5,619 yards, 378 points ... Born October 22, 1923, in Orlando, Florida ... Died August 16, 2011, at age of 87.

Pete Pihos. This one should have been easy.


The day Cole was drafted

5, No. 146 overall, Trent Cole, DE, 6-2, 257, Cincinnati. Nicknamed "Scrap Iron." Finished college career with 238 tackles (130 solos), 19 sacks for minus-159 yards and 48 stops for losses. Second on school's all-time sacks list . . . Had 14 tackles in 2003 game vs. Temple . . . Not enough size for DE nor fluidity for LB, so future seems to be as special-teamer and edge rusher . . . Comes from big family (three sisters, two brothers).

— Paul Vigna, Daily News, April 25, 2005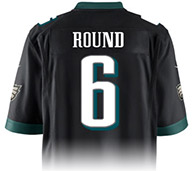 Who is the Eagles' best sixth-round pick of all time?

Jason Kelce, C, 2011
  628 (8.4%)
Mitch Berger, P, 1994
  25 (0.3%)
Andy Harmon, DT, 1991
  122 (1.6%)
Wilbert Montgomery, RB, 1977
  6648 (89.2%)
Kan Farragut, C, 1951
  30 (0.4%)
Add your vote  •   Total votes = 7453
If Eagles center Jason Kelce continues his current career arc, and we were to run this survey again in 10 years, the result might be different. That is how good Kelce is as a still-young player, and how much he has already accomplished.

Until then, though, Wilbert Montgomery was the obvious call. He was a great runner, a tough runner, the last guy out of the training room every Sunday afternoon because of the time it took to put him back together after a typical, pounding game.

More than that, though, he was the embodiment of the Dick Vermeil era, just as Dawkins was the face of the great Andy Reid teams. Besides, people still talk about the way the press box at Veterans Stadium shook after Montgomery's touchdown run against the Cowboys in the NFC Championship Game.


The day Montgomery was drafted

Maybe the revelation will come from Wilbert Montgomery, the running back the Eagles took from tiny Abilene Christian after a curious career that included 76 touchdowns, an NAIA national championship, 3,047 yards rushing, at least one touchdown each in 32 of the 35 games he played, and enough injuries to scratch him from nine games...

"I suppose injuries hurt me, or I might have gone higher," Montgomery said. "When I get to Philly, and the people see me, they may wonder why somebody didn't take me sooner."

— Phil Jasner, Daily News, March 5, 1977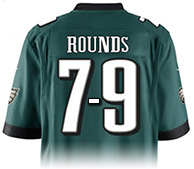 Who is the Eagles' all-time best pick in rounds seven to nine?

Seth Joyner, LB, 1986
  1502 (20.9%)
Clyde Simmons, DE, 1986
  964 (13.4%)
Charlie Johnson, DT, 1977
  18 (0.3%)
Harold Carmichael, WR, 1971
  4545 (63.3%)
Irv Cross, DB, 1961
  154 (2.1%)
Add your vote  •   Total votes = 7183
Maybe the hardest choice on the board

The first round was very hard, obviously. But in this one, the battle between Harold Carmichael and Seth Joyner was between two guys who are borderline Hall of Famers, guys who came from nowhere to do great and memorable things. Carmichael, his size and his skill are unforgettable.

Joyner, too, endures after all of these years — partly because he was as personally demonstrative as Carmichael was reserved, and partly because of this astounding stat fact: Joyner is the only player in NFL history to have 50 or more sacks and 20 or more interceptions in his career.

He's it. He's the one. I would have voted for him over Carmichael, but some of that might be personal — I covered Joyner's Eagles teams, start to finish, and only covered Carmichael at the very end of his career.


The day Carmichael was drafted

As much as it seems the Eagles might be recruiting for a glee club, the draft might turn out all right if they accomplish what they set out to do. No, number one draftee Richard Harris does not sing. No, number 7 draftee Harold "Hoagie" Carmichael does not sing Stardust. No, number 15 draftee Eddie Fisher does not sing Oh Mein Papa.

— Bill Shefski, Daily News, January 30, 1971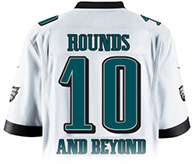 Who is the Eagles' all-time best pick in round ten or later?

Joe Lavender (12th), DB, 1973
  316 (5.1%)
Tom Brookshier (10th), DB, 1953
  5333 (86.1%)
Bobby Walston (14th), E/K, 1951
  271 (4.4%)
Norm Willey (13th), E, 1950
  271 (4.4%)
Add your vote  •   Total votes = 6191
Tom Brookshier was better known to most of the people who voted in this thing as a broadcaster than as a player — but he was a hell of a player. He went to a couple of Pro Bowls, played on the 1960 championship team, missed two years of his career while serving in the Air Force and then had his career cut short by a devastating leg injury.

The other guys on the list also deserved to be there, and this wasn't a slam dunk — but if you voted for every lazy Sunday afternoon when Pat Summerall and Brookshier invited you to pull up a third barstool and watch a game with them, well, that's a pretty good reason, too.


The day Brookshier was drafted

...In order were Thomas Higgins, North Carolina guard who was traded to the Chicago Cardinals for Jack Erickson, Iowa State tackle; Ray Malavasi, Mississippi State and Army guard; Jess Richardson, Alabama tackle; Roger French, Minnesota end, and Tom Brookshier, a back with no college affiliation.

— Inquirer, January 23, 1953
Connect with Philly.com Sports