Throw It Here, Rook!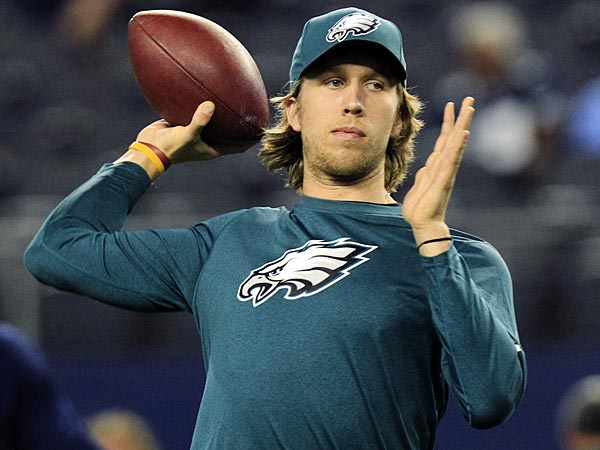 Eagles rookies that have thrown TD passes since 1970.
Throw It Here, Rook!

With two TDs already under his belt and — barring injury — four games in front of him, Nick Foles has a shot at setting the Eagles' rookie record for touchdown passes in a season.
He needs six to tie and seven to break the mark set by Donovan McNabb in his first season.
Below are all Eagles rookies — quarterbacks and non-QBs — who have thrown touchdowns passes for the Eagles under Reid:
Player
Year
TD
TD Catches (Yds.)
Donovan McNabb
1999
8
Chad Lewis (5, 6, 11); Luther Broughton (3, 26),
Duce Staley (3), Dameane Douglas (29),
Torrance Small (63)
John Reaves
1972
7
Harold Jackson (20, 77), Po James (5),
Harold Carmichael (5,10), Kent Kramer (16),
Billy Walik (15)
Mike Boryla
1974
5
Charle Young (1, 7, 14),
Harold Carmichael (3, 6)
Koy Detmer
1998
5
Jeff Graham (4, 16), Irving Fryar (26, 61),
Freddie Solomon (7)
Scott Tinsley
1987
3
Mike Siano (13), Topper Clemons (13),
Kevin Bowman (62)
A.J. Feeley
2001
2
Dameane Douglas (2, 24)
Nick Foles
2012
2
Riley Cooper (15), Jeremy Maclin (44)
Rick Arrington
1970
1
Lee Douggess (4)
Keith Byars
1986
1
Mike Quick (55)
Randall Cunningham
1985
1
Earnest Jackson (17)
Herman Hunter
1985
1
Mike Quick (38)
Brian Westbrook
2002
1
Todd Pinkston (25)