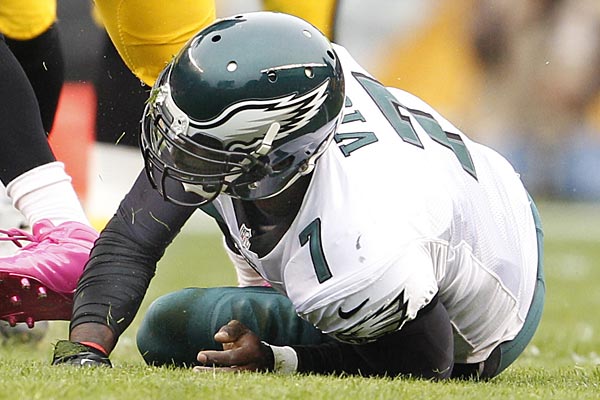 Michael Vick fumbled three times, losing two, against the Steelers during the Eagles' 16-14 loss on Sunday. (Ron Cortes/Staff Photographer)
The haves (that's you, unbeaten Atlanta and Houston) and have-nots (as always, Cleveland and Jacksonville) are shaking out in the NFL. But what about the "How's thats?" Minnesota has as many wins as preseason playoff picks New Orleans, Green Bay, and Detroit combined? And everyone in the usually woeful NFC West has a winning record? How's that, indeed.
1. Houston (5-0); Last week: 1: The Texans deliver a 1-2 punch: They're the AFC's stingiest defense (14.6 ppg.) and the AFC's second-highest scoring offense (29.8 behind New England). They rolled past the New York Jets, 23-17, as Arian Foster picked up 152 yards and a touchdown and Matt Schaub extended the longest active quarterback-winning streak to nine. Next up: vs. Green Bay.
2. Atlanta (5-0); Last week: 2: Atlanta advanced to its first 5-0 start in franchise history with a 24-17 victory over Washington. Matt Ryan completed 34 of 52 passes for 345 yards and two touchdowns, while Tony Gonzalez caught 13 passes for 123 yards and a score. Next up: vs. Oakland.

3. San Francisco (4-1); Last week: 3: Ho-hum, another game, another rout. Thanks to the NFL's toughest defense (13.6 ppg.), the 49ers pounded Buffalo, 45-3, a week after shutting out the New York Jets, 34-0. Alex Smith led the offense to a franchise-record 621 yards of total offense. Next up: vs. New York Giants.

4. Baltimore (4-1); Last week: 4: Baltimore showed why it has the AFC's second-stingiest defense (17.8 ppg.) in a 9-6 victory over Kansas City. The Ravens forced four turnovers, and kicker Justin Tucker scored all of the team's points in a closer-than-expected road win. Next up: vs. Dallas.
5. New England (3-2); Last week: 7: The NFL's most potent offense—best in points per game (33) and yards per game (439.4)—topped 200 rushing yards for the second-straight game for the first time since 1978 in a 31-21 win over Denver. Stevan Ridley had 151 yards rushing and a touchdown and Tom Brady moved to 9-4 in games against Peyton Manning. Next up: at Seattle.
6. Chicago (4-1); Last week: 9: The NFL's third-best defense, yielding just 14.2 points per game, blitzed host Jacksonville, 41-3. Charles Tillman and Lance Briggs each returned interceptions for touchdowns for the second-straight game, as Chicago broke open a 3-3 halftime tie with 38 unanswered points. Next up: Bye.
7. Arizona (4-1); Last week: 5: The surprising Cardinals finally dropped their first game with a 17-3 loss to St. Louis. The Rams sacked Kevin Kol b nine times and held the Cardinals to 45 yards rushing on 17 attempts. Arizona was also 0-for-3 in the red zone. Next up: vs. Buffalo.
8. New York Giants (3-2); Last week: 11: Eli Manning, Victor Cruz, and Ahmad Bradshaw showed why New York has the NFL's second-best offense (30.2 ppg. and 429.2 ypg., trailing New England in both) in a 41-27 win over Cleveland. Cruz caught three touchdown passes from Manning, and Bradshaw ran for a career-high 200 yards and a score on 30 carries. Next up: at San Francisco.
9. Pittsburgh (2-2); Last week: 12: Coming off a bye, the Steelers finally had Rashard Mendenhall healthy after he tore his right ACL last year—and what a difference he made. Mendenhall had 101 yards from scrimmage and a score, while the Steeler defense forced two key Eagles turnovers in a 16-14 win. Next up: at Tennessee.

10. Minnesota (4-1); Last week: 15: You could have made a killing in Las Vegas predicting the Vikings would have twice as many wins as Green Bay five games into the season. Do-it-all Percy Harvin (eight catches for 108 yards) scored touchdowns rushing and receiving and the Vikings won their third straight, allowing just 33 points in the wins. Next up: at Washington.
11. PHILADELPHIA (3-2); Last week: 10: The Eagles' offense ranks 31st in the NFL in one offensive category (16 ppg.), they average less than five points per game in the first half, and Michael Vick has more turnovers than the team has touchdowns (11 to eight). And yet, they're first in the NFC East, will play just two road games between now and December, and have just three teams left on their schedule with winning records. The football gods are smiling on Philadelphia. Next up: vs. Detroit.
12. San Diego (3-2); Last week: 8: The Chargers matched up evenly with another potent offense—but when that team is winless entering the game, that's not so good. San Diego lost, 31-24, to New Orleans despite 354 yards passing by Philip Rivers. A win Sunday would create a little division separation. Next up: vs Denver.

13. Green Bay (2-3); Last week: 6: Leading 21-3 at halftime, the Packers were ambushed by a motivated Indianapolis team that rallied behind its hospitalized head coach for a 30-27 upset. Green Bay is now third in the NFC North, and only four NFC teams have a worse record. It's not the ideal time to have to go on the road against the NFL's best team. Next up: at Houston.
14. Denver (2-3); Last week: 13: Denver's start can't be blamed on Peyton Manning. Returning from neck surgery, Manning has been brilliant, ranking fourth in the NFL in passer rating and yards per game, and has thrown 11 TD passes with just three interceptions. The Broncos lost to New England, 31-21, despite Manning's 345 yards on 31 of 45 passing. Next up: at San Diego.

15. Dallas (2-2); Last week: 16: The Cowboys are one of just five NFL teams at .500 or better with a negative scoring differential (the Eagles, Colts, Jets, and Bengals are the others). That's a sign of inconsistency, but did Dallas use its bye week to fix its problems as it faces one of the NFL's best teams? Next up: at Baltimore.

16. St. Louis (3-2); Last week: 18: The numbers all favored undefeated Arizona—total yards, time of possession, first downs—except the final score as the Rams beat the Cardinals, 17-3, thanks to an aggressive defense that had nine sacks. St. Louis is perfect at home and winless on the road heading into Sunday's road game. Next up: at Miami.
17. Cincinnati (3-2); Last week: 14: The Bengals' offense sputtered in a 17-13 loss to Miami that featured six punts, three turnovers and just 298 yards of total offense. Andy Dalton threw an interception with one minute, 22 seconds left that sealed the defeat. Next up: at Cleveland.
18. Seattle (3-2); Last week: 19: The NFL's second-best defense (14 ppg.) came through again for Seattle in its 16-12 win over Carolina. Cam Newton and company were held to 190 yards of total offense and had three turnovers, while the Seahawks held an 11-minute edge in time of possession. Next up: vs. New England.
19. Washington (2-3); Last week: 17: Robert Griffin III's mild concussion overshadowed the team's 24-17 loss to Atlanta. His status for Sunday is uncertain and fellow rookie Kirk Cousins was intercepted twice in the final two minutes. Next up: vs. Minnesota.
20. Indianapolis (2-2); Last week: 25: The Colts rallied around hospitalized coach Chuck Pagano and outscored Green Bay, 27-6 in the second half, to steal a 30-27 victory. Andrew Luck showed what Colts fans hope to see for a decade-plus, completing 31 of 55 passes for 362 yards, two touchdowns, and a rushing score. Next up: at New York Jets.
21. New York Jets (2-3); Last week: 20: The Jets bounced back from their San Francisco beating a week earlier to push the NFL's best team to the brink. But on a potential game-winning drive, Mark Sanchez's tipped pass was intercepted with 1:51 remaining and the Jets lost, 23-17. Next up: vs. Indianapolis.
22. Detroit (1-3); Last week: 22: The Lions join New Orleans as the NFC's biggest disappointments so far this season. They're allowing 28.5 points per game (only the Redskins and Saints are worse in the NFC), and only the Saints, Cowboys, and Cardinals are averaging fewer rushing yards per game in the NFC. Next up: at Philadelphia.

23. New Orleans (1-4); Last week: 30: The Saints still can't stop anybody—they're worst in the NFC at 30.8 ppg.—but at least they finally won and Drew Brees set a record for the ages. His first-quarter pass to Devery Henderson in the team's 31-24 win over San Diego gave him 48 straight games with a touchdown pass, breaking the legendary Johnny Unitas' mark of 47. Next up: Bye.
24. Miami (2-3); Last week: 28: What's in the water in Miami? The lowly Dolphins almost knocked off Arizona last week and this week bumped Cincinnati from atop its co-leadership of the AFC North with a 17-13 win. Reshad Jones intercepted Cincinnati's Andy Dalton in the final two minutes to secure the win. Next up: vs. St. Louis.
25. Tampa Bay (1-3); Last week: 24: By doing nothing, Tampa Bay jumped into second place in the cratering NFC South. The Buccaneers are the epitome of nondescript, but first-year coach Greg Schiano, from Rutgers, has to be given a little room to grow. Next up: vs. Kansas City.
26. Buffalo (2-3): Last week: 21: Buffalo is the cutline for the NFL dregs. For the Bills and everyone ranked lower, it's going to be a long season, as seen by the team's 45-3 loss to San Francisco. The Bills picked up just 10 first downs, had a mere 204 yards of total offense, and phoned it in after they trailed, 24-3, going into the fourth. Next up: at Arizona.
27. Oakland (1-3); Last week: 26: The Raiders are the NFL's worst rushing team (60.8 ypg.), are second-worst in the AFC in scoring (16.8 ppg.), and are third-worst in points allowed (31.3). But surely Oakland fixed everything during its bye week heading into its road game against the NFC's best team. Next up: at Atlanta.
28. Carolina (1-4); Last week: 23: Cam Newton's sophomore slump continues as he threw for just 141 yards on 12-of-29 passing and the team had just 190 yards of total offense in a 16-12 loss to Seattle. The Panthers' time of possession was almost a quarter less than the Seahawks'. Next up: Bye.
29. Kansas City (1-4); Last week: 27: The Chiefs' fans cheering Matt Cassel's injury during a 9-6 loss to Baltimore will go down as one of the classless acts in recent NFL history. Yes, he had four turnovers, but no player should suffer that fate on his home field. Next up: at Tampa Bay.
30. Tennessee (1-4); Last week: 29: Filling in for injured QB Jake Locker, Matt Hasselbeck didn't help the cause much in Tennessee's 30-7 loss to Minnesota. The team trailed, 23-0 at halftime, and the lowly Titans now have the worst point-differential in the NFL at minus-93. Next up: vs. Pittsburgh.

31. Jacksonville (1-4); Last week: 31: The Jaguars were booed at home during the fourth quarter of a 41-3 loss to Chicago. When you're the lowest-scoring team in the NFL (13 ppg.), that thing tends to happen. They had just 189 yards of total offense, lost the time-of-possession battle by a full quarter, and saw a 3-3 halftime tie quickly fade into a rout. Next up: vs. Pittsburgh.

32. Cleveland (0-5); Last week: 32: Taxes are due yearly, death is inevitable, and the Browns lost. Non-story at 11. For a wrinkle, though, Cleveland gave the New York Giants a first-quarter scare, leading 14-7, before the Browns ended up losing, 41-27. Next up: vs. Cincinnati.