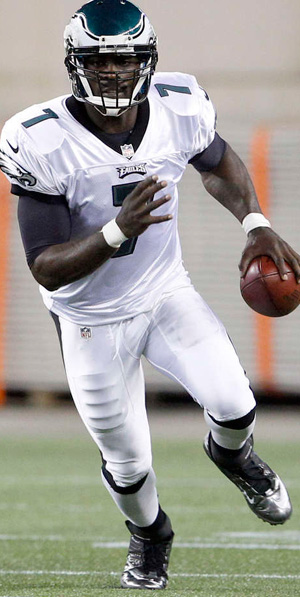 Each Saturday, I'll take a look around the nation to see what some of the top writers in the country - both fantasy and real football - are saying about that week's games. Here's a look at what everyone is talking about heading into Week 1:
-- ESPN.com's crop of fantasy writers, Matthew Berry, Christopher Harris, Eric Karabell, and Tristan Cockcroft, have Drew Brees ranked as their top quarterback for Week 1. All four have him ranked in the top three, but only two, Karabell and Cockcroft, have the Saints quarterback in the top spot. Berry and Harris both have Aaron Rodgers as their top pick, and he gets the second spot overall. The only quarterback that all three agree on? Michael Vick at six.
-- One of my favorite things to read each week is Berry's "Love/Hate" column. Rankings are one thing, but it's nearly impossible to predict them correctly. This format, on the other hand, gives a much more black and white look at some players. Of particular interest to Eagles fans this week is the fact that Vick is listed under "Quarterbacks I love" and Browns running back Trent Richardson is under "Running backs I hate."
-- Now for one a little closer to home. Ed Barkowitz of the Daily News wrote about LeSean McCoy and his status among elite fantasy players. As I've written before, I think McCoy has as much talent as any other running back, but he could take a slight step back in terms of fantasy production this season.
-- Jamey Eisenberg of CBSSports.com is very high on DeAngelo Williams this week with Jonathan Stewart's status in question. In fact, he offers a list of running backs that he would start Williams over, including some that may surprise you: Michael Turner at KC, Fred Jackson at NYJ, Steven Jackson at DET, Richardson vs. PHI, Frank Gore at GB.
-- Andy Behrens of Yahoo! Sports takes a look at the Redskins running back situation. Penn State product Evan Royster is listed as No. 1 on the depth chart, but anyone who has owned a running back coached by Mike Shanahan knows that the depth chart doesn't mean a thing once Sunday roles around.
-- The guys over at Yahoo! take a look at some over/unders for Week 1, including rookies Rashad Jennings, Robert Griffin III, and Justin Blackmon.
-- Speaking of Jennings, Michael Beller of SI.com has the Jaguars running back listed as a player worthy of a start this week. He also has Ronnie Brown, who I wrote earlier in the week is a good waiver option for Week 1, listed among his surprise flex options.
-- Carson Palmer as a legit fantasy starter? He is this week against the Chargers, according to Mike Beacom of SI.com. I like Palmer this season, as I said in my preseason QB rankings, and Beacom puts up a compelling argument for starting him in Week 1. Just look at the numbers he put up against them last season. However, he will likely be without both Denarius Moore and Jacoby Ford...
---
Friday's injury report can be found here. This week's edition was focused specifically on running backs, since there are a lot of questions surrounding some big-name players.
Finally, I will be hosting a fantasy football chat on Sunday mornings from 11 a.m. until kickoff at 1 p.m. I will be updating as many injuries as I can, pulling in tweets from national writers, as well as answering your start/sit questions. Hope to talk to you then. As always, feel free to hit me up on Twitter or email with any questions in the mean time.
---
Matt Mullin is a sports producer at philly.com. You can reach him by e-mail at mmullin@philly.com. Follow Matt on Twitter: @matt_mullin