On Monday, ESPN posted a graph by editor Brett Longdin that shows, in pretty stark terms, how production among running backs plummets starting around age 27.
The graph, based on data from all running backs who played for at least four seasons, is compared with data for wide receivers over the same period, showing how bleak the prospects for aging running backs in the league really are.
As I was reading the piece, I was curious how the Eagles two highest performing players over the last five years, LeSean McCoy and now-discarded DeSean Jackson, fared against these NFL averages. So I made my own graph, and included their data: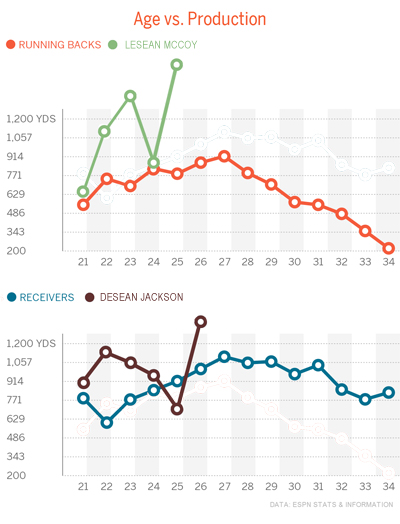 What stands out to me is how both McCoy and Jackson's performances spiked after the arrival of Chip Kelly and his fast-paced offense. Riley Cooper, now the Eagles #1 receiver, showed an equal spike under Kelly's system, going from 248 yards in 2012 to 835 yards in 2013, a 236 percent increase. Not only was he targeted twice as much under Kelly's offense (47 versus 84), his yards-per-catch shot up from 10.8 in 2012 to 17.8 in 2013.
The stats also bode well for new offseason acquisition Darren Sproles. While the former Saint will turn 31 in June, the stats clearly show that aging wide receivers fare much better than their running back counterparts, and the Eagles didn't sign Sproles to run the football. Obviously, we don't know how Sproles will fit into Kelly's offense, but based on age alone, don't expect much of a decline from his 604 receiving yards last year for the Saints.
That brings us to the big question mark of the offseason - Jeremy Maclin. Maclin had 857 receiving yards in 15 games in 2012, the last year he was healthy. If Cooper can continue his growth under Kelly's system, and Maclin can remain healthy and spike the way Jackson and Cooper have, then it's possible the Eagles offense won't miss much from Jackson's departure, other than maybe a few tantrums and some colorful obscenities.