It can be hard to find the perfect gift for your significant other, so we decided to make a handy guide of what will impress the male sports fan on your list, and what will leave them wishing for coal instead.
Shopping for your girl? Check out some sports-themed tips from our style department.
DO NOT BUY
An Eagles jersey (that isn't LeSean McCoy)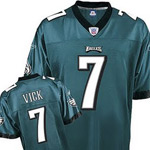 Anything with an Eagles logo, or simply shaded midnight green, is a poor choice for a Philadelphia-area sports fan this year. But if you've got a tragically-loyal Birds fan on your list who is adamant about displaying whatever pride they've got left, your best bet is a McCoy jersey. Shady has been far more of a victim of the 2012 Eagles than a contributor, so his jersey serves as a desperate reminder of his existence, rather than a celebration of a productive year.
Claude Giroux bobblehead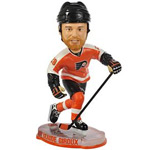 Giroux was just flown home after suffering "a little neck injury" while playing in the German Elite League, thanks to the NHL's seemingly endless work stoppage. Anything that demonstrates his head flailing around unnaturally may come across as too ominous of a symbol.

2012 Phillies Game Used Lineup Card
Anything with the "game used" or "game worn" prefix is usually a safe bet - or has been in recent years. But 2012 wasn't a Phillies season full of games or players that people really want to remember. Something like a game used lineup card is better when it isn't commemorating Charlie Manuel's 28th different lineup in 30 games and includes quad-A utility players that aren't even close to Chase Utley's level of skill or handsomeness.
Josh Fields merchandise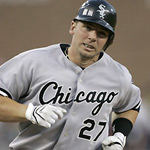 Okay, re-sheath the debit card. With Cliff Lee, Roy Halladay, and Jonathan Papelbon, the Phillies have watched their merchandise sales routinely spike after Ruben Amaro's blockbuster deals each winter. This offseason is expected to be no different. But the signing of former top draft pick Josh Fields to deepen the hot corner is probably - hopefully - not the extent of Amaro's offseason plotting. So relax, stop searching for Fields jerseys in MLB Shop, and wait for the real magic to happen.
Sixers team calendar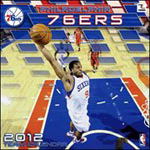 Hey, it's on sale for just $2.39! This would make a fine supplement to any Sixers fan's stocking. But wait, this calendar is for 2012. That would probably be okay if it didn't have Andre Iguodala on the front. Apparently, in the Sixers merchandise office, the sales bin is closer than the trash can.
DO BUY
Darin Ruf jersey
Even the most rigid number-cruncher can get sucked in by the seam-splattering aura of a young slugger. Ryan Howard once hit 58 home runs in a season, and Ruben Amaro got so excited he gave him $125 million (four years later). Ruf has been furiously ending the lives of baseballs since last April, and there is hesitance surrounding his ability as a big-league outfielder. But have you seen how many home runs this guy hits?! Since they aren't even available yet, a personalized Ruf jersey will make the gift extra special.
Sons of Ben membership
No other Philadelphia franchise has such an organized, fan-funded collective that also boasts its own section of the stadium. The Union's most intense following, the Sons of Ben, asks only for a $40 membership fee to allow you access to the River End of PPL Park, and your money goes toward tailgates, trips for away games, and free stuff - like a Union pint glass. Of course you'll probably have to learn how "soccer" works, but that is a small price to pay for intense, European camaraderie.
Brian Dawkins Weapon X Litograph Print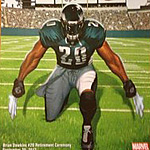 When the present is bleak, we turn to the past - where a furious former Eagles safety is working himself into a pregame frenzy. Dawkins is one of a small number of made men in Philadelphia sports, and with the Eagles having a shortage of current heroes, a stoic reminder of Weapon X and his 13-year rampage through Eagles' opposition is enough to calm the nerves. Or leave you in a shattered state of emotion. Either way, at least you're feeling something again.
Rare Wilt Chamberlain Tree Ornament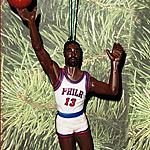 Just because it's Christmas doesn't mean the fandom stops. We're just forced to push it aside for a few weeks to put family moments first, like holiday dinners and decorating the tree. This rare "Wilt Chamberlain in mid-dunk" ornament will allow you to keep on rooting for the Sixers right on through those pesky Christmas traditions. Sure, your significant other will think you are talking to them when you hoarsely whisper "Love you," but it should be pretty clear you are saying it into Wilt's ear as you find him a secure branch.
A six-pack - of Phillies tickets!
Last season was draining - some might say borderline devastating - but after a few Eagles games, the Phils' .500 record seems like a realization of our wildest sports fantasies. The Phillies put their six-packs of tickets on sale Monday, and this year they're hosting the Royals, Red Sox, Indians, and other teams they rarely play but could probably beat! Time to hop back on the bandwagon. Besides, if we stop buying tickets, the team won't have the revenue for big offseason signings, like Josh Fields.