Yesterday, we posted a list of the top 10 QBs in the NFL, specifically tailored to the who would make the most sense for the Eagles. A few people asked who I would have after 10. As luck would have it, I actually did a list to 20, so we'll finish it out:
11) Matthew Stafford: Top 3 arm in the NFL. This is a sick throw:
There aren't many QBs who drive the ball 40 yards down the field outside the numbers with that kind of velocity. However, Stafford's decision making isn't always great. In the last three years, only Eli Manning has thrown more INTs:
Still, Stafford is very talented, and he's still only 26 years old.
12) Robert Griffin III: "Rookie year RG3" might have been the 3rd guy on the list, but an ACL tear followed by a miserable 2013 season has raised a lot of question marks. My biggest concern would be, "Is he Michael Vick 2.0?" Is he a highlight reel guy with sporadic moments of greatness, who ultimately can't play from the pocket and will always be an injury risk?
13) Ben Roethlisberger: Big guy who can shrug off pass rushers and extend plays. Hasn't had a QB rating under 90 since 2008. The downside is that he's 32, and he doesn't take off and run anymore (16 rushing first downs the last three years).
14) Matt Ryan: Bleh. Solid QB, but there's just no one aspect of Ryan's game that I really like, and his mediocrity in the playoffs is concerning.
15) Sam Bradford: I wonder what Bradford could do with a good OL and good weapons around him. He has talent, and he was having a good season (14 TD, 4 INT) before getting hurt last year, but to say the least, he has been a huge disappointment as the #1 overall pick in 2010. Eagles offensive coordinator Pat Shurmur has mentioned him positively numerous times in interviews. (Shurmur was the Rams' OC in St. Louis from 2009-2010).
16) Jay Cutler: Big arm, and under-appreciated mobility. But he's been in the league since 2006, he's only made the playoffs once, and it's not as if he has played on garbage teams his entire career. And then there's stuff like this: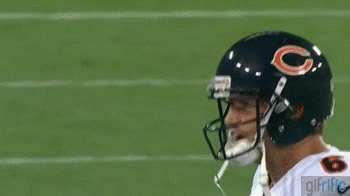 17) Joe Flacco: Big arm and a ring, but a statue.
18) Alex Smith: Doesn't turn the ball over, which is great, and has mobility, which is also great. Buuuut... Can he make vertical throws. I'd like Smith a lot more for the Eagles if they were stacked on defense and Smith didn't have to put up a ton of points consistently to win. But they're not.
19) Tony Romo: Is his back OK? If so, move him on up to around the 12-14 range. Until we know that for sure, no thank you.
20) Ryan Tannehill: He has had to play behind a mess of an offensive line, but he's a former WR, so he knows what to do when he's running the ball, and he has upside as a passer. Still only 25, and only two years deep into his career.
***
If you have a few hours to kill and want to hear Chip Kelly break down X's and O's, the Eagles' website put their entire All-22 archive with Kelly in one convenient place. Definitely worth checking out.
***
According to nfldraftdiamond.com, the Eagles checked out a massive 6'4 366 pound NT by the name of Lakendrick Ross out of Division III Virginia University of Lynchburg, who is eligible for the supplemental draft. As reported by wvec.com, Virginia Tech did not pursue Ross because of academic reasons. Ross lived at 10 different foster homes as a kid and did not start playing football until his senior season in high school.
The NFL's supplemental draft will occur on July 11th. An explanation of the supplemental draft process can be found here.
The Eagles depth along their DL looks something like this:
As you can see, they can field a fourth string at DE, but not at NT. I wouldn't expect the Eagles to use a supplemental pick on anyone, but if Ross goes undrafted, he can be signed by any team as a free agent. Ross might make sense as an extra big body to bring into camp.
Below is Ross's highlight tape, in what appears to be high school. Sorry, it's the best I could find. A few things here:
• If you don't mind the blinding light in between each play, carry on. However, if you suffer from epileptic seizures, you should probably skip this.
• The opposing offenses don't have the most creative play calling.
• At around the 3:35 mark, there's an intermission from the highlights to show the marching band. I've definitely never seen that before.
***
After a week off from my chat last week, I'll be doing a chat at noon today. So come on back for that and fire off whatever questions or comments you may have.
Follow Jimmy on Twitter: @JimmyKempski