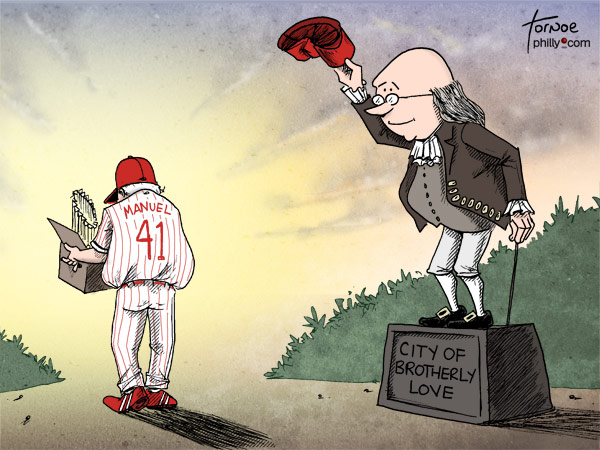 On October 11, 2010, longtime Atlanta Braves manager Bobby Cox coached for the last time in a Game 4 loss to the San Francisco Giants, eliminating the Braves from the playoffs.
Cox was able to receive what Charlie Manuel had stolen from him - a standing ovation by a grateful crowd (and by both teams) celebrating a long and fruitful career, capped by a championship win and so many division titles, it's hard to keep count.
Of all the ill-advised and dumbfounding moves the Phillies have made this season, canning one of Philadelphia's most beloved and successful coaches the night you were going to celebrate his 1,000th win has to be the stupidest.
I have a lot of cartoons I want to draw about general manager Ruben Amaro and what could quickly become a dysfunctional franchise. But I have the rest of the season for that - here I thought I'd give Charlie the sendoff his bosses evidently thought he didn't deserve.