Here is everything you need to know about offensive tackle Lane Johnson, the Eagles' first-round pick in the 2013 NFL Draft.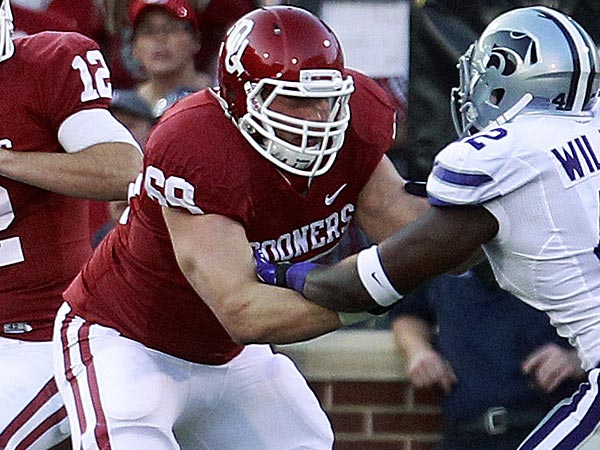 Name: Lane Johnson
Position: OT
Height: 6'6"
Weight: 303 lbs.
College: Oklahoma
Hometown: Groveton, Texas
Age: 22
Twitter: @Lanejohnson69
Awards: 2012 All-America Third Team by CBSSports.com, 2012 All-Big 12 Second Team, 2012 Academic All-Big 12 First Team.
Combine Results:
40-yard dash: 4.72 seconds (top performer)
Bench press: 28 reps
Vertical jump: 34" (top performer)
Broad jump: 118" (top performer)
3 cone drill: 7.31 seconds (top performer)
20-yard shuttle: 4.52 seconds (top performer)
Odds and ends:
• Before transfereing to Oklahoma, Johnson played quarterback for one season at Kilgore College before working out at tight end in the spring of 2009.
• Johnson will wear No. 65 with the Eagles, according to Dave Spadaro of Eagles.com.
What the experts say:
"The kid from Oklahoma, Lane Johnson, the former quarterback. I think he is a first-round talent. He is 6-6, he is over 300 pounds. He is a former quarterback and tight end. He's got natural movement skills. He is a guy at 20 that could be sitting there and I think a lot of people thought he was a second- or third-round guy. From what I have seen on tape, I think he is too pretty with his movement skills to get past there." - Mike Mayock
"Despite just a few years playing on the offensive line, Johnson has natural ability as a blocker. He uses his athleticism well and displays good footwork in pass protection. He keeps pass rushers at bay with his long arms. He's built like a basketball player, with narrow hips, but has surprising power. Scouts love that he plays with an attitude and is physical with his hands. Aside from his inexperience, Johnson can be undisciplined at times. He's not a great run blocker and doesn't always move defenders." - Jeff McLane, Philadelphia Inquirer
"With only two years of experience at offensive tackle, he's a bit of a risk as a plug-and-play guy. Most likely, and especially against the NFL's stronger, faster, and more advanced speed-rushers, Johnson will struggle at times. But he's done a great job of putting together an impressive resume on tape in a very short time, and there's no question that his athleticism makes him a very intriguing prospect at the position. Eric Fisher and Luke Joeckel are the main men at the tackle position, and deservedly so, but it's not impossible to think that Johnson might be the best outside blocker in this draft class five years down the road." - Doug Farrar, Yahoo!
What the Eagles say:
"Real excited. We thought he was the most athletic tackle we've seen ... I think he's ready but he is raw. We look at raw as a positive. If he's doing what he's doing now ... His ceiling is highest." - Chip Kelly
What his coach says:
"Everybody at the University of Oklahoma is proud of Lane and our other players who have earned an opportunity to compete in the NFL. It doesn't surprise anyone on our staff that Lane was a high first-round selection. Lane worked relentlessly from the moment he stepped on campus and took advantage of every avenue to improve during his time with us.
"While it took a while to find the right position for him to maximize his athletic potential, I have no doubt that he has a huge upside and will only get better with more experience playing tackle. Coach Kittle and Coach Patton did a tremendous job of quickly acclimating him to compete at a high level, while Coach Schmidt and our strength staff did an outstanding job of accelerating his physical development. Lane is a special individual and we'll anxiously follow his progress this fall along with our many other Sooners in the NFL." - Bob Stoops, Oklahoma Sooners head football coach
More from Stoops:
"Lane, when we recruited him and signed him, we did so just on what a big athlete he was, not having an idea where he'd end up growing, and it's kind of like the whole journey. He was starving himself to stay at 270 to play d-end. I asked Coach Schmidt how long it would take him to get to 300 pounds, and he said about a week and a cheeseburger. It didn't take them long. Sometimes with these big, long guys that are really athletic, you don't know where they're going to stop growing. Everybody here is excited for Lane.
"He's worked hard, too. He's always been one of our best workers in the weight room. Sprints, running, I knew he'd run well. That didn't surprise any of us. He's worked hard with his body, too, to put himself in this position…We were always trying to find the best spot for Lane. He went from tight end to d-end to o-line, so we knew even before that [when Jarvis Jones was injured two springs ago] it was a possibility, and again, the reason we always were looking was because we appreciated how hard he worked, and he wanted to get him on the field. Fortunately, we think we found the right spot here the past couple of years…He did a great job, and Coach Kittle and Coach Patton working with him did a great job developing him. Just the more he plays and the more he matures, he's just going to get better and better."
Highlight video: