NEW YORK - The NBA hosted media availability for media members all across the country on Wednesday to interview potential lottery picks for Thursday's NBA Draft. Among them was potential first-round selection, Nerlens Noel.
For those of you who aren't aware – or just aren't paying attention – Noel has a high-top fade. This isn't just any fade mind you; the skyscraper-modeled box cut is taller than a small toddler.
The 6-foot-10 center has gained national attention from pop culture pundits and basketball analysts for his retro sense of style off the court at Kentucky. So we thought we'd compete with Noel.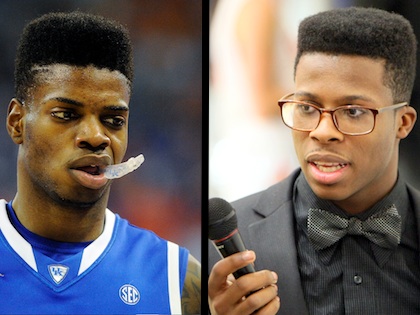 Enter Tyler R. Tynes, aka me, flat top wearer since circa 2012. Aside from sharing the same hair style, Noel and I don't have much in common physically.
Noel is 6-foot-10, I'm 5-foot-8 in a good pair of shoes with a nice lift. Noel has over a seven foot wingspan and weighs 208 pounds, my dimensions are exactly the same except I'm a foot shorter and over sixty pounds lighter.
During today's media session, I complimented Noel on his fade, and he seemed to like mine as well.
"Man, you really doing ya thang with ya cut," he responded.
Clearly, we're both pulling it off. But who wears it better?
Tynes of North Philly and Saint Joe's Prep who's projected to go undrafted after no collegiate basketball experience or Noel of Everett, Massachusetts, and Tilton high school who's projected a top-10 pick after one season at Kentucky.
You decide.
Contact Tyler R. Tynes at TTynes@philly.com or follow on Twitter @RealTylerTynes