Dave Hakstol
What he built

in North Dakota
Photo by ALLISON DAVIS O'KEEFE from her book, "One Goal," published by Burn Magazine
The Flyers' new coach nurtured a college hockey powerhouse in North Dakota, one player, one brick, one detail at a time.
GRAND FORKS, N.D. — The dust was still flying.
Demolition workers just finished clearing out the bowels of like-new Ralph Engelstad Arena, the 14-year-old rink of dreams rising from the wheat fields here.
Wearing a hardhat, Dave Hakstol called for a meeting of the University of North Dakota's hockey brain trust, on the eve of a $3 million facility overhaul last summer.
By the time assistant coaches Dane Jackson and Brad Berry arrived, Hakstol already had erected black tarps to simulate walls and folding chairs dotted the space. It was a mock-up of the new North Dakota dressing room, the focal point of the renovation Hakstol spent months organizing, fundraising for and meticulously planning.
Hakstol could see his vision, finally. But he wanted to make sure the oval space was just right.
A tape measure ensured each chair was laid to scale, exactly as each player's stall would be in the new cherry-paneled sanctum.
"Are these too far apart?" Hakstol asked his staff, walking around the room. "Can you guys hear me over here if I'm talking to you?"
"At first, we thought he was kidding," said Jody Hodgson, the arena's general manager. "To mess with him, we kicked the chairs off by a couple inches. That's when we got 'that glare.' But that's Dave. He wanted to ask: 'Are we achieving the goal here?' His fingerprint is on every square foot of this place."
Hakstol is not only "that glare," though. People who know him say there are many more dimensions than that. Driven and a taskmaster, he also is the first one to help take the team's bags off the bus after a road trip. Accomplished in his field, one of the biggest celebrities in the state, he also is a guy who told his sister-in-law that the reaction to his hiring in Philadelphia would be one of bewilderment.
One way to try to understand the new Flyers coach, though, is to see what he built.
"The Ralph" was already the most beautiful rink in North America, an 11,700-seat brick palace that is the pride of the 659th biggest city in the United States. The concourse floors are granite. Each chair in the bowl is padded with leather, the outside of each row not accidentally adorned with a since-banned Fighting Sioux logo.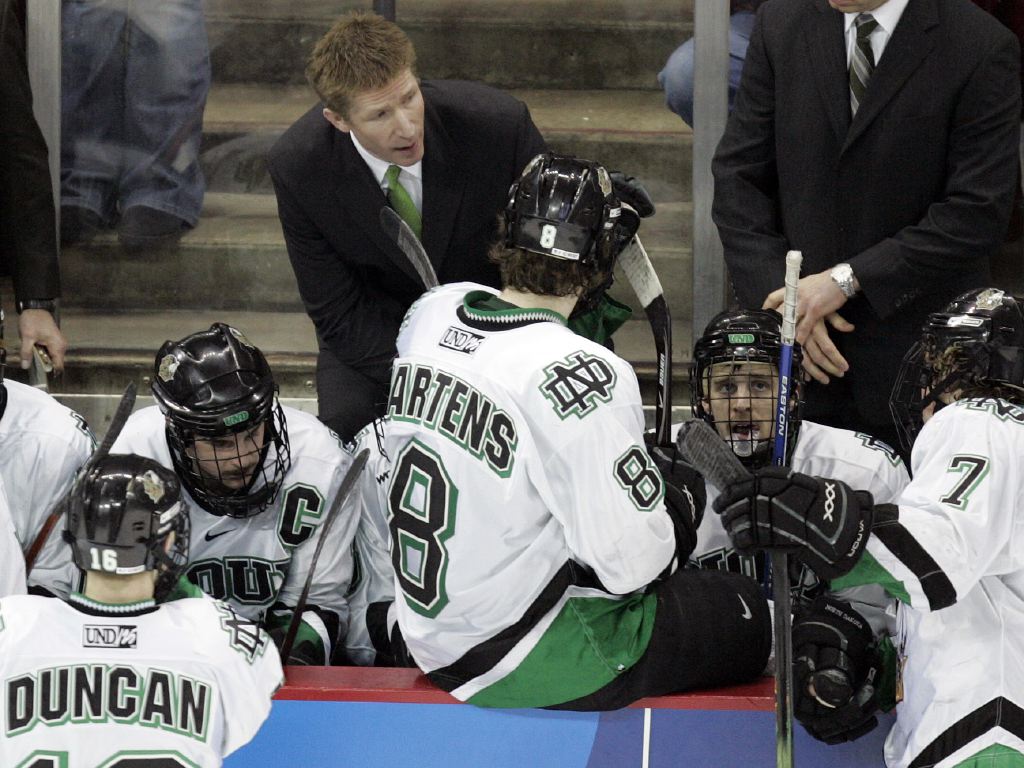 ANDY MANIS / AP Photo
As part of an NCAA settlement to rid the university of the Fighting Sioux nickname, any existing Sioux indian head in the arena need not be removed, but could not be replaced if damaged or renovated.
With that in mind, Hakstol's first command in the locker-room renovation was that the granite Sioux head embedded in the floor just before his team's tunnel to the ice surface would not be touched during the construction process.
When players returned to campus last September, they enjoyed a facility better than most in the NHL: 10,000-square foot weight room, 20-person steam room, cold tub, underwater treadmill, stadium-seating classroom for video, a players' lounge with video games, sleeping nooks, pingpong and a full kitchen equipped with two full-time chefs to feed them 18 out of 21 meals in a week.
The Flyers just hired a full-time chef at their practice facility within the last two seasons.
"The building is kind of a balance that we fought," said Jackson, who played with Hakstol at UND and spent the last nine years as his assistant. "We'd ask ourselves, 'Are we coddling our guys? Are we getting too soft? We're supposed to be North Dakota, we play hard.' That's the culture I believe starts with Dave.
"Despite the fact that we have this beautiful, glossy, fancy rink, we talk all the time about wanting to have a meat-and-potatoes team. We want guys to come here because they want to be better workers and win, not just to be in this place and fly on chartered jets."
Nothing at North Dakota is by accident. Every room, every decoration, every photo holds purpose.
Jerseys dating to the 1940s encase the hallway toward the dressing room, with "Through These Doors Walk Champions" etched on the wall. The school's seven national championship trophies and banners are impossible to miss. Any North Dakota alum to appear in an NHL game can be found on at least one wall, sometimes many, with Stanley Cup champion, draft pick and Olympic displays.
​
Hakstol struggled most over settling on just 50 names to adorn a conference-room wall, losing sleep to a program list worthy of 200 honorees. Jonathan Toews. Ed Belfour. Zach Parise. Dave Christian. Tony Hrkac. Dave Tippett. T.J. Oshie. David Hale. Gino Gasparini. Travis Zajac.
The name "Hakstol" didn't make the cut, despite the fact that he was a two-year captain as a player and the second-winningest coach (289 wins) in program history.
"He was so detailed in terms of measuring out rooms, figuring things out, building in every little detail," Jackson said. "He said it's like building a house: If you're not worried about it, your builder certainly isn't going to worry about it. He spent a ton of time picking out the names on that wall. We had a lot of great things already, but there's a pretty big 'wow' factor here."
Ralph Engelstad, who passed away in 2002, tended goal for the Sioux and graduated in 1954. He made his millions in Las Vegas as the sole owner of the Imperial Palace casino resorts, eventually donating $110 million for the arena that bears his name.
A Friday or Saturday night at "the Ralph" is a bit like pulling up to the Vegas Strip, except for the below-zero temperatures. Hollywood searchlights saturate the sky as fans flood the two blocks from campus. It is the place to see and be seen.
One night last year, North Dakota's governor, both sitting U.S. senators, a congressman and the state's attorney general were all there — for a regular-season game.
"It's an event," said Erik Fabian, who played on Hakstol's first North Dakota team, and is now an assistant coach for the women's team. "It could be 30-below, people are still walking to the rink. It doesn't matter."
JAY LaPRETE / AP Photo
Engelstad, controversially remembered for his affinity for Adolf Hitler, donated his dollars because he wanted North Dakota to become "America's team." Instead of the Cowboys, he propped up this sport's version of the Green Bay Packers: a tradition-rich, fiercely competitive program that is the heartbeat of not only a small and cold midwestern dot on the map, but an entire state.
There is a waiting list for tickets. Out of the 50 suites in the arena, only two have changed hands in 14 years. Go to the gas station, doctor's office or restaurant on a game day and everyone is likely wearing a Sioux jersey — including the doctor.
"If you've heard Letterman make a [crappy] joke, it's probably about desolate North Dakota," Jackson said. "Cold and flat and godforsaken state. Our winters are cold as hell. It's harsh. It's tough to get through winters here. We don't have any pro teams, other big stuff around here. This team is a big point of pride in our whole state. We can say we've got maybe one of the nicest rinks and a team that plays against Minnesota, Wisconsin, Michigan, Boston College and does well."
When Hakstol was hired as the Flyers' 19th coach on May 18, a shockwave rippled from Grand Forks through Fargo, Minot and Bismarck.
The surprise around town was not that Hakstol became the first NCAA coach to make the jump directly to the NHL since 1982 — as it was in Philadelphia. Ron Hextall convinced the hockey equivalent of Nick Saban or Mike Krzyzewski to take a leap — the only difference being the national titles.
"At the end of the day, people probably reacted and thought 'Why would you ever want to leave here?,'" said Berry, who took over for Hakstol as coach that same day. "North Dakota hockey here is the end-all, be-all. They live and die it. This is a special place. I'm sure it tore him up a little bit on what direction to go. This was his life. This is our life."
Photo by ALLISON DAVIS O'KEEFE from her book, "One Goal," published by Burn Magazine
At his opening press conference, Berry revealed that the Flyers needed to take not one or two, but three passes at attempting to land Hakstol as their next head coach.
From afar, everyone assumes coaches in college hockey strive to move onto the next level. That isn't necessarily the case at marquee programs like North Dakota. Hakstol was in no rush to leave with a six-year recruiting plan on the board.
For Hakstol, North Dakota was his dream job after starring for the Sioux until his college eligibility ran out halfway through the 1991-92 season. Plus, he enjoyed the spoils of the Ralph, like the steam room in the coach's office big enough to be a day spa.
Hakstol's family will tell you he was "completely comfortable being the next Jack Parker or Red Berenson," a nod to two college coaches who have spent most of their career at one institution: Boston University and Michigan. His hockey-playing daughter, Avery, 9, and son, Brenden, 7, were entrenched in the community. His wife is the former Erinn O'Keefe, and her father played for the Sioux.
The average NHL coach earns a little more than 200 games to prove himself. That volatility doesn't exist in the college ranks.
According to his contract at North Dakota, obtained by the Daily News, Hakstol earned nearly $475,000 last season, maxing out on most of his incentive bonuses. He was signed through the 2017-18 season with incremental raises — and likely could've negotiated a longer-term deal.
During his 11 seasons at North Dakota, no team, not even Boston College, had more wins. Hakstol's team advanced to the Frozen Four more times (seven) than storied programs Boston University, Wisconsin, Michigan State, Maine and Notre Dame qualified for the NCAA Tournament.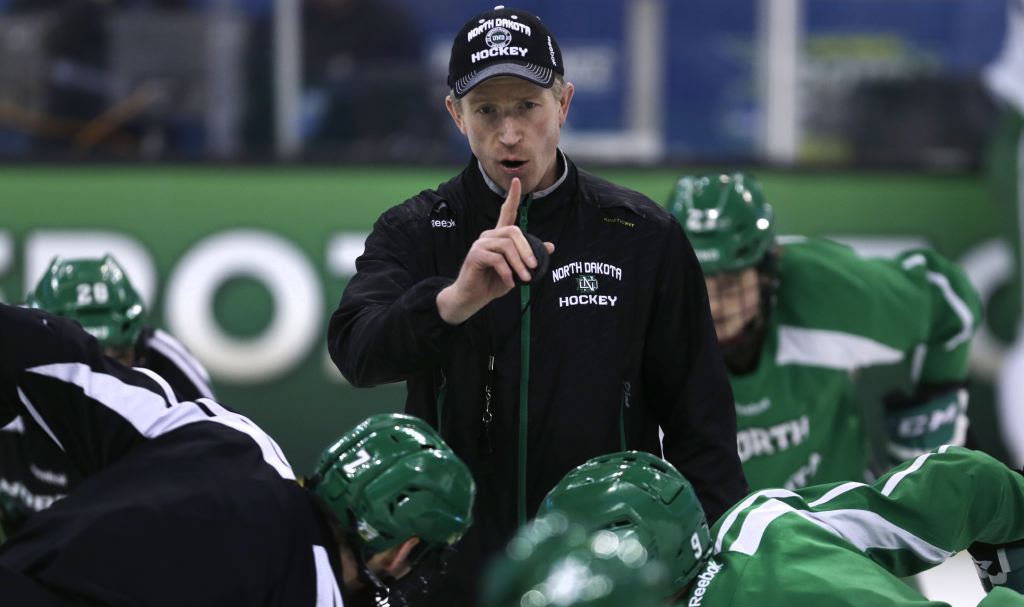 CHARLES KRUPA / AP Photo
He found success with just about every roster, even if his players weren't the most talented. He reached the Frozen Four with nine seniors one year, then with 13 freshmen the next season.
Hakstol, 46, is now the NHL's fourth-youngest coach, behind only Buffalo's Dan Bylsma (44), Minnesota's Mike Yeo (41) and New Jersey's John Hynes (40).
For Hextall to nab him, the Flyers needed to pay. Sources say Hakstol signed a 5-year deal worth $10 million, an unprecedented contract for a coach without any NHL experience.
"Believe me, he thinks everything through," Berry said. "I don't think he would've stepped out and done this if he didn't have the confidence in himself and the opportunity. This isn't him going for an NHL job to say, 'Hey, I've got one.' It's him wanting to make an impact, wanting to have success."
Berry, 50, and nicknamed "Bubs," has a good idea what lies ahead for Hakstol. He played 241 NHL games for the Jets and Stars. After serving under Hakstol, Berry followed former teammate Scott Arniel to the AHL and NHL, where he coached Jake Voracek with the Blue Jackets in 2010-11. Two seasons in Columbus led him back to Grand Forks.
Berry said Hakstol reminded him of Hockey Hall of Famer Bob Gainey in his ability to "think things through before deciding on something or sending a message." Hakstol doesn't usually operate on pure emotion. Nothing is by accident.
"Everyone says he's hard-core," Berry said. "For somebody that doesn't know him, they see a stoic guy. He's a guy that's in charge and likes to be in charge. But he cares — and he's a very, very smart person. I think when you peel the layers back, he's a genuine, caring guy."
Photo by ALLISON DAVIS O'KEEFE from her book, "One Goal," published by Burn Magazine
The night before his hiring became official, Hakstol was asked by his sister-in-law, Katie O'Keefe-Hale, what the reaction around the hockey world would be. He replied: "Who the hell is Dave Hakstol?"
He wasn't wrong, particularly in Philadelphia.
O'Keefe-Hale knows Hakstol as his self-proclaimed "little sister." She also doubles as North Dakota's rinkside analyst, asking questions on-camera during intermission. She knows his famed stare, which she calls "titanium, platinum and steel," better than just about anyone.
O'Keefe-Hale is also married to Ryan Hale, a forward who played under Hakstol. The Hales live in Fargo, about an hour south of Grand Forks, but she would stay at the Hakstols' house while working home games over the weekend.
She can tell you about the NFL-like schedule Hakstol keeps, how her sister Erinn would sometimes deliver dinner to him at the Ralph on weeknights. Because that would be the only time his kids could see him that day. Or about the coach who demanded his players not wear hats in the lunch room.
But O'Keefe-Hale also can tell you about the guy who likes to drink a Coors Light at the family's lake house overlooking Pelican Lake in Northern Minnesota while watching a bonfire. Hakstol, she says, is as quick and witty as anyone.
One day last summer, the Hakstol clan stopped at a quiet local watering hole. Hakstol was bombarded with questions by an incessant Minnesota Gophers fan — North Dakota's bitter rival. After a patient few minutes, Hakstol turned the tables.
"What do you do for a living?" Hakstol asked the fan.
"I'm an accountant," he replied. "Oh, good," Hakstol said. "I've had a bunch of tax questions I was wondering if you could answer."
" 'Hak' is a farmer. I use that term endearingly. It's someone who works their ass off and does everything. He can fix the tractor, he can plant crops, he can harvest, he can deal with whatever to try and adapt and overcome everything."
Dane Jackson
Hakstol is well-read — in anything from politics to economics to foreign relations — and is naturally curious. He rattled off complicated accounting questions until the fan turtled and said he'd rather enjoy his Coors Light without work talk. Problem solved.
Jackson, 45, was lured back to North Dakota after coaching under Bruce Boudreau in the AHL. He may have been Hakstol's most emotional goodbye when leaving for the Flyers.
"'Hak' is a farmer," Jackson said. "I use that term endearingly. It's someone who works their ass off and does everything. He can fix the tractor, he can plant crops, he can harvest, he can deal with whatever to try and adapt and overcome everything. Here, he gets paid very well, but he's not driving a fancy car. He's a simple guy."
Hackstol's brother, Brian, still works on the family farm in Warburg, Alberta — where his father, Ed, raised him before passing a decade ago after a sudden illness. His mother, Theresa, is still a substitute teacher who has been known to frequent North Dakota hockey fan chat rooms online.
North Dakota has a deal with a local car dealership to provide cars to coaches. With his pick of the lot, Hakstol drove a Chevy Equinox, a comfortable but economical SUV.
His car wasn't light on mileage. Berry and Jackson joked that Hakstol was the third assistant coach he traveled so much to see recruits — like that time he took a red-eye from a weekend set in Alaska to watch a prospect in Ann Arbor, Mich. Or how he'd drive through the night to Saskatchewan after a Saturday night home game to get to a recruit's Sunday morning 10 o'clock puck-drop.
Berry's famous story is from when he and Hakstol were both assistants under Dean Blais in 2002. Berry drove to Denver on a recruiting trip; Hakstol and the team met him there. Not wanting to see Berry drive home alone, Hakstol muscled his way into the car rather than a comfortable charter flight.
Somewhere in Nebraska, with Berry asleep in the passenger seat, Hakstol nudged his shoulder in the middle of the night.
"'Bubs,' you might want to wake up for this," Hakstol told him, as their car hit a patch of ice. The car slid through a median ditch, across oncoming traffic and through a fence into a farmer's field. Desperate not to get stuck in the snow-covered field, Hakstol kept the pedal down until he could find pavement again.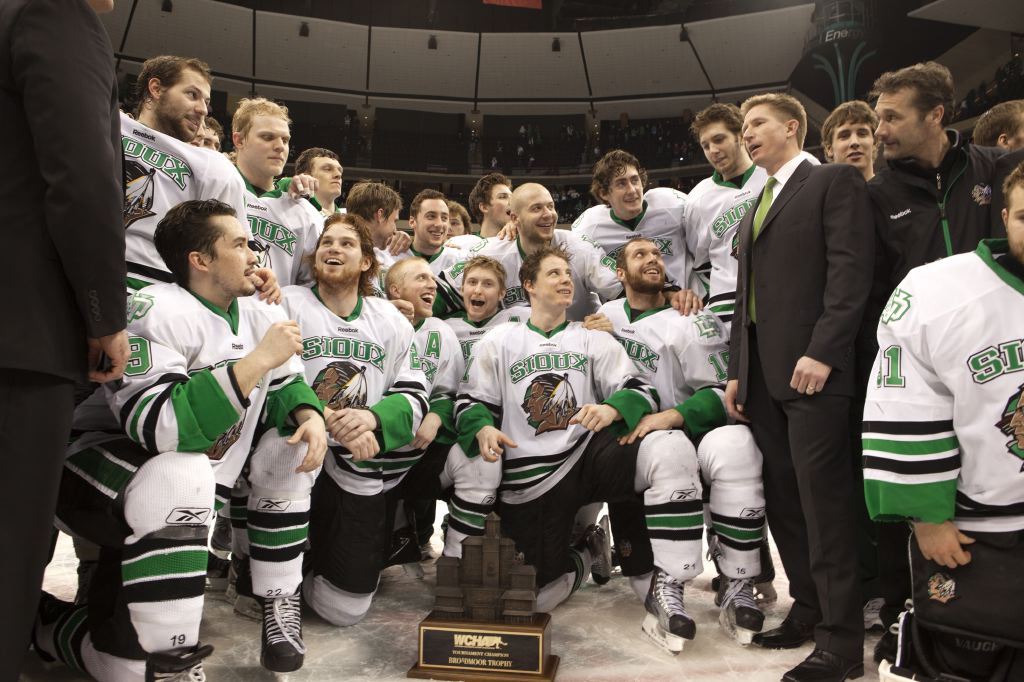 Photo by ALLISON DAVIS O'KEEFE
Celebrating the 2011 WCHA championship
"We get to a gas station about five miles up the road, it was near Grand Island, Nebraska," Berry recalled. "It's 2:30 or 3 o'clock in the morning. It's cold out, the window is blowing. It's a truck stop, there's nobody around. This lady pulls up, looks out the window at our car, and half the front quarter panel is gone. There's debris sticking out of the bottom of the car.
"'Hak' and I check out the car. I had a Buick LeSabre, thank god, this thing was a beast. We check the tires, they're OK. We see if any fluid is leaking. It's not.
"We look at each other, we go in and pay for the gas. The same lady says 'There's a hotel down the street there. You should get some rest.' We look at each other, just a couple farm boys. We're going to keep going. We drove the rest of the night [650 miles] through Omaha, Sioux City, Sioux Falls, Fargo and home. We didn't stop. We got home and the car was awful-looking. But that was the mentality we had here, that blue-collar mentality. But that's the stuff Dave won't self-promote."
Fabian, the former player turned women's coach, said Hakstol's greatest strength as a leader is evident when his team hits a rough patch of ice. He said no one works harder, or sleeps less to turn losses into wins.
It's why nine of his 11 teams in North Dakota finished with a better record in the second half of the season than the first. It's why North Dakota has produced more captains in the NHL than any other feeder program.
No detail, not the space between locker-room stalls or the intricacies of a forecheck, goes unnoticed with Hakstol.
"He's very patient. The first month of the season, it's not freak out and the world's going to end," Fabian said. "The underlying part is the people he brings in: hard workers, good people. Success doesn't come early. In the first month, you're going to win some, keep yourself relevant. But when you click and things start to come together, that's when your character is going to shine."
(Frank Seravalli can be contacted at seravaf@phillynews.com or @frank_seravalli.)