Send us your ideas
So, can we all agree the city should be cleaner, but how do we do it? Send us your low-cost ideas on how Philly residents and officials can work together to create a cleaner city. We'll take the best of those ideas to the Streets Department to see which ones could work.

Email trash@phillynews.com


Follow us on Twitter @PhillyDailyNews


Sound off on our Facebook discussion.
PUT THIS STICKER ON YOUR DOOR!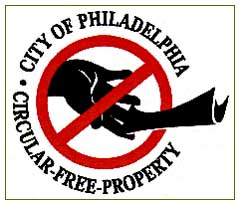 Tired of all those menus, circulars and other junk getting jammed onto your stoop, only to blow around your street? Click for an application (PDF) to get this sticker from the city. Businesses that don't obey the almighty sticker will be fined $100, but only if you call 3-1-1 to report them. Make sure to keep your reference number and follow up.
Report trash, litter and dumping
Do you know of trash or illegal dumping in your neighborhood? Report it on our map. We'll report it to the city. And if you'd like to talk to editor Albert Stumm for an upcoming story on illegal dumping, e-mail him here.